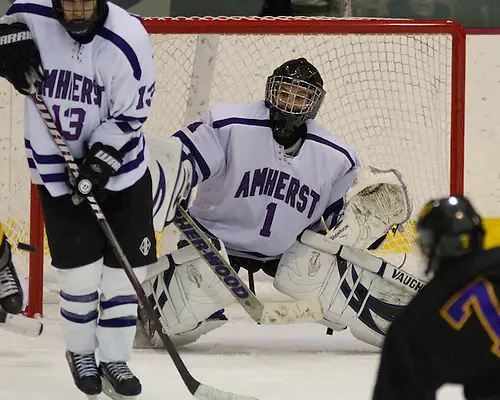 In a conference that was dominated in many ways by goaltending last season, there are mighty big skates, or should I say creases, to fill for many teams in the conference this season. Last year's Sid Watson Award winner, Jonathan La Rose, has departed from defending champion Amherst, as too have record setters in goal for Tufts and Williams in Scott Barchard and Ryan Purdy. So just how difficult is it to step into that number one role as a returning player or new incoming freshman? All three of those teams, as well as others in the conference, are learning early on that it's still all about stopping the puck and building confidence that will establish the consistency that was a hallmark of the three graduated netminders noted above.
For Amherst, it has been a tandem effort in the first five games of the season between senior Nathan Corey and freshman Dave Cunningham sharing the load for the Lord Jeffs. Observers would be hard pressed to point out the difference in this year's goaltending statistics between the two netminders and their predecessor La Rose, as the team opened with three consecutive shutouts and has surrendered just six goals in their first five games. Both goalies already have ridiculous numbers, with Corey posting a .948 save percentage and 1.34 goals-against average in his first three starts of the season, including two shutouts.  Not to be outdone, Cunningham, a freshman from Arlington, Mass., has also earned a shutout while posting a .957 save percentage and goals-against average of 0.96 in his first two collegiate starts. Coach Jack Arena clearly has an eye for talent, and yes, the system and players out front contribute greatly to the success of the guys filling the crease. That said, you don't see many 1-0 games, and rarely if ever two of them on consecutive nights. Amherst continues to be really stingy in surrendering goals, and there are two guys who will continue to have a lot of say in those statistics for the balance of the season.
At Tufts, the departure of Scott Barchard and his record-setting career left a big question mark on the Jumbos' radar screen entering the season, and coach Brian Murphy must like what he is seeing from his new and rather imposing number one goaltender.
Junior Brian Phillips has earned the number one job for Tufts, and he isn't hard to find, on the ice or otherwise. At 6 feet 6 inches, Phillips is an imposing figure in goal, whether on his skates or in full butterfly. Entering the season, his career numbers include a 4-6-1 win/loss record to go with a .876 save percentage and 4.61 goals-against average. You would never know by the way Phillips and the Jumbos have raced off in November. In five games this season, Phillips is 3-1-1 with a .905 save percentage and solid 2.88 goals-against average. He posted his first collegiate shutout last week in a 6-0 win over Curry.  Curry assistant coach Lenny Mosca noted that Phillips was solid against the Colonels, and didn't give the offense many second chances by controlling his rebounds and moving well in the crease.
For Tufts to repeat last year's home-ice playoff berth, Phillips, along with the rest of the team, will need to become more and more consistent and fine-tune their game quickly, with upcoming league match-ups that include Williams and Middlebury on the road and Bowdoin and Colby before the semester break.
Speaking of Williams, Ryan Purdy's graduation opened the door for sophomore Sean Dougherty, who is unique in that he wears two different numbers, based on whether the Ephs are home or away. Wearing 41 at home and 31 on the road, Dougherty has started all four games this season for Williams, and his numbers are very consistent with his limited body of work last year as a freshman.  Despite a 2-2-0 record, Dougherty posted his first collegiate shutout in a 4-0 win over St. Olaf's last weekend. He has an impressive .944 save percentage and 1.75 goals-against average that mirrors career numbers to date of .945 and 1.74. If experience is going to be a determining factor for the Ephs, who also graduated some key defensive players from last year's team, then Dougherty is proving early in the season that he is more than capable of filling Ryan Purdy's skates. Four games remain in the first semester, including opportunities to improve on their 1-1-0 league record against Tufts, Connecticut College, Amherst, and Hamilton. I wouldn't be surprised to see another 1-0 score in the Amherst game, and I'm not sure who would have the shutout.
For other teams in the league, there is solace in the return of veteran goaltenders to lean on, such as Matt Delaney at Colby, Steve Messina at Bowdoin, Benjamin Coulthard at Trinity, and the duo of Matt Hadge and Glenn Stowell at Wesleyan. These guys have been leaned on in the past and are expected to deliver the poise and skill needed to be consistent big-game goaltenders in the conference. There is no doubt confidence breeds success, and while some teams and some goaltenders have built an early foundation for success this season, every coach is hoping that when he gives his goaltender the nod for the start, the needed saves and duel with the guy down the other end of the ice are made and won by his team.
So many questions early in the season about goaltending seem to be finding real answers quickly. For the three teams profiled, that is great news, and for their opponents, the challenge will be to solve the mystery that is always the hot goalie. The goal is always no goals — some guys seem to be taking that statistic to heart early on this season.