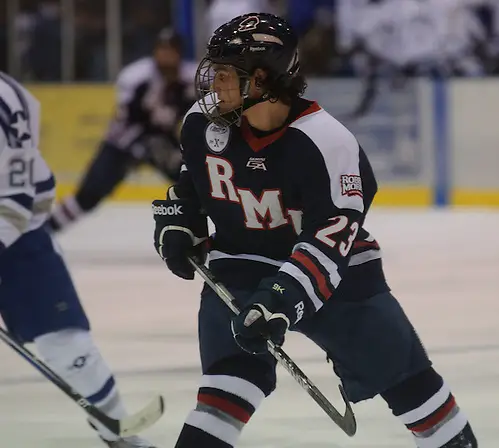 Atlantic Hockey had an unprecedented pair of teams in last season's NCAA tournament field. Robert Morris wasn't one of them, barely missing an at-large bid. But Niagara's at-large bid was bolstered by the league's improved success in nonconference games, and the Colonials played a key role.
Robert Morris was 5-1-1 in non-conference play last season, best in Atlantic Hockey. That included wins over Quinnipiac and Miami.
But the Colonials failed to capitalize in league play, putting up a 13-11-3 record and a fifth-place finish. That inconsistency wasn't lost on coach Derek Schooley, who's entering his 10th season behind the RMU bench.
"I think over the history of our program we've proven we get up for big games," Schooley said. "We beat Miami twice when they were No. 1; beat BU and Notre Dame. Our guys have to realize that there's 34 games in our schedule, not six or seven, or one. We have be consistent from start to finish.
"We were on a seven-game winning streak and then we go to Army on national television and lose 5-0. We have to be consistent from start to finish."
Consistency will start in net as Robert Morris looks to find a replacement for Eric Levine, who played all but 220 minutes last season, recording a .929 save percentage.
"That's going be the big question mark of our season," Schooley said. Between [sophomore Terry] Shafer, [freshman Dalton] Izyk and [freshman Brandon] Lane, one needs to step up. It's one of the most important positions in sports. We like our goaltending; it's just a matter of who steps up and gets the job done."
Up front, junior forward Cody Wydo is expected to again be the offensive catalyst. He led the team last season with 21 goals.
"He finds ways to score goals," Schooley said. "It doesn't matter who you put him with, he'll find ways to score goals.
"Cody had a good summer, he got stronger, had a good experience at Devils prospect camp, and he's ready to take the next step. He hasn't gotten any Atlantic Hockey accolades. I think this might be the year you see Cody really break out and become a notable name in Atlantic Hockey."
The Colonials need players like Wydo, senior forward Colin South and junior winger Scott Jacklin to carry the team offensively in the early going as they find their way on the blue line and in net.
"We're looking to have everybody take a step," Schooley said. "We've got a big sophomore class and we're looking for them to take steps. Everybody just needs to be a bit better. We had 20 wins last year, but we weren't satisfied. You can't rely on what happened last year. You just have to look forward, look to the future and get better every day."
Learning from last season, Schooley said there will be an emphasis on battling in every conference game as hard as against nonconference opponents.
"Quite honestly, I think anybody can win this league; eight or nine teams have the ability to be in the upper echelon and get a first-round bye," he said. "You're going to have a bad game or two, you just have to limit that. The coaches know every game can be a battle. You can't take anybody lightly because it'll come back and bite you."
About the Colonials
2012-13 overall record: 20-14-4
2013-13 AHA record: 13-11-3 (Fifth)
2013-14 predicted finish (coaches poll): Seventh
Key losses: G Eric Levine, F Adam Brace, D Andrew Blazek
Players to watch: F Cody Wydo, F Scott Jacklin, F Colin South
Impact rookie: Defenseman John Rey totaled 89 points in his last two seasons with the Amarillo Bulls of the NAHL, and was plus-47 last season. He was named the league's defenseman of the year in 2012, when he was plus-64.
Why the Colonials will finish higher than the coaches poll: Wydo is poised to have an MVP-caliber season. If he gets some help and the defense doesn't take a hit, the Colonials could win 20 games again.
Why the Colonials will finish lower than the coaches poll: The departed Eric Levine had over 2,000 minutes in net last season, leaving the untested Terry Shafer and two rookies to handle goaltending duties. Three defensemen also have graduated, leaving big holes on the blue line.