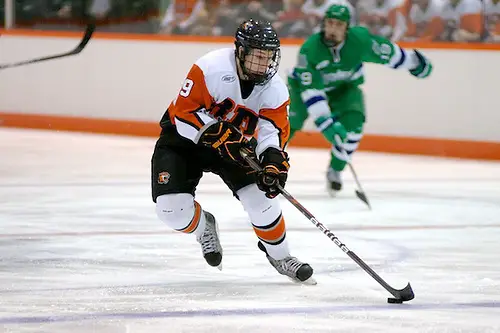 The 2013-14 season is an especially critical one for Rochester Institute of Technology.
RIT is coming off its worst campaign since joining Atlantic Hockey seven years ago. The Tigers had never finished below third place in the standings but settled for eighth last season.
A loss to Niagara in the conference quarterfinals kept RIT away from Blue Cross Arena for the first time.
With all that in mind, the Tigers are on a mission to show that last year was an aberration.
"We weren't happy," coach Wayne Wilson said. "We were only a few points away but you are where you are. We put ourselves in a hole, and suddenly we were playing Niagara, who was the top of the league. I was excited with how we finished, not with the results but how we played."
The Tigers had the ninth-best offense in Division I last season but were plagued by inconsistent defense (eighth-worst). Things improved the second half of the season, but the story for RIT wasn't big goals scored, but big goals allowed in critical situations.
"We were second in the country on the power play; our offense was top-10," Wilson said. "[Our] penalty kill was middle of the pack, but defensively we were near the bottom.
"This year we're a little bit older, and that will be important. We've got to tighten up and we did a much better job down the stretch. We're going to get tested early when we play Colgate and Michigan, and we'll see how that goes."
The Tigers platooned a pair of goaltenders last year, but junior Jordan Ruby took the reins late in the season and will carry the initial load with a pair of underclassmen waiting in the wings.
"Jordan Ruby will start off as our No. 1," Wilson said. "He really took charge at the end of the year. We have to see what Kenny [MacLean] or [Mike] Rotolo can do. In the past we just alternated and I think that might have hurt us a little last year. Neither guy could get traction early on."
The Tigers return about 80 percent of their potent offense, led by junior captain Matt Garbowsky (33 points last season), and seniors Mike Colavecchia (30 points) and Ben Lynch (26 points).
The defense took a hit with the graduation of Chris Saracino (73 career points) but returns high-scoring senior Greg Noyes (29 points last season) and a pair of sophomores, Alexander Kuqali and Brad Shumway, who got better and better during the course of their rookie seasons.
For Wilson, the objective is to get one goal better a game and take it from there.
"Last year came down to an overtime game and a one-goal game against the top team," he said. "A single goal is going be the separation between winning and losing in a lot of games."
About the Tigers
2012-13 overall record: 15-18-5
2012-13 AHA record: 11-12-4 (Tie, seventh)
2013-14 projected finish (coaches poll): Fifth
Key losses: D Chris Saracino, F Jeff Smith, F Adam Hartley, G Josh Watson
Players to watch: F Matt Garbowsky, F Michael Colavecchia, G Jordan Ruby
Impact rookie: Todd Skirving captained Sioux Falls of the USHL last season, scoring 45 points.
Why the Tigers will finish higher than the coaches poll: RIT is picked to finish higher than it did last season, and the consensus is that this is an improving team. If the defense and goaltending can get back to where it was two seasons ago and the offense doesn't skip a beat, the Tigers will contend.
Why the Tigers will finish lower than the coaches poll: RIT is looking at a downward trend that includes last year's 15 wins, the fewest since its inaugural Division I season in 2005-06. This year's team needs some early nonconference wins to reverse the momentum.