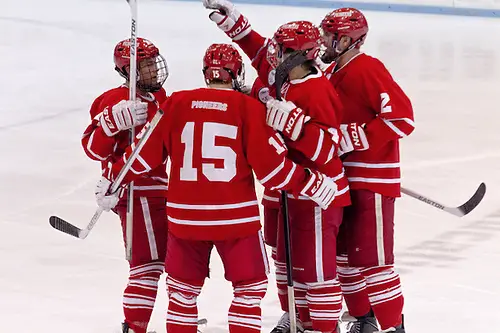 The 2012-13 hockey season is not something for which anyone will ever hang a banner at Sacred Heart.
The Pioneers' 28-game winless streak to start the season came one short of tying a 51-year-old record held by Colorado College. Their two wins nearly rivaled the winless seasons held by the 1961 Brown, 1962 Colorado College and 1981 Alaska teams.
And their 30 losses marked the first 30-loss season by an eastern school since Fairfield posted 31 in 1998, just off the mark set of 34 set by the 2000 Michigan Tech squad.
Anybody would be hard-pressed to find positives in a season ranking among the NCAA's dubious elite. But they were there for the Pioneers. There were tight games played against Mercyhurst, Princeton, Niagara and Connecticut. And there was the breakthrough of going 2-0-1 stretch across two weekends to gain a measure of hope at the end of a trying season.
"There were stretches in games of about three or four minutes where we just lost it," Sacred Heart coach C.J. Marottolo said. "We lacked confidence that came with the ebbs and flows of the game, and we struggled with handling momentum. When we had momentum, we lost it, and then we couldn't get it back.
"But we kept getting better and better, and our guys never let go of the rope no matter how tough it got. I was very proud of them at the end of the season when we finally fought and fought and got that momentum and kept it. That'll be something for our returning guys to learn from."
Arguably among the biggest additions to this year's team will be Alex Vazzano, a goaltending transfer from Vermont. Last year's team posted a GAA over 5.00.
"He was here last year and practiced with us," Marottolo said. "He's a part of the team, and he'll compete for the starting job."
That type of optimism is what's permeating through the program's athletic department. At the end of last year's hockey season, Sacred Heart named a new athletic director in former Major League Baseball manager Bobby Valentine, a person who's bringing a different culture to all aspects of the department.
"Bobby Valentine is a guy with enthusiasm through the roof," Marottolo said. "He's always helping all of the programs in every interview he does. He's always talking about Sacred Heart, and he's made it very clear he's here to help in any way he can."
Valentine's arrival injects life into a hockey program flying under the radar of a growing hockey culture in Connecticut. Quinnipiac and Yale went to the national championship game out of ECAC Hockey a year ago, with Quinnipiac holding the No. 1 ranking for much of the season. And Connecticut is elevating its status with its jump to Hockey East next year.
"Quinnipiac and Yale very obviously had great years," Marottolo said, "and that's something that's going to help the game in Connecticut. Our goal has to be to beat them, and we have to expect to compete with them in all aspects. We realize the way to compete with them is to get it done on the ice."
About the Pioneers
2012-13 overall record: 2-30-4
2012-13 conference record: 2-21-4
2013-14 predicted finish (coaches poll): 12th
Key losses: F Eric Delong, F Ben Ketchum, F Kyle Verbeek
Players to watch: F Brian Sheehan, F Nick Curry, G Alex Vazzano
Impact rookie: Vazzano isn't necessarily a rookie, but the transfer from Vermont should help stabilize a team averaging the most goals-against in college hockey a year ago. In two years with the Catamounts, he appeared in 11 games and had a GAA of just over 3.00.
Why the Pioneers will finish higher than the coaches poll: Vazzano's first season in goal stabilizes the position. The defense gets better with a big recruiting class, and the offense scores in bunches.
Why the Pioneers match the coaches' prediction: Vazzano can't stabilize the defensive unit, leading to another year of goals in bunches.