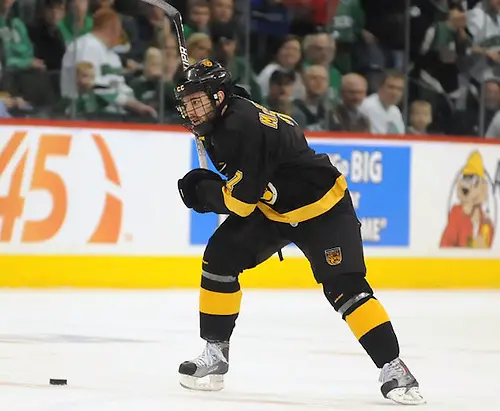 After having an up-and-down season, including a stretch that started with a Nov. 16 loss to Denver where they went 2-11-2, the Colorado College Tigers caught fire at the right time in 2012-13.
After rallying to beat Denver in a three-game road series in the first round of the WCHA playoffs, the Tigers rode that momentum to a strong showing in the Final Five, upending North Dakota in overtime and blanking Minnesota before losing in the championship to Wisconsin.
Unfortunately for CC, it was too little, too late, for the NCAA tournament at that point, but the mood in Colorado Springs is energized by that run.
"I think last year was really good for everyone," senior captain Eamonn McDermott said. "To make a run and play our best against the best, if we can learn from that it will help us win games."
Looking at the roster this year, it seems like CC will be hard-pressed to match even that success, as the Tigers lost four of their top five scorers. Top scorer Rylan Schwartz and his 53 points and 1.29 points per game are gone, as are starting goalie Joe Howe and his .915 save percentage, to graduation. However, coach Scott Owens sees a lot of positives.
"We've lost some pretty big names, players that we have leaned on in the past," Owens said. "You know what, I'm also optimistic with some of the play we saw at the end of the year. [Alexander] Krushelnyski, [Archie] Skalbeck. But I'm also looking for Charlie Taft, who had a good last month, Hunter Fejes and Cody Bradley to emerge. They were '94s last year, freshmen and very young.
"We do have six freshman forwards coming through that I think are going to be able to contribute, whether it's Alexander Roos or Sam Rothstein, Matt Hansen, some of these guys. I do think that while it looks on paper bleak, I think a combination of some of the upperclassmen taking a step and the defensemen contributing a little more, we get a lot out of the defensive corps, I think we'll be fine."
Krushelnyski was second in team scoring last year with 43 points, and is expected to anchor the top line.
Fejes proved to be a Pioneers killer last year, getting three points in a win at Denver on Feb. 9 and then scoring a goal and assist in the series-clinching win on March 17.
"He and Bradley played the third line for us all last year," Owens said. "Really in that last playoff series in Denver and over in St. Paul, they had started to come in on the second line. I think Hunter, he works so hard and he's such a gamer that he has the ability to contribute.
"Do I think he is going to score 20 goals? Not necessarily, but I think he has the ability to make big plays and I think his overall game will pick up immensely with a year under his belt. You know, Cody Bradley is the one who has shown some real signs of skill coming through as a junior player. We took him a little bit young last year as a '94. He's pretty talented. You might see him stepping up on the top line with Krushelnyski, to be honest with you."
Defensively, things look strong for the Tigers. In addition to McDermott, the blue line is anchored by Peter Stoykewych and Aaron Harstad, as well as Carolina fourth-round pick Jaccob Slavin and Minnesota second-round pick Gustav Olofsson.
"It all starts with defense," McDermott said. "You can't really win without defense. I think that will be a focus for us this year. Six guys that play defense, but also all our forwards who are willing to pick it up as well. I think going into the season, team defense is going to have to carry us, not just five or six guys."
Lost in Howe's shadow for much of last season was goaltender Josh Thorimbert, but Owens pointed out that Thorimbert was an all-league player as a sophomore.
"That position is a little open," Owens said. "Josh comes in as a senior now, and hopefully he learned from last year and will make it a great senior year and regain the form he had his sophomore season. Tyler Marble comes in eight months older than Josh, so he's an old freshman and has a lot of seasoning from the junior leagues. I think he has the ability and talent level to compete."
About the Tigers
2012-13 overall record: 18-19-5
2012-13 WCHA record: 11-13-4
2013-14 predicted finish: Candace fifth, Matt sixth
Key losses: F Rylan Schwartz, F William Rapuzzi, F Scott Winkler, G Joe Howe, D Mike Boivin, D Andrew Hamburg
Players to watch: F Alexander Krushelnyski, F Archie Skalbeck, F Cody Bradley, F Hunter Fejes, D Eamonn McDermott, G Josh Thorimbert
Impact rookies: F Matt Hansen, F Sam Rothstein, D Jaccob Slavin, D Gustav Olofsson
Why the Tigers will finish higher than predicted: CC's offense isn't as down as it might first appear, and with more playing time, Cody Bradley and Hunter Fejes could emerge as top offensive threats to complement Alexander Krushelnyski and Archie Skalbeck.
Why the Tigers will finish lower than predicted: While goalie Josh Thorimbert had a good sophomore year, goalie Joe Howe had the X-factor that could calm a team in front of him. Unless Thorimbert regains his form or Tyler Marble emerges in goal, the backstop could be shaky.