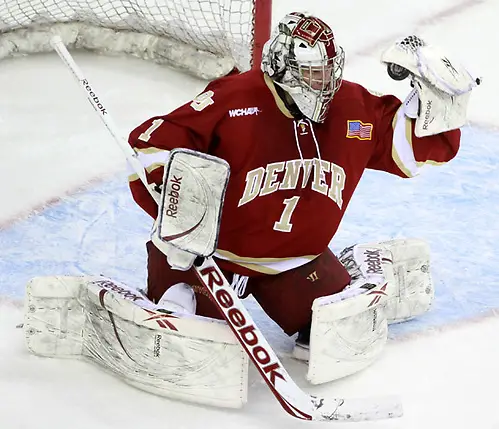 It seemed like the world's worst April Fool's joke when the news leaked that Denver coach George Gwozdecky, who had coached the team to back-to-back national championships in 2004 and 2005, was fired as Pioneers coach.
In the end, another first-round exit from the NCAA tournament likely cost Gwozdecky his job, with a first-round exit in the WCHA playoffs to archrival Colorado College on home ice possibly contributing.
So for the first time since 1994, when current Air Force coach Frank Serratore made way for Gwozdecky, the Pioneers will have a new coach running the show. Denver hired Jim Montgomery, a former Maine standout and NHL player who most recently coached the Dubuque Fighting Saints of the USHL, inherits a roster that is much younger than it has been in previous years.
The departure last spring of junior Nick Shore for the Los Angeles Kings left only two players remaining from the seven members of the 2010 freshman class at DU in defenseman David Makowski and goalie Sam Brittain. Among the standouts from the class no longer in Denver are Minnesota Wild forward Jason Zucker and Pittsburgh Penguins forward Beau Bennett.
"Our freshman class is unique," Brittain said. "We have a lot of guys playing in the NHL right now, which is tough on a program. Usually, you look at your juniors and seniors to lead for a championship. The teams that had success last year were built around juniors and seniors. Bringing in 10 freshmen this year, maybe there are a few first or second rounders, which will only benefit us in the future when they stick around for three or four years."
One of those freshmen, forward Brad Hawkinson, was hurt in a captain's practice and may be lost for the year, so Denver already might be down a player. If it looks like Hawkinson will be out for the year, he will be redshirted. Junior forward Zac Larraza broke his clavicle in an early practice and will miss up to eight weeks.
Montgomery has said that he won't announce a captain until possibly after the second weekend against Alaska, as he waits to see who steps up as a leader.
However, he expects to build on the successful tenure of Gwozdecky, and during a preseason news conference, he did not shy from the expectations that come with coaching at Denver, going so far as to say he anticipated being able to win a national championship within five years.
"That's why I wanted this job," Montgomery said. "I think Denver is a place where you can expect to have a chance at winning a national championship and winning your conference every year. I wanted to come to an institution that wanted to do great things on the ice, in the classroom and in the community."
Montgomery even responded to a question from the local media about whether the last seasons at Denver had been disappointing, and offered his expectations as a measuring stick.
"I know that if my next five years are comparable to the last five years, I will view it as a disappointment," he said.
Time will tell if Montgomery's optimism is misplaced. For now, for the first time since 2001, the Pioneers enter the season not ranked in the top 15 in either national poll; the Pioneers are 17th in the USCHO.com Division I men's poll and are receiving votes USA Today/USA Hockey Magazine poll.
"Whether the media ranks us or doesn't rank us, what's in the dressing room is what counts," Brittain said. "We know where we stand. We know the talent we have and what we're capable of. I think that's the most important thing. I don't remember the last time they gave the trophy out to the team ranked first at the beginning of the season."
About the Pioneers
2012-13 overall record: 20-14-5
2012-13 WCHA record: 14-9-5
2013-14 predicted finish: Candace fourth, Matt fourth
Key losses: G Juho Olkinuora, F Nick Shore, F Chris Knowlton, F Shawn Ostrow, D Paul Phillips, D Scott Mayfield
Players to watch: G Sam Brittain, D Joey LaLeggia, D David Makowski, F Daniel Doremus, F Quentin Shore, F Ty Loney
Impact rookies: D Will Butcher, F Trevor Moore
Why the Pioneers will finish higher than predicted: Sam Brittain, who lost the starting job to Juho Olkinuora, is "in the best shape of his life," according to Montgomery, and is backed by a solid corps of defensemen. It will be hard to score on the Pioneers.
Why the Pioneers will finish lower than predicted: The best defense in the world won't help if Denver can't score goals. The offense is more unproven than it has been in years, and young to boot. Unless some of the freshmen step up, Denver's offense could hit anemic streaks.