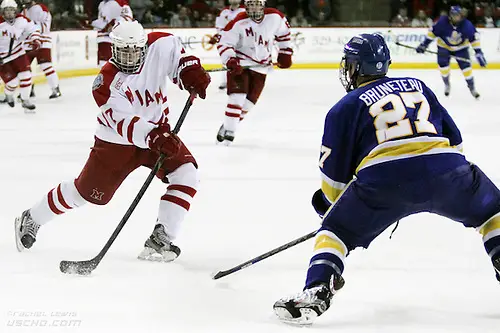 Teams featuring a lot of youth often struggle, but Miami's dozen-strong freshman class last season experienced a most impressive debut campaign.
RedHawks coach Enrico Blasi welcomed 12 newcomers to Oxford, Ohio, last season, infusing even more youth into a Miami squad that featured only eight upperclassmen. Blasi's 2012-13 team looked like it'd been together for years, though, and came away with the final CCHA regular season title on the slate's final day as a result.
Miami's season ended prematurely when it dropped a 4-1 decision to St. Cloud State in the NCAA Midwest Regional final on March 31. Blasi is confident, however, that last season's huge freshman class' good fortune can turn into something bigger and better for the 2013-14 RedHawks in the inaugural season of the NCHC.
"The freshmen last season did great," Blasi said. "The experience we had of winning a championship on the last day of the regular season last year and going to the national tournament and only losing in the regional final, those are all good steppingstones that hopefully the guys can use as experience to hopefully take the next step.
"I'm not sure what that means just yet, but we've got some new challenges this year with our new league, and travel will be different, all that stuff, so there will be some unknowns as we go through the first part of the season. But hopefully as we settle in, we'll feel good about what we're doing."
Confidence isn't an issue going into the new campaign. Both members of the CCHA's best goaltending tandem last season are back, only three defensemen from the stingiest team defense in the CCHA last season (1.91 goals conceded per game) are gone, and the players Miami did lose after last season accounted for only 18 of the RedHawks' 106 goals scored.
This isn't to say graduated forwards Curtis McKenzie and Marc Hagel and defenseman and 2012-13 team captain Steven Spinell won't be missed. This season's team isn't quite as young as the last one, though, and Blasi is confident that added experience will come in handy.
"We're a year older and a little bit more experienced," Blasi said. "Last year, we had so many young guys and had to really focus on teaching our system and culture and making sure our guys understood how we do our business here.
"This year, it's a little bit of a different approach. The guys are a little more comfortable and understanding what we need to do so we can do a little bit more detail-oriented stuff that we probably did a little more of the second half of last season so that we have that base coming into this year."
Miami's offense finished third in the CCHA last season (2.66 goals per game) and wasn't quite as dominant as the RedHawks' blueliners, but they return plenty of weapons at both ends of the ice. Five of Miami's top six scorers last season return, and the forwards are led by junior Austin Czarnik and sophomore Riley Barber.
Although sophomore defenseman Matthew Caito contributed 21 points to the cause as a freshman last season, Miami's blueliners are better known for locking things down in their own zone. They teamed up in 2012-13 with a pair of talented freshman goaltenders in Ryan McKay and Jay Williams that are primed to keep stymying opposing teams' attackers.
Both netminders played in 17 games in their first season with the RedHawks, and, as long as both McKay and Williams keep performing well, Blasi's rotation policy isn't going away.
"I know what we have in our locker room in terms of the competitiveness, and both Jay and Ryan are at a high level," Blasi said.
"They get along really well, they spend a lot of time learning their craft, and our goalies have always been very professional. It's our job to develop both of them and make sure both can play and are ready to go, and their job is to play. So I think we have a pretty good formula for our goaltenders to just go and do what they need to do."
All the pieces appear to be in place, then, for Miami to hit the ground running in the NCHC. As for just how well the RedHawks can do in their new league, though, Blasi is less keen to talk about expectations and more interested in seeing his team go out and do the business.
"We don't talk about expectations for results in our locker room," Blasi said. "And that's been a focus for our program for a number of years now. We don't talk about winning championships and we don't talk about going to the national tournament or anything like that.
"For us, our focus is on today and daily improvement, and every day we focus on the day at hand. We don't worry about the past and we don't worry about the future. I always tell our guys that if you worry about the past, you're looking at guilt, and if you worry about the future, you're putting too much pressure on yourself, so we'll just focus on what we need to do today and move forward.
"That's the approach that fits our culture at Miami, and we'll continue to do that."
About the RedHawks
2012-13 overall record: 25-12-5
2012-13 CCHA record: 17-7-4-4 (First)
2013-14 predicted finish: Candace second, Matthew first
Key losses: F Marc Hagel, F Curtis McKenzie, D Steven Spinell
Players to watch: F Riley Barber, F Austin Czarnik, F Cody Murphy, D Matthew Caito, G Ryan McKay, G Jay Williams
Impact rookies: F Justin Greenberg, F Devin Loe, F Anthony Louis
Why the RedHawks will finish higher than predicted: Only two of Miami's top 10 scorers from last season are gone. The RedHawks boasted the CCHA's stingiest defense last season (1.91 goals conceded per game). And 11 sophomores are now a year older and more experienced within Miami's coaching staff's system.
Why the RedHawks will finish lower than predicted: The RedHawks are joining a smaller and stronger conference from top to bottom than what they experienced before, and it's tough to predict a winner from a new league featuring such an even playing field among the eight teams.