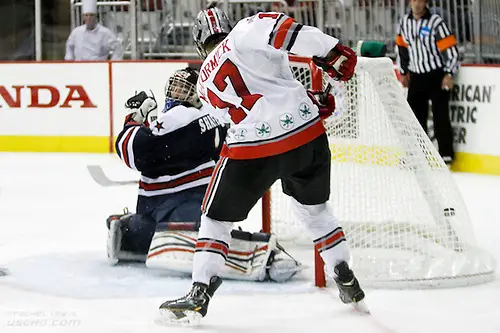 Here's our weekly look at big events and big issues around Division I men's college hockey.
Jim: Todd, a week ago we talked about how none of the top teams showed much consistency. This week, I feel most of the top 10 fared pretty well. On the other hand, the teams that entered last weekend in spots 11 through 20 in the USCHO.com Division I Men's Poll struggled for the most part.
Aside from Massachusetts-Lowell, which impressively won three road games in four nights, every other team in the bottom 10 of the poll had a blemish. It actually was a struggle this week to fill out my ballot. How about yourself?
Todd: It definitely was one of those weeks where you had to look around to see which teams not in the rankings were deserving of bumping some teams out. For me, that was Union, New Hampshire and Ohio State.
The Dutchmen and the Wildcats made it into the top 20 while the Buckeyes were just on the outside. Union just finished an impressive sweep of Rensselaer, while New Hampshire has won five in a row after a 1-5-1 start.
Ohio State has also won five in a row and eight of its last nine. Did you pick out any teams to add this week?
Jim: I put Union in my top 20 along with Air Force, which didn't make it once the ballots were tallied. I'm still not sold on UNH, though I think a lot of the Wildcats' early struggles were because of a difficult schedule. A couple more wins and I can't miss them.
I'll admit the one team I personally missed the boat on was Ohio State. The Buckeyes definitely deserved more attention from me and, by the looks of it, by the rest of the voters as OSU finished right outside the top 20.
Beyond the poll, there was a bit of controversy that involved a ranked team when Boston College faced Massachusetts last Thursday. Late in regulation with the Minutemen trailing 2-1 it appeared UMass had tied the game. After the goal, BC coach Jerry York took his timeout and asked the referees to review the play, saying it was offside. The referees did indeed review the play and overturned the goal.
The problem was three-fold: First, offside can only be reviewed if the game is televised. Thursday's game was live streamed but not televised on a network. Second, the referees shouldn't have reviewed the play; offside is not able to be challenged by a coach as are most common replay circumstances. Finally, the play shouldn't have been overturned as the offside must be egregious, such as a player deep in the zone when the puck is brought in, not a play where a linemate has his skate barely over the line.
This entire rule of reviewing offside was established in response to a play in the NCAA East Regional final between Massachusetts-Lowell and Union back in 2012. In that game, Union scored an empty-net goal from center ice but a Union player was far from clearing the zone. In that circumstance, the linesman didn't notice the player and there was no recourse using instant replay at that time.
So, all that said, what's your take on the incident?
Todd: I guess in the end, the call was right even though it was wrong. The linesman should have blown the play dead for offside and we never would have gotten to the point where the NCAA was issuing a memo and Hockey East had to admit errors in procedure.
What I'm concerned about, though, is that with so many more games being shown through Web streaming (Atlantic Hockey and the WCHA have deals with America One Sports, for example, to stream all games), why aren't those replays available for use in correcting missed calls? I have a feeling that will be changed when the rule book gets an update after the season, part of the evolution of replay usage in college hockey.
Jim: I agree. I am a fan of using every possible angle to get a call right. That's what instant replay is about. I will admit it always struck me as strange when the clarification memo was issued by the NCAA this past offseason about using replay to correct egregious offsides or too many men on the ice situations in TV games only.
These are pretty obvious calls most of the time so if you have an angle using the standard cameras, why not get the call right? Even though it has been used for nearly two decades now, I guess instant replay is still in its infancy and these issues arise.
Todd: And replay started with just the cameras above the goals, which wouldn't have been of any use for offside or too-many-men reviews. I think this is just an occasion where the increasing uses of replay outpaced the rule book. They'll get it figured out; you just hope games aren't impacted before they do.
One of the biggest events of the week in college hockey happened in the women's game, where North Dakota beat Minnesota on Sunday, ending the Gophers' record winning streak at 62 games. UND was also the last team to beat the Gophers, 21 months and two national championships ago. It's one of the more remarkable streaks our game has known; do you think it'll ever be approached by another team?
Jim: On the men's side, I will go on the record as saying this record will never be approached. There is simply too much parity. On the women's side, I feel like parity is increasing as that sport gains popularity, so I think that it will be very difficult to match that record.
If Minnesota can't post that record again, though, might we need to look to North Dakota? It seems to have the number of the most difficult team it would face, the Gophers.
Todd: It does seem like North Dakota is growing in potential to be the fourth team ever to win an NCAA women's hockey Division I title — Minnesota, Minnesota-Duluth and Wisconsin have combined to win all of the first 13 — and it would do a lot for the women's game for someone besides that big three to win it.
Jim: Switching back to men's hockey, let's look at this week's games. In Hockey East, some of the league's hottest teams will square off when New Hampshire plays two at Providence and Notre Dame travels to Lowell for a pair, the first time these two teams will face one another.
Yale will face Cornell in a single game. And Air Force, off to a 6-3 start, will play a rare home-and-home series in nonleague play against NCHC foe Denver. What do you see among the western teams?
Todd: Nebraska-Omaha gets another highly ranked team into CenturyLink Center this weekend when Miami visits. The Mavericks upset Michigan last Friday, but they've been a puzzling team that has gained only a 6-6 record.
In the WCHA, Ferris State looks to keep its undefeated league record going when it hosts Alaska. I'm interested to see whether the Bulldogs can continue as the WCHA's dominant team.