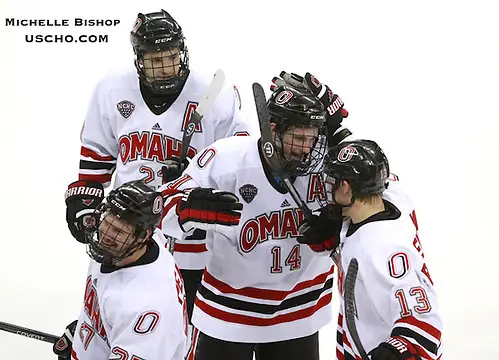 Here's our weekly look at big events and big issues around Division I men's college hockey.
Todd: We're just about two months into the season, and with the exception of the Big Ten, which finally gets into conference play this weekend, we're starting to see some things develop in the league standings.
I try not to make too big a deal out of standings in the first weeks of the season because of the varied number of league games played, but what jumps out at me is the NCHC, where Nebraska-Omaha, picked for last by league media, is leading the way at 5-1.
The Mavericks are in the USCHO.com Division I Men's Poll this week at 17th after sweeping Miami. Nonconference losses to Bentley, Northern Michigan and two to Cornell are hurting them there, but in the standings they're doing just fine. What stands out to you from the early standings?
Jim: I continue to be impressed by how well UNO has played. As you mentioned, there have been some nonconference losses that stand out, but in league play you can tell early on that the Mavericks won't finish in last place.
Another team picked last but playing well is Northeastern in Hockey East. Coming into last weekend, I had my concerns. But after a weekend sweep of Merrimack, the Huskies seem more like a middle-of-the-pack team than a cellar dweller. And at 8-5 overall, the Huskies have a pretty respectable record.
Todd: The teams to whom the Huskies have lost aren't exactly bottom feeders: St. Lawrence, Boston College and New Hampshire. One point ahead of Northeastern in the Hockey East standings is Maine, which got a complete victory over Boston College on Saturday. It may have been an off game for the Eagles but it certainly showed what the Black Bears are capable of.
What's your take on how new coach Red Gendron has done in his first couple of months?
Jim: Well, most importantly, Gendron's Maine squad seems to be scoring goals. That was a struggle last season at times. Maine didn't just beat BC 5-1 but also whipped Boston University 7-0 a week ago. BU this past weekend proved it might be better than thought, getting a win and tie against North Dakota at home.
The notable fact from that series was goaltender Matt O'Connor's 55 saves in Saturday's 3-3 tie. Coach David Quinn broke the goaltender rotation this weekend, letting O'Connor play both, something we may see more of going forward.
Todd: Gendron and Quinn aren't the only first-year coaches having a decent amount of success so far. Steve Rohlik has Ohio State at 8-4, while Mike Cavanaugh's Connecticut is 3-1 in Atlantic Hockey and 4-4-1 overall.
Jim Montgomery is 7-5-2 at Denver, which is unbeaten in its last six games. Alaska-Anchorage is 6-4-2 under Matt Thomas. Mike Corbett, however, is still looking for his first win at Alabama-Huntsville, which is 0-12 and has been outscored 57-11.
It seems like programs get some new energy when a new coach is brought on board. Which of those teams do you think might be able to best sustain that energy through the season?
Jim: I would like to say that Denver has the best chance of sustaining but the Pioneers have been so inconsistent this season. Thus, I am going with Ohio State. A lot of good wins on the docket for the Buckeyes and they will soon enter conference play where I feel like, aside from Minnesota, there isn't a very strong team in the Big Ten.
Speaking of consistency, was it surprising to you how poorly the top 20 fared this past weekend?
Todd: A little. I was quite surprised at the way Quinnipiac lost to Princeton on Saturday. You'd think a two-goal lead with 10 minutes left at home against a 2-8 team would have been safe, but I guess you'd be wrong. The Tigers scored three times on six third-period shots on goal to earn the upset.
I'll be interested to see how Notre Dame bounces back from a pair of losses at Massachusetts-Lowell. The Irish host the Shillelagh Tournament, with Alabama-Huntsville, Western Michigan and Northeastern heading to South Bend for a post-Thanksgiving event.
Jim: I was also surprised at the Quinnipiac loss, particularly given how well the Bobcats have played of late.
As for Notre Dame, they played a decent series against Lowell but couldn't solve goaltender Connor Hellebuyck. Keep in mind that the Irish are missing five players — four forwards and a defenseman. Two of those missing are centers. Thus, Notre Dame's depth is being tested right now and the Irish aren't exactly passing that test with flying colors.
Todd: Let's look ahead to this weekend, which will see the first Big Ten games when Minnesota hosts Wisconsin for a series and Michigan hosts Ohio State on Friday before the series moves to Columbus on Monday. A WCHA series between Bowling Green and Lake Superior State should be a good test for both. What are you looking at this week?
Jim: It's actually a pretty light week out east, but it is impossible to overlook the biannual event that takes over New York City's Madison Square Garden, Red Hot Hockey. Boston University is playing well heading into the event but will take on a strong Cornell team that has won three straight.