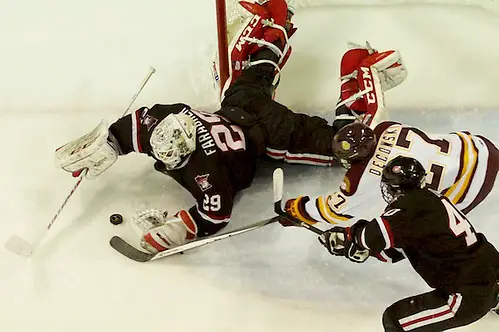 Here's our weekly look at big events and big issues around Division I men's college hockey.
Todd: College hockey's wind down to the holiday break has begun, and we have a new No. 1 team in the USCHO.com Division I Men's Poll. Unbeaten in its last seven games, St. Cloud State overtook Minnesota on the heels of a road sweep of then-No. 20 Minnesota-Duluth.
The Huskies made it to the Frozen Four with a Hobey Baker Award winner last season, but you can start to wonder whether this year's version has a better all-around team. Their offensive and defensive statistics are both improved, and an 8-0 road record already equals their number of road wins of a year ago. Could this year's St. Cloud State team be better?
Jim: I think there is one significant element of this year's St. Cloud team that is better by default, and that's experience. Once you've reached a Frozen Four, you have that experience. Guys know what it takes to put together a regular season that qualifies you for the tournament. They understand what is feels like to play in big games. And they know how to win games when everything is on the line.
If you look at last year's Frozen Four teams, all four are relatively even or better than last year. St. Cloud and Massachusetts-Lowell have much better records at this point, while Yale is 6-3-3 (7-3-2 last year) and Quinnipiac is 13-3-3 (14-3-2 last year).
Todd: Before last year's Frozen Four, St. Cloud State players and coaches were supportive of goaltender Ryan Faragher, calling him one of the best goalies in the country even though his stats paled in comparison to others in Pittsburgh. So far this season, Faragher has been a big factor in the Huskies' success. Look to last Friday: He stopped 14 of 15 shots in the first period to keep his team in the game.
Speaking of goaltenders, we had another goaltender getting on the score sheet last weekend. Quinnipiac's Michael Garteig got credit for a Bobcats goal that Union defenseman Shayne Gostisbehere put into his own net during a delayed penalty. (See the video here.) Garteig was the last Quinnipiac player to touch the puck, doing so when he made a save.
That's two ECAC Hockey goaltenders getting credit for a goal in the span of 12 days — Cornell's Mitch Gillam put the puck in the net himself on Nov. 26. There's no way this is anything more than a coincidence, is there?
Jim: That's pure coincidence, particularly given that Garteig had no intent of putting the puck in the net. That said, I am a strong proponent of goaltenders making attempts for empty nets. Gillam did it perfectly, catching a loose puck, putting it down and immediately floating a puck over the D.
It certainly isn't a frequent occurrence, but there may be no better way to ice a game than the tender scoring the empty netter.
Todd: You'd hate to be the one that gives up an icing, then gives up a goal on the ensuing faceoff, though. I'm sure that's why we don't even see the attempt made more often.
I wanted to touch on what will be one of the big news items this week: The bids for the 2015 through 2018 Frozen Fours will be announced on Wednesday. You pulled together all the pros and cons of the 10 finalists for an article we posted Monday, and I'm in agreement about Boston and Washington being among the strongest contenders.
I get the feeling that the NCAA will be emboldened by the success of the Tampa experiment in 2012 and try another nontraditional site. The way I see it, Chicago could be that place even though it's nontraditional only in that it doesn't have a college hockey team. What do you think?
Jim: There is almost no question in my mind that a nontraditional city will be included in the group of bid winners. The question is whether the NCAA sees Washington, D.C., as nontraditional given that the area does not have a college hockey team. If so, I could see Washington, Boston, St. Paul and maybe someplace like Columbus getting the awards.
But I think that the NCAA will look at D.C. on the same par with Boston and St. Paul and will look for a city that has never hosted before. If that's the case, I see Chicago winning out. There are a lot of good bids but also a few duds, in my opinion, like Brooklyn and maybe even Buffalo. If I had my choice, I would select Boston in 2015, Chicago in 2016, Washington, D.C., in 2017 and Tampa in 2018.
Todd: I'd have no issue with that lineup. I understand the appeal that Brooklyn holds in putting college hockey into the New York City market, but I don't think Brooklyn is the place to do it. We've seen that hockey works in NYC (see the full house for Boston University and Cornell at Madison Square Garden as evidence), so maybe there'll be something there some day.
Let's look at this weekend's slate of games before we wrap up. The series that stands out to me is St. Cloud State hosting Union, matching a pair of top-10 teams in their last games before the break. But the single game that has great potential to be fantastic is No. 3 Michigan hosting No. 4 Ferris State on Wednesday. The Bulldogs can make a big statement with a win there. What are you looking at this week?
Jim: This is an incredibly light week of hockey in the east. The most notable game might be another in the long list of outdoor games when Rochester Institute of Technology and Niagara face off at Frontier Field in Rochester, N.Y. Denver will also play a tough slate of games out east, Friday and Saturday at Rensselaer and Tuesday at Massachusetts. It should be an exhausting trip for the Pioneers.