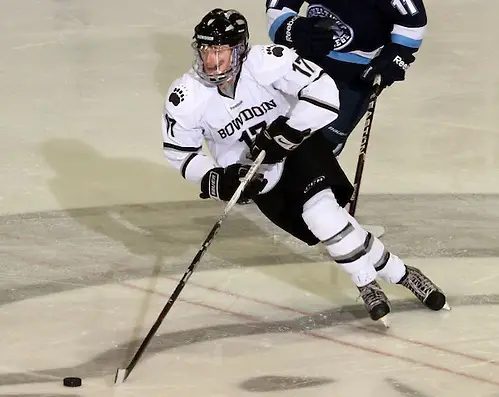 Despite a 2-3-1 conference record in the first half and unfamiliar fifth-place seat in the NESCAC standings, Bowdoin coach Terry Meagher feels his team is ready to go and make some noise in the second half of the season.
A quick look at the team statistics shows only seven players of 28 on the roster having played in every game so far this season, which means the coach has had to mix and match a lot of different lineups already this season, largely due to a significant number of injuries in the first half.
Regardless of the injuries, Meagher is making no excuses and believes that the experience several first-year players have obtained with quality playing time will reap benefits in concert with the return of several key players from the injured list.
"I joked with the kids that we have the league right where we want them," quipped Meagher. "But seriously, everyone has injuries. They are part of what every team has to deal with during the course of the season. We are not making any excuses and we are ready to go out and play anyone with the players we have. Certainly, we want to get consistent in our lines and pairings and the team getting into a familiar routine, but the bright side of the injury bug has been seeing some young players step into roles and be put in positions to play where they are learning and gaining great experience that is only going to help us down the road."
Several rookies have seen significant playing time early in the season and some have been key contributors on the back end for Bowdoin. Freshmen Brendan Conroy, Mitch Barrington and Matt Sullivan have all had opportunities to play significant minutes and the coach has noticed their improvement, literally on a day-by-day basis.
"Matt [Sullivan] is a great example of how quickly these guys are progressing and adapting to the college game," noted Meagher. "These are smart kids who really love to play and learn to be better. I watched Matt over the course of the first half and am so impressed with his progression. He literally is better each day he practices or plays. During practice, we paired him with John McGinnis in our back position to see what he could do and the things he is evolving in practice were just great to see."
Tuesday night's win over in-state rival University of New England got the second half off to a winning start and Meagher really is hoping for more with a favorable, albeit difficult schedule that finds the Polar Bears playing six of their first eight games in January at home in the friendly confines of "The Sid."
"It is a tough time to play in January, so having a lot of home games to open the second half certainly should help us to a strong start if we play well," Meagher said. "This conference is very difficult each and every night, top to bottom, so there are no gimmes. That said, we have a pretty good track record playing here at home and we are excited to get the second half off to a positive start and try to move up into the top half of the standings and compete for a home-ice spot for the playoffs."
One constant for the Polar Bears so far this season has been the consistent play and leadership of senior Colin Downey, who leads the team in total points and has been able to play in each and every game so far this season. He scored his team-leading seventh goal of the season in Tuesday's 4-3 win against the Nor'easters and looks as excited to play the second half as the rest of the team appears to be based on their level of intensity at practice.
Downey enters the weekend just three points short of the centennial mark for his career and based on his greater than a point per game average in his tenure at Bowdoin, is likely to quickly pass this significant milestone for any D-III player.
"Again, we won't make any excuses about injuries," said Meagher. "Every team has to deal with them at some point in the season. These guys have been really resilient and it is really a joy to see the very positive attitude they bring to the ice every day for practice. I have been blessed the past few years with players that just love to be out on the ice regardless of whether it is a practice or game. They love to compete and love being with each other. This team is no different and that positive attitude has certainly carried some value in some of the adversity we have faced with so many different lineups in the first half of the season. It was a really long break from our last game in the first half on Dec. 10 to our first game on Jan. 7 in the second half.
"The kids are excited to play someone wearing a different color uniform and we certainly have some challenging games to open conference play this weekend."
An interesting anomaly of this weekend's schedule finds the convergence of the Fenwick brothers in Maine playing against each other for three different schools. Chris is a sophomore forward for Bowdoin, while brothers Scott (freshman at Colby) and Andrew (junior at Amherst) all play for different schools in the NESCAC. The convergence of the three for weekend games in Maine will certainly make watching easier for their parents, who hail from Quispamsis, New Brunswick, but surely won't make the rooting any easier among the three boys and three schools.
"In all my years in the league, I have seen a lot of brother combinations on the same team and on different teams," said Meagher. "We have had a number of brothers here at Bowdoin. I don't remember three brothers all on different teams in the league like the Fenwicks now and it is fun to watch. It amazes me how our own players are so aware of when the brothers are on the ice against each other and what happens. They can recall with great detail the hits, passes and of course, goals, if one line scored against the other. It really is unique and fun to watch, but I am sure not so easy for their parents, who are terrific people.
"This weekend will be fun to see with all three schools playing each other over the weekend."
The unbeaten streak is now at 2-0-1 and the Polar Bears are optimistic that January will be a very good month in Brunswick.