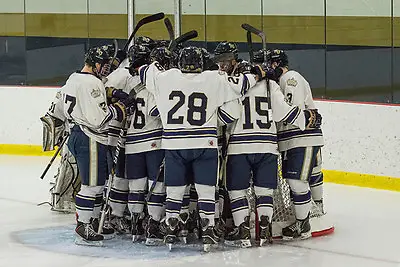 Bethel coach Charlie Burggraf compared his hockey team to one of those time-consuming 1,000-piece puzzles he enjoys doing in his free time.
He talked about how, at the start, the puzzle can be very confusing. Ultimately, as the pieces begin to come together, the puzzle becomes easier to do because the picture is much more clear.
"That is the way our season has been," Burggraf said. "We're starting to find the right combinations for our lineup and we are seeing what we can do as a team if we play up to our potential. We're not there yet, but we are real close."
Close has been a theme for the Royals all season. They are just 2-10-2 on the year, but have lost six games by just a goal. Two other games have ended in a tie.
"We have played some really close games, but we've had some mistakes that have cost us," Burggraf said. "The biggest challenge for us has been our special teams. We haven't converted on a lot of our chances and we haven't always done a good job of stopping the other team. If we change that, the results might be different. It's something we are working to improve on."
Bethel entered this week just 10-of-60 on the power play. Opponents haven't been too much more successful against the Royals, though, converting on only 12 of their 53 opportunities.
Losing the close games can wear on a team. Players begin to over-think, frustration can set in and the fabric of team chemistry can be torn apart.
That isn't the case at Bethel.
"Our guys have been awesome," Burggraf said. "The leadership has been excellent and everyone has done a great job of sticking together."
There are, of course, benefits to dealing with difficult times in athletics, benefits that will serve the athletes well long after they have hung up the skates.
"I spent a number of years in the business world and I tell the guys about perseverance," Burggraf said. "Life can get tough and you can't let yourself pout about it. You have to persevere and learn from the challenges that come your way."
Brock Rafaelle and Travis Payne lead the Royals with 13 points apiece. Both players have scored six goals.
Mitch Hughes has tallied five goals and two assists, while Colin Mayer has come through with three goals and four assists.
The Royals have scored 28 goals in all.
Steven Bolton has spent the majority of time in goal, having tallied 308 saves. He has allowed 28 goals.
The Royals have a rugged schedule ahead as they attempt to make up ground in the MIAC. They will play three of the teams currently in the top four in the standings – St. Thomas, Gustavus Adolphus and St. John's – and also have a nonconference game with nationally-ranked Wisconsin-Stevens Point.
Bethel is 1-4-1 in conference play.
Burggraf said starting strong and continuing to compete hard are the keys.
"We've had some bad first periods and we need to get rid of that problem by being ready to play from the start," he said. "We need to start strong and play hard. If we can do those things, we'll be poised for a good second half to the season."
Sweep for St. John's: The Johnnies completed a 2-0 weekend on Saturday with a 2-1 overtime win against Marian.
Phil Johnson provided the game-winner as he scored 1:41 into OT on the power play. It was his fourth goal of the season. St. John's had struggled on the power play throughout the game, coming up short on its first five chances.
John Haeg also scored a goal for the Johnnies, who improved to 8-6 on the year. Josh Gross and Dave Mylrea assisted on Haeg's goal. Gross has now had at least one point in nine games. He has tallied six goals and eight assists during that stretch.
Saxton Soley earned the win as he racked up 37 saves. He is 7-4 on the year and 22-9-1 in his collegiate career.
The Johnnies opened the weekend with a 5-3 win over Wisconsin-Stout and have won three consecutive games.
Tight Battle: St. Olaf faced off against Adrian on Friday and gave the top-ranked team in the nation all it could handle before ending the game in a 4-4 tie.
The Oles led 3-1 in the second period, but the Bulldogs scored twice in the period to tie the game. St. Olaf outshot Adrian 38-31 and four players scored goals for the Oles.
Dan Cecka, Nick Marsh, Mike Erickson and Mark Rath all scored goals for St. Olaf. Cecka has racked up nine goals on the season.
Steve Papciak made a total of 27 saves for St. Olaf. Both teams combined for 11 shots in OT, but no one could come up with the game-winner.
The Oles fell 4-3 to Lake Forest on Saturday and are now 3-9-3 on the season. They are on a five-game winless streak.