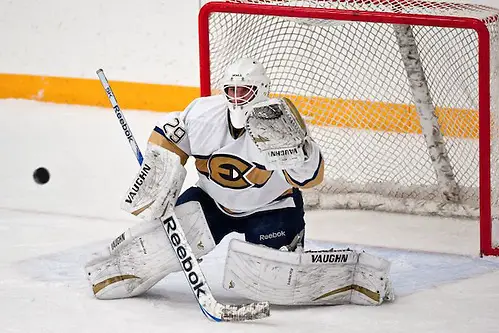 Tyler Green said he joked with Brandon Stephenson after last season's national championship run by Wisconsin-Eau Claire about setting the standard for goalies at the school.
"He told me the stage is all mine next year and I told him thank you for setting the bar so low for me," Green said as he recalled a conversation after the Blugolds knocked off Oswego for the title.
Green, a sophomore, certainly entered this season with big skates to fill between the pipes. Stephenson won 22 games a year ago and allowed only 59 goals. He also made 790 saves.
Green only played in one game last season, but he had the luxury of learning about life as a goalie in college hockey from Stephenson.
It's paid off for him this season as he has seen action in eight games, fashioning a 5-3-0 record in that time. He has allowed 18 goals and has racked up 200 saves.
"It was great for me to sit back and watch one of the best goalies and was a big help to be able to learn from him every day," Green said. "I learned what it takes to be successful at this level and anytime I ever had a question, he would always answer it for me."
Even now, Green is still getting advice from Stephenson.
"We keep in touch. He will text me and tell me to just go out and do my thing," Green said. "He tells me to enjoy the time I have here and to not over-think anything."
Green and fellow goalie Jay Deo, a freshman, seem to have settled into a nice rotation for the Blugolds, who have put together a five-game win streak. Eau Claire has blanked its last four opponents. Deo and Green have each come through with two shutouts during the streak.
Deo has played in six games and has made 128 saves. He is 5-0-1 and has allowed four goals.
"We are very happy for each other and we always want to see each other do well," Green said. "We talk a lot and push each other every day in practice. It's nice to have two goalies who can both step up at any time."
Green said the Blugolds' latest win streak is a credit to how hard the team is playing and to being physically ready to go every night.
"We've put in a lot of time with conditioning lately and we have all worked very hard on the ice," Green said. "The puck isn't in our defensive zone very long and that makes my job a lot easier. Our defense has been our best offense."
Green said his own personal success is a linked to the confidence he gained from being a part of a national championship team.
"My competitiveness and my confidence has really gone up this year," Green said. "I learned a lot about having confidence from Stephenson and I know I have the ability to excel at this level. It's really paid off for me."
The eighth-ranked Blugolds head into this week at 10-3-1 overall and are 0-1-1 in the WIAC. They have one nonconference game remaining as they battle No. 6 St. Thomas on Saturday before getting into the heart of their league schedule.
Joe Krause leads Eau Claire offensively with eight goals and eight assists. Jon Waggoner has come through with seven goals and six assists, while Jack Callhan has tallied two goals and 11 assists.
Eau Claire has scored 86 goals this season.
Green believes the Blugolds are starting to hit their stride and are capable of making another run if they continue to play up to their potential.
"We just have to keep battling hard every night," Green said. "We had a few losses earlier in the year, but that was before we really all got on the same page and got used to playing together. We know that when we are playing at our best, we are a good team."
Happy Birthday: Hunt Arena turned 40 this past week and Wisconsin-River Falls nearly earned a win over St. Scholastica on Saturday.
The Falcons scored two early goals, but the Saints battled back and the nonconference game ended in a 3-3 tie. The game featured two nationally-ranked teams as River Falls was 13th and St. Scholastica was 14th.
Willie Hess scored his 10th goal of the season in the tie. Zach Schrotenboer and Jeff Bergh also scored goals for the Falcons. Schrotenberger tallied his fifth goal of the season.The goal for Bergh was the first of his career.
River Falls outshot St. Scholastica 23-22 and Tanner Milliron made 19 saves for the Falcons, who are now 9-3-2 overall.
Thrilling Showdown: Wisconsin-Stevens Point squared off with St. Norbert in a matchup of top-five teams and the Pointers ended the game in a 2-2 tie with the Green Knights.
The Pointers, who came in ranked No. 2 in the nation, got goals from Kyle Sharkey and Scott Henegar. Sharkey scored his fifth goal of the season. Henegar punched his eighth goal of the year into the net.
The Pointers trailed 1-0 early before Sharkey tied the game. Henegar gave the Pointers a 2-1 lead before the fourth-ranked Green Knights responded to forge the tie. Stevens Point was outshot 33-27 and is now 12-1-1 on the season. Brandon Jaeger made 31 saves for the Pointers.