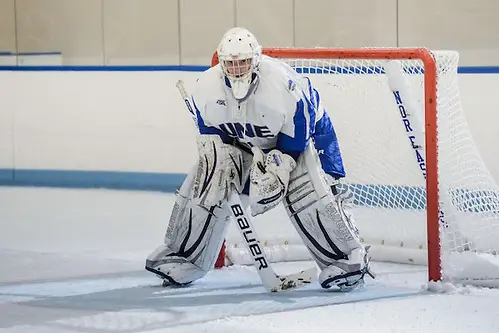 For some Division III conferences, this weekend is the final go at the regular season.
Others start the playoffs.
Either way, the intensity should be ramped up and players will either show they have ice in their veins or butterflies in their stomachs.
How will this weekend play out? As always, our crack staff has some ideas.
ECAC East – Tim Costello
It all came crashing down in the final week of the regular season and my poor picks hurt the overall record a lot.
An atrocious 2-4-1 (.357) pick week has things looking bleak. That brought down the overall season to 38-23-6 (.612), which is way short of my 70 percent target. It's all about the conference playoffs now, so maybe a fresh start will help some renewed accuracy.
Saturday, Feb. 22
No. 8 Skidmore @ No. 1 Norwich
The Cadets are back with their game faces fully on based on last week's clutch performances against two tough conference foes. This one will be closer than the final score indicates as one or more empty-netters make up the difference. Norwich 5-2.
No. 7 Southern Maine @ No. 2 Babson
Expect Dylan Wells to be rather busy in the Huskies net as the Beavers roll four lines – it's hard to tell any of them apart in terms of their balanced contributions to the scoresheet. It's too much for a Huskies' team that has battled all year, but couldn't quite get over the hump. Babson 4-1.
No. 6 University of New England @ No. 3 Massachusetts-Boston
To beat any team four times in the same season is going to take a lot for the Beacons. Key question is if goalie Colby Drost can keep the Nor'easters in it and if Jared Melman match firepower with a potent Beacon offense. This one comes down to the wire and special teams will be a factor in the outcome in this matchup. Massachusetts-Boston 2-1.
No. 5 Castleton @ No. 4 New England College
The four vs. five game is always a wild one, but the same could be said for all of the quarterfinal pairings this year. Two teams going in different directions at the end of the season and this time home ice isn't enough to keep the Spartans from advancing to the semis. Castleton 3-2.
Quarterfinals action means have the teams are going home – drop the puck!
ECAC Northeast – Nathan Fournier
Saturday, Feb. 22
Becker at Curry
Becker has been an interesting team the last few weeks as they have been playing everyone tough. Curry will have to be on its toes as both teams are still trying to secure a conference tournament bid. The two teams met last month with Curry winning 2-0. I believe Curry comes out of its funk and wins this one 3-2.
Western New England at Nichols
Western New England is fighting for their playoff lives and will need a win to keep up with Curry and Suffolk. I give the Golden Bears a puncher's chance against Nichols because the Bison has slipped in some games that they should have won this season. I don't expect it to be 6-2 game like the first meeting in which Nichols won. I will take the Bison in a 3-1 game.
Wentworth at Suffolk
A rivalry between two schools two and half miles apart with a lot on the line. Suffolk is trying to secure a place in the conference tournament, while Wentworth is trying to get one of the top two spots and a bye into a semifinals. This game is a toss-up, but I will take Wentworth in a 4-3 contest
Sunday, Feb. 23
Johnson and Wales at Salve Regina
Another rivalry game between two Rhode Island schools. In the first matchup at the Dunkin' Donuts Center in Providence, Salve Regina spoiled Johnson and Wales' party in a 2-1 game. Salve Regina has taken its experience from the nonconference portion of its schedule and used it in conference and are in the thick of things along with Johnson and Wales. I will take Johnson and Wales in a 5-4 game.
Tuesday, Feb. 25
Western New England at Becker
Who knows where both teams will stand in terms of the playoffs when they drop the puck for this game? My hunch is that the Golden Bears will still be in the hunt and will need to win this game to get in. Becker is that perfect spoiler team and will give Western New England a game. I will take Western New England in a 5-3 game.
Curry at Johnson and Wales.
Another game that Johnson and Wales could possible have nothing to play for. They could be in a position where they can't get a bye and rest some players heading into the tournament. If that's the case, that opens the door for Curry to secure their berth and/or knock out Suffolk or Western New England. Johnson and Wales has more talent so I will take them in a 6-3 contest.
ECAC West – Dan Hickling
Friday, Feb. 21
Neumann (9-10-4, 4-7-2) @ Nazareth (7-15-1, 3-9-1) – Nazareth 5 Neumann 4
Both teams want to be THAT team that no one wants to meet in the playoffs. This game, the first of a two-game set, should bolster that notion for at least one of them.
Saturday, Feb. 22
Manhattanville (11-10-2, 4-7-2) @ No. 13 Utica (14-5-4, 9-3-1) – Utica 5 Manhattanville 2
If the ECAC West regular-season championship is still undecided Saturday, expect the defending champion Pioneers to go all out to grab it.
MASCAC – Nathan Fournier
Saturday, Feb. 22
Framingham State at Plymouth State
This is the matchup of the night in the MASCAC as this game could be a deciding factor on who heads straight to the semifinals of the MASCAC tournament and who has to play in the quarterfinals. Both teams have won on the road in their first two meetings of the season, but I believe that won't be the case this time around. It will be a very good game and Framingham State can win, but I see Plymouth State winning 3-2.
Fitchburg State at Salem State
Salem State seems like it have been pulling from the pack as they sit on top of the standings. Fitchburg State is in the middle of a tough stretch to end the season and pretty much everybody has struggled at Salem State this season. I think Fitchburg State hangs around with Salem State for two periods, but Salem State pulls away in the third period to win 5-2.
Westfield State at Worcester State
Westfield State is one of those teams in the running for a bye into the semifinals. The Owls have had no problem this season against the Lancers and I don't see that changing this time around. With a lot on the line for the Owls, I see them coming away with the 4-1 victory.
Tuesday, Feb. 25
Fitchburg State at Massachusetts-Dartmouth
This is a very intriguing game. Both teams are still alive for the conference tournament, but UMass-Dartmouth is hanging on by a thread. It's quite possible by the time this game happens all UMass-Dartmouth is playing for is pride and being spoilers. I think they come out and play hard if that's the case in a 4-3 victory.
Worcester State at Salem State
Worcester State could be in the same position as UMass-Dartmouth, but the Lancers have a tougher task at hand. Salem State is running on all cylinders at the right time. Some may say they are peaking too early, but time will tell. I think the Salem State seniors will win their final regular-season game at home 5-1.
Plymouth State at Westfield State
This could be a possible semifinal match up in the conference tournament. This is another game on the docket that could determine who would host that semifinal game and who would have to play in the quarterfinals. Both games have been high-scoring affairs this season with Plymouth State winning 6-4 and 6-2. I say they complete the sweep in a playoff atmosphere 4-2 win.
MIAC/WIAC – Brian Lester
It's the final week of the regular season and the stakes are high for several teams. In the MIAC, Concordia (Minn.) is in wait-and-see mode for the playoffs as St. Olaf and Augsburg square off.
The Cobbers will be in the playoffs as long as the Auggies don't earn a sweep in regulation.
In the WIAC, Wisconsin-River Falls takes on Wisconsin-Stevens Point and Wisconsin-Eau Claire and if the Falcons win both games, they will win claim the league championship.
Here are my predictions for the weekend.
MIAC
St. Olaf vs. Augsburg
St. Olaf sits in third place in the standings, but only has a one point lead over St. John's. This series for the Oles carries a lot of weight in terms of playoff positioning.
The Oles have scored 68 goals and have allowed 66. St. Olaf has won five of its last six games and is led by Dan Cecka, who has scored 16 goals and dished out nine assists.
If he has a big weekend, St. Olaf has a chance to win both games and head into the postseason with momentum.
Augsburg is in desperation mode. The Auggies have won two consecutive games and have been effective on offense as they have tallied 72 goals. They have given up 63.
Ben McClellan leads Augsburg with 14 goals and five assists.
Both offenses should be able to create opportunities, which means the team that plays the best defense is going to prevail. St Olaf, 4-2, Augsburg 3-2.
St. Thomas vs. St. John's
The Tommies have the league title wrapped up and have home-ice advantage throughout the conference tournament.
But this is a series between two rivals and St Thomas needs to show up ready to play to avoid an upset against a St. John's team still fighting for playoff positioning.
For the Tommies, it's all about goaltending. If Drew Fielding plays his best, the Tommies are going to be in a position to win both games. Fielding owns a 1.44 goals-against average and has racked up 524 saves. If he plays well and the Tommies continue to be balanced on offense, St. Thomas will head into the tournament on a 10-game win streak.
But I could see the Johnnies stealing one if they play up to their potential. St. John's has won four consecutive games and Saxton Soley has been solid in goal. He has a 2.08 goals-against average and has made 443 saves. The Johnnies need him to play well to have a shot at victory.
Offensively, St. John's has racked up 65 goals and is fairly balanced as well. Defense will decide this series. St. Thomas 5-2, St. John's 4-3.
WIAC
Wisconsin-River Falls vs. Wisconsin-Eau Claire
The Falcons are scheduled to play Stevens Point today on the road, but have the luxury of playing the Blugolds at home.
This should turn out to be quite a battle. The Falcons have won their last two games and have racked up 70 goals. Their offense is balanced and seven players have scored at least six goals on the season. Willie Hess leads the way with 10 goals.
Scott Lewan and Tanner Milliron are both capable of playing well in goal and the defense of the Falcons will need to be solid to match the effort the Blugolds will give on defense.
Tyler Green owns a goals-against average of 2.08 and has made 448 saves. The defending national champions have tallied 83 goals on the offensive end of the ice and Jon Waggoner leads the way with 10 goals and eight assists.
If Eau Claire is on top of its game, it has a shot at getting the job done on the road, where it is 7-3-1 this season. This game could go either way. Blugolds, 4-2.
Wisconsin-Stevens Point vs. Wisconsin-Superior
The Pointers are a machine on offense, having cranked out 115 goals on the year while allowing only 44.
Garrett Ladd has been unreal, tallying 18 goals and dishing out 20 assists, while four other players have scored at least 10 goals. Brandon Jaeger has been rock solid in goal. He owns a 1.89 goals-against average and has tallied 463 saves.
If the Pointers play their game, no way do they lose to Superior, which comes in on a two-game losing streak.
Superior has managed only 53 goals and has given up 67. Pat Dalbec leads Superior with 10 goals and 11 assists.
The Yellow Jackets have played well at times, including battling the Pointers to a 4-4 tie earlier this season. But Stevens Point is on a mission to win a league title and I expect them to get the job done. Stevens Point, 7-3.
NCHA – Katie Carito
Lawrence at St. Norbert
St. Norbert (21-3-1) has the edge going into the tournament as the No. 1 seed. Lawrence (6-17-2) slipped into the playoff race on Saturday night. I think the Green Knights will have this quarterfinal series. St. Norbert 3-2, 2-1
Milwaukee School of Engineering at Adrian
This will be an exciting series as the two teams have a storied rivalry, especially during playoffs. MSOE (7-17-1) has powered through the second half of the season and come into the playoffs as the seven seed. Adrian (20-1-4) has had a bulldozer season and is the No. 2 seed going into the weekend. Adrian 3-2, 2-1
Concordia (Wis.) at St. Scholastica
Concordia is making a conference playoff appearance for the first time since 2008-09. The Falcons (10-11-4) will be heading to St. Scholastica (13-8-4), who ended the regular season at third in the standings. St. Scholastica 2-1, Concorida 2-1, Mini game St. Scholastica 1-0
Marian at Lake Forest
The Marian Sabres (11-12-2) saw a seven-game win streak snapped on Saturday as they fell 3-1. Lake Forest (14-10-1) hasn't been able to get past the quarterfinals since the 2009-10 season. The Foresters will have home ice in the opening round of the playoffs. Lake Forest 2-1, Marian 2-1, Mini game Lake Forest 1-0
NESCAC – Tim Costello
Wow! Can I not pick them or what?
A tough 1-3-2 (.333) week left my overall season at 40-18-8 (.667), so now it is about being bulletproof in the final week of the regular season to have a shot at my targeted goal.
Friday, Feb. 21
Bowdoin @ Connecticut College
The Polar Bears are in a very tight battle for the fourth seed and the Camels have visions of getting there, too. This one is just like a playoff game and the visitors eke out a win for a very valuable two points. Bowdoin 3-2.
Wesleyan @ Trinity
The Connecticut shootout means much to both teams. The offense from the Bantams might just be too much for the Cardinals, who always play tough at home. Trinity 3-1.
Colby @ Tufts
The Jumbos have played hard all season, so Colby best not take them lightly and expect an easy two points. The game is as close as the score and the Mules get back to winning with some strong defensive hockey. Colby 3-2.
Saturday, Feb. 22
Amherst @ Middlebury
It is what most coaches in the league hoped wouldn't happen, but if last week's taking of three of four points from Williams is indicative of the Panthers down the stretch, they could give a lot of teams trouble in the conference tournament. Amherst still has shot at the top spot, so it could be another OT-deciding goal that separates these two rivals. Middlebury 2-1.
Hamilton @ Williams
Williams has stumbled a bit in the last two weeks and can't get back to the top of the ladder, but they could pass Amherst with some help. Back to basics and their winning ways against a game Hamilton squad that competes hard every game. Williams 4-2.
Could be chaos analyzing tiebreakers to determine final seeding come Sunday – drop the puck!
SUNYAC – Dan Hickling
Friday, Feb. 21
Cortland (4-15-1, 3-9-2) @ No. 4 Plattsburgh (28-3-2, 11-2-1) – Plattsburgh 4 Cortland 1
A bit of giant-killing would be very much to Cortland's liking, but the Cardinals are clicking now and aren't likely to stumble.
Saturday, Feb. 22
Buffalo State (9-9-5, 6-4-4) @ Brockport (8-12-3, 5-8-1) – Brockport 3, Buff State 2
Brockport could still have a playoff berth on the line by then, which should be incentive enough to push the Golden Eagles to a win.