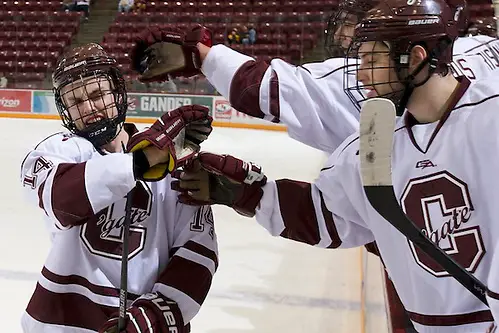 They haven't been known as the Red Raiders in a dozen years, but the way Colgate is playing, 2014 may be the year of the red-hot Raiders.
Colgate is 9-2-3 since New Year's, sandwiching the two losses between seven- and five-game unbeaten streaks.
While it's the recent run that has catapulted the Raiders into their third first-round bye in five years, coach Don Vaughan doesn't see this campaign as a tale of two seasons.
"It's been a gradual process of improving and building on the positives," he said.
His team started 2-5-1 before a keel-evening 5-2-1 run between November and early December. Only two tight losses to Massachusetts submerged the Raiders back below .500 for the fall. Since then, of course, everything's been coming up Colgate.
The biggest reason for the Raiders' resurgence has been the team defense, which has allowed fewer than three goals in 13 of its previous 18 games (10-4-4). Call him old-fashioned, but Vaughan is a believer in the tired old axiom: Defense wins championships.
"Everybody wants to push the pace and get up and down the ice, but it's so hard to score goals five-on-five anymore," he said. "I think special teams and solid defensive hockey puts you in a better position to win. It doesn't always, but I think it puts you in a better position to win championships. I do."
The Raiders allowed just barely over two goals a game in their last 18 outings, but there is no secret "lockdown" switch in the Starr Rink locker room.
"We've spent a lot of time on it, and it didn't happen overnight," Vaughan said. "It's something that we felt, coming into the season, we'd need to work on. We talked in training camp about making [defense] a six-man system … that we were going to have to get contributions not only from our goaltender and our defense, but that the forwards have to buy into playing good supportive hockey in our own zone, and it's something that we continue to work on.
"We show a lot of video to the guys, and at some point when you have a little bit of success, you can turn around and show it to them in our video sessions, it reinforces what we're trying to do and you get more buy-in. I think that's a big part of what happened here."
Team buy-in aside, Vaughan also credits freshman goaltender Charlie Finn with making the stops he's been asked to make.
"There's no denying that our goaltender has had a lot to do with that," Vaughan said. "He's played very well and has made some big stops at critical times in games."
Finn earned his 23 appearances, and continues to earn the starting position ahead of senior and former No. 1 Eric Mihalik by dint of a strong .918 save percentage and 2.44 GAA.
Mihalik has taken the change in stride, though, and has been as good a teammate as he has been a goalie. Vaughan spoke highly of the senior, noting his timely advice to Finn; appreciating his tireless work ethic; and pointing out that as a freshman Mihalik himself helped carry the 2010-11 Raiders to the league semifinals, playing ahead of juniors Alex Evin and Bryan Bessette. In other words, like any great goalie, Mihalik understands every angle.
Beyond the defense, Vaughan says Colgate is happy to roll deep … and anonymously.
"If you look at our stats, we don't have anybody that's at or near the top of the scoring in the league; our team stats are average in a lot of categories," he said. "We've had great contributions, but it's been by committee. We've got eight guys with 15 points or better. Nobody's really running away with it."
Colgate is looking forward to another set of home games, despite what its hosting record may suggest. While the Raiders are a mere 7-7-2 in Hamilton, Vaughan pointed to early-season struggles against elite opposition (Ferris State, St. Cloud State and Quinnipiac all visited during the 2-5-1 phase) as a big part of that mediocre record. There are no longer any causes for concern at Starr, he said.
Whether riding out a rough October or celebrating a sixth straight win, Vaughan and his coaches insist on — as he calls it — "hitting the reset button whether we win or lose," and never getting too high or too low.
Hope they can find that button under all the recent W's.
New rink for the Raiders
It's not breaking news by any stretch, but while I had Vaughan on the line, I asked him for any new or specific details on Colgate's new athletic facility, approved by the university's Board of Trustees in October. The proposal features a new rink to take the place of Starr, which opened for business 55 years ago.
Broadly speaking, there isn't much that is set in stone beyond the proposed facility's location on campus. The research and design phase of the project is under way and will hit its stride in earnest this summer (following hockey season), ushered along by the board following a successful $25 million fundraising campaign.
According to Vaughan — also the associate athletic director — the project will begin taking bids from contractors later this year with an eye toward groundbreaking in the spring of 2015. Opening night is targeted for October 2016.
The facility will center on the new rink — yet to be christened, but holding roughly the same capacity as 2,600-seat Starr — and will also feature coaches' offices and locker rooms for men's and women's hockey, lacrosse, and soccer programs.
"A lot of programs have built two rinks since we built Starr," Vaughan joked. "It's time, and we're certainly excited."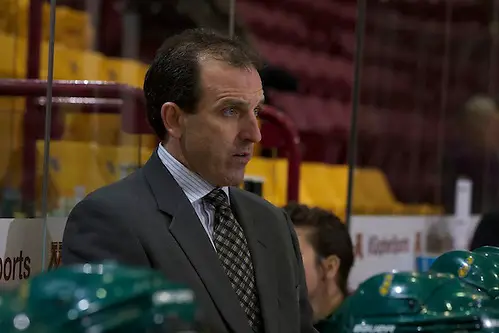 Some Knights
It's been a heck of a ride for Clarkson in coach Casey Jones' second year at the helm.
A 12-3-1 record after an early-December sweep of rival St. Lawrence had much of the nation wondering how the Knights had suddenly become quite so golden. A 5-11-2 record since then has taken the shine off the team for many.
Jones said it's all just part of the process.
"We've played some good hockey [lately] and haven't gotten the results we've wanted, so we get a little bit fragile with that," he said. "We've given up a few more goals, and it's just something that we — collectively, as a group — have to nail down and get a little bit better at."
Long story short, Clarkson had a lot of things going its way in the fall. In terms of health, bounces, opponents and, obviously, results, the Knights couldn't have hoped for much better. Unfortunately, you can't always have luck on your side.
"We also felt that we played some good games and haven't got the results" to show for it, Jones said of the team's recent struggles. "That's probably the most frustrating aspect of the second half: There have been weekends where we've played some pretty good hockey and ended up just on the short end of the stick, whereas we'd won some of those games in the first half."
That's a tough lesson to learn for a young team, composed far more by underclassmen than upper. It would seem fairer, somehow, for the wins to come after the bitter fight, not before. But Jones and his Knights feel secure that the wins will come again.
"We have to be a little more resilient in handling some of these situations," Jones said. "We have to just trust our process and the fact that we played a good game that didn't go our way, and saddle up and get back after it."
While the Knights may not have truly been the top-five team that some of their most optimistic fans may have hoped they were in early December, they are not skidding their way into mediocre obscurity, either, as fear — perhaps — their most pessimistic observers.
The 2014 half of the schedule has been more grueling, heavy on conference opponents and light on breaks. And, as simplistic as it may sound, some of the shots that were going in for the Knights in November aren't going in anymore; some of the shots that were saved by Steve Perry and Greg Lewis in 2013 are getting by them in 2014.
"That's the most challenging aspect," Jones said of his squad's dwindling puck luck, citing a number of recent games in which Clarkson likely deserved a better fate.
Teams don't always get what they deserve, but one of Jones & Co.'s biggest challenges this year was instilling in a young team the belief that the more you do to deserve it, the more likely you are to get it.
Consistency has been elusive at times, especially with the freshman/sophomore Perry/Lewis tandem tending the twine. Getting quality starts night-in and night-out has been a challenge, as neither netminder has stamped his name on the No. 1 spot at the moment.
Jones is waiting for a goalie to step up, or at least for the pair to establish a reliable performance pattern as the team preps for the postseason.
"On a nightly basis, we're not a team that can afford anything less," Jones said.
Fortunately, the roster is not completely comprised of kids. Senior Ben Sexton, for one, leads the team with 17 assists despite missing five games, and even more impressively he is fifth in the nation in faceoff percentage among players who have won 150 draws or more. (He is second only to Quinnipiac's Connor Jones in faceoff wins — 469-371 — and is third in the country in faceoff percentage among top-draw competition, meaning players who have taken 500 or more faceoffs this season.)
"He's been a three-year captain. That speaks volumes about the value of his voice in the locker room," Jones said. "He settles the team down, he knows what to say in critical situations, but more importantly, our puck possession — when his line is on — goes way up. He's a consummate leader."
On defense, sophomore tandem Kevin Tansey and Paul Geiger have made big contributions on both ends of the ice.
"We only have one senior back there" in Alex Boak," Jones said. "We play predominantly sophomores. Kevin is coming off a year being off, so I think his development curve has been real good over the course of the year. Paul Geiger is a really good defenseman who is starting to become really complete, so from our perspective, we really like the direction of our team back there."
Perhaps the happiest direction for the Knights right now is no directions at all: Clarkson won't need a map, overnight bag or bus to play its first-round series. The team locked in a first-round home series — and maintained a glimmer of hope for a bye — with a 1-1 draw at Rensselaer last Saturday.
"We're excited about that, obviously. Our student fan base has been great this year, and our community support has been fantastic. Our guys work really hard, and [the fans] are appreciative of their effort on the ice this year," Jones said.
"There's nothing like playing at home with an opportunity to advance — we've been working hard for that goal all year, to make sure that when we play in the playoffs, we're at home, and this weekend is obviously important to make sure we're setting ourselves up for success in the playoffs."