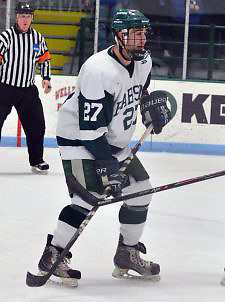 Following Saturday night's scintillating win over rival Norwich for the ECAC East title, Babson awaited the release of the NCAA tournament bracket and now know they will host the winner of the Oswego-Bowdoin game in a quarterfinal matchup on home ice this coming Saturday.
So what does it all mean to the team in green returning to the NCAA tournament?
"It's great that we are practicing on Monday," noted coach Jamie Rice. "It's really great that we won a conference championship on Saturday and it's great we look forward to a single game next weekend. This is all great when you are on the winning side of the win-or-go-home part of the season and right now, we are all happy to be sure. I think it's important not to get too caught up in the event itself. I think we need to enjoy the fact we are at this point and savor the being here now before the challenges of the game and competition come at us. At this point it doesn't matter who we play. Everyone left at this point is a good hockey team and playing very well so it really doesn't matter whether it's a Bowdoin or an Oswego since there will be little time to focus on either one following their game on Wednesday night."
For Babson, who has won back-to-back conference titles and now four times in Rice's ten years behind the bench, there is a clear sense of accomplishment and a sense of perspective from their coach who played at the school.
"I think back on some great hockey players that have played here when I was at school and certainly before and after," commented Rice. "It's a little like the Hall of Fame argument about did someone win the big one? There have been some great teams here and great players that don't have that defining moment of winning a championship to look back on. Years from now, the scores and story lines will all get blurred, but at the end of the day, no one can take away the championship and the connectivity for the team and the school that comes with that. It is a very special thing and all have been unique during my time here.
"I do want the kids to enjoy this special place and time of the season as it is so difficult to get here and there is no guarantee you get back during your four years."
As for the likely opponents, Babson knows both will be a challenge regardless of the outcome of Wednesday night's game. While NCAA rules mandate an exchange of game films, Rice isn't putting a lot into the technology uploads when it comes to game prep for the upcoming weekend.
"I do need to get on the film thing," stated Rice. "Not exactly sure how that all works in terms of the best way to get the film to who needs to have it by Thursday or Friday, but with that short a turnaround time between games, we will focus on executing our game and doing the things we need to do to be successful. We haven't seen either one of these teams in a long time, but understand how good they are to be playing at this point in the season. I remember as a player here losing to Oswego in a mini-game after splitting the first two games in a quarterfinal series and Bowdoin may be one of our biggest past rivalries. It seemed like we always played them three times a season. Either team is going to be a challenge for us, but we are looking forward to it and want to enjoy the fact we are playing hockey in mid-March."
It's wait and see regarding Saturday's opponent. The schedule is pretty much the same in terms of practice and preparation, but not lost on the coach and his players is the sheer enjoyment of being in the national tournament and playing a big game on Saturday night in front of their home fans.