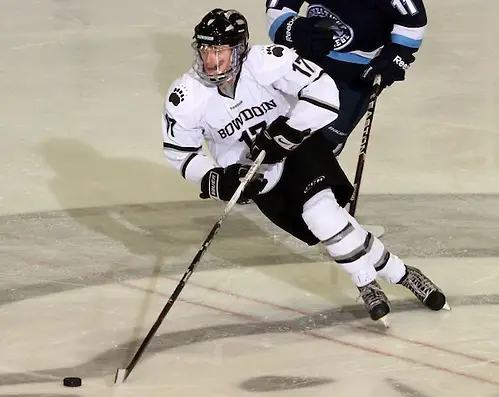 Back in January as the season's second half got underway, Bowdoin coach Terry Meagher said that "they had the league right where they wanted them," sitting in sixth place in the NESCAC and looking at a lot of teams ahead of them.
So it should come as no surprise that from the fifth-seeded position in the conference, the Polar Bears turned "road warriors" or "men in black" and have become comfortable with riding buses, playing on the road and being the underdog as they enter the NCAA tournament as defending NESCAC champions.
"Yeah, right where we wanted them," laughed Meagher. "I have always had a good feeling about this team and their sheer joy of playing the game. This conference is so competitive that any team in the conference tournament had a chance to win and that shouldn't be a surprise. The level of hockey is that good and we are thrilled to be representing the NESCAC conference in the national tournament this week. It's a fifth month of hockey and a long season, but there is a great level of excitement about having the opportunity to play for a national championship. All teams start out with those kind of high level goals and we are thrilled to play wherever to have that chance."
Bowdoin's first-round opponent is a familiar one in the SUNYAC conference champions from Oswego. Back in 2010 and 2011, Bowdoin faced Oswego in the NCAA tournament and came away on the short end of 9-2 and 7-5 losses in the quarterfinal round.
That was then and this is now, according to Bowdoin.
"Every year is really different for every team," stated Meagher. "Back in 2009, we faced what may have been one of the best teams Oswego has ever put on the ice. They have all been good, but that team was a special one for sure. In 2011, I thought the game really could have gone either way with a couple of bounces, but that was three years ago and there aren't many guys on the roster on either side that will remember much about that game. This year is really about two teams that haven't seen each other. I know they will be very good and well-coached and will try to get a look at some film in the next day or so to see what they bring to the ice. We aren't putting much stock in what has happened in the past. We are a different team and so are they, so we will go out and try to continue to play our style of hockey and hopefully, continue our recent results."
While the teams are clearly different, there are some advantages to the familiar from knowing the bus trip, local area for hotel and food, as well as the facility and rink itself. That familiarity may in fact help the Polar Bears the third time around.
"We definitely know what the bus trip is about," Meagher said. "We are familiar with the local area based on the past two trips and like playing in that building – it's a great facility and will have a good sheet to play on. Not only that, but we make life easier for our equipment manager since once again, like all the other playoff games, we will be wearing black as the visitors."
The coach is hoping that the good guys in the game Wednesday are wearing black and wouldn't mind wearing those shirts again on Saturday night against Babson in an NCAA quarterfinal.
But that would be getting ahead in the discussion since even as the host school for this year's Frozen Four in Lewiston, Maine, Bowdoin continues to be very focused on the business at hand and if that means as the underdog, this team is very comfortable playing that role one game at a time.