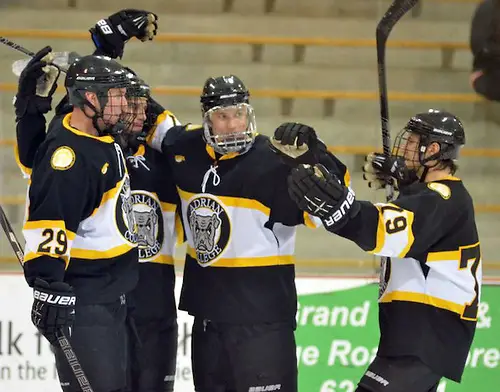 The season will continue for two NCHA teams as Adrian and St. Norbert have earned a spot in the NCAA tournament.
The teams will have familiar opponents in Saturday night's quarterfinal matchup – each other.
During the regular season, the two top teams in "new-look" NCHA have formed quite the rivalry.
In the month of January, Adrian was voted the top team in the nation in the USCHO.com Division III Men's Poll. In February, St. Norbert took over the top spot, with the Bulldogs following closely behind.
The Green Knights hosted the Bulldogs during the regular season. On Jan. 17, St. Norbert handed Adrian its first loss of the season in a convincing fashion – an 11-1 blowout.
On Jan. 18, the Bulldogs rallied to get the weekend split as they downed the Green Knights 4-1.
The past few weekends have been busy for the Green Knights. They earned the NCHA regular-season title, the Peters Cup, in the last possible game to do so with a 16-2-0 conference record, and then breezed through the Harris Cup playoffs to earn the NCAA automatic bid to the tournament.
Adrian has had a slower few weeks. The Bulldogs were one point behind the Green Knights in the final conference standings with a 14-1-3 conference record. In the NCHA quarterfinals, the Bulldogs took down the Milwaukee School of Engineering with 3-0 and 4-1 scores.
The following weekend, St. Scholastica challenged the Bulldogs in a one-game elimination semifinal match. They were not able to make reach the finals as they fell to the Saints 4-3. Not knowing if their season of work had secured them an at-large bid to the NCAA tournament, the Bulldogs continued to practice.
"We used the week off to skate more, a lot of conditioning during the week off," said Adrian coach Ron Fogarty.
This coming weekend won't be the first time the teams have seen each other in the tournament, but it will be the first time as conference opponents. Twice before they have faced each other, with St. Norbert taking both wins. In 2010, St. Norbert knocked out Adrian in the first round.
In 2011, the two teams met in the national championship game. The Green Knights earned the 4-3 win to take the top prize that season.
"I believe the winner of the special teams will move on," added Fogarty. "They are a storied program with expectations to get to the finals each and every year. So with those expectations, they have that experience at home in the quarterfinals. I think we need to do the little things right in this game."