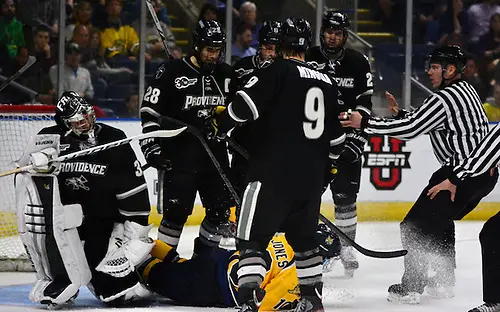 BRIDGEPORT, Conn. — Quinnipiac gave up the game's first goal in the game's fourth minute. No big deal; the Bobcats were down 1-0 14 times this year and split those games, 6-6-2.
Thirty-one minutes later, Quinnipiac was down 4-0. Twenty-five minutes after that, the season was over.
2014 NCAA East Regional
See all of our coverage of the East Regional on our regionals page.
The Bobcats were stymied, stalled and stonewalled at every turn against the surprising Friars, who handed Quinnipiac its first shutout of the season — and the first since last April's soberingly similar 4-0 loss to Yale in the national title game.
The Bobcats, playing just 35 minutes from home, didn't look uninterested, groggy or unimpressed. They threw 78 pucks on net, and nearly half of them got through to Jon Gillies.
They earned space, they threw hits, they developed scoring opportunities … for about a period or so. The difference between the 2013-14 Quinnipiac Bobcats and the March 28, 2014, Bobcats was so extreme that senior and top-line center Connor Jones earned a third of his 42 penalty minutes this season on Friday night (two minors and a misconduct).
"We played poorly tonight. Not sure why, but we just didn't play well. We had a tough time getting it going," Quinnipiac coach Rand Pecknold said. "It's a different game out there than we've been used to all year. There was a lot of obstruction and hooking and holding and we've got to find a way to fight through it a little bit better."
Pecknold's thinly veiled criticism of the officiating aside, the thrust of the matter is that Providence outmuscled Quinnipiac for most of the evening, and definitely when it mattered most.
"We've got to fight through the picks and the interference, and we didn't do a good job of that tonight," Pecknold said.
"We came out a little better in the second [but] they made it hard for us all night and things just didn't go our way," Bobcats captain Cory Hibbeler said.
Pecknold and the Bobcats were well aware of Gillies' elite status as a World Junior-caliber goaltender. The sophomore Calgary Flames prospect takes up a lot of net at 6-foot-5 and is no slouch with the mitt, either.
The coach talked about how the Bobcats were going to have to press the issue with Gillies, "get in his kitchen," get some dirty goals.
The Bobcats may have been putting the cart before the horse in that regard. Forget the goal line; Quinnipiac could barely get the puck past the red line for the last two periods.
"I wouldn't say we were shocked by it," Hibbeler said of the Friars' physicality, "but it definitely made things hard for us."
Hard by design, of course.
"I guess midway through the second, we got a couple lucky bounces; I think our second goal went off one of their defenders and then the power-play goal was close to a high stick," Providence senior defenseman Steven Shamanski said. "Once we got a couple goals off, we could see them getting frustrated, taking shots after the whistle or whatever, so we just wanted to keep on them, keep the pressure on them."
"We definitely didn't want to give them a lot of time and space," Providence coach Nate Leaman said.
Just like that, the national runners-up were sat on and suffocated in another season-ending 4-0 flop. Whether you credit Providence, cast sidelong glances at the referees or question the heart of these Bobcats, it was clearly a big man's world on the ice in Bridgeport Friday night. The bigger men are moving on.