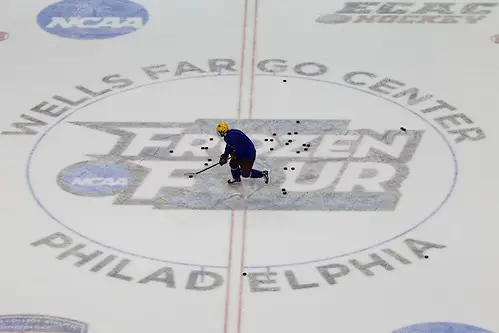 PHILADELPHIA — Each of the participants in this year's Frozen Four has a class that has already experienced college hockey's biggest stage.
Boston College, Minnesota and Union were in Tampa in 2012, while North Dakota made an appearance in St. Paul in 2011.
2014 Frozen Four
Follow all of USCHO's coverage at Frozen Four Central.
Each team is looking to its veterans to provide some guidance on how to handle the pressure and attention that comes with playing for a national championship.
"The upperclassmen have done a great job of letting us know what to expect and that sort of thing," said Boston College freshman goaltender Thatcher Demko. "They've just kind of told us coming in there's going to be a lot of hype, but you have to make sure you play your game and don't change anything because we've had success this year. So we can't be trying to change stuff and expecting a different result just because it's on a bigger stage.
"We have to stay focused on us and make sure we're playing our game."
Boston College plays Union in the first national semifinal on Thursday, with Minnesota playing North Dakota in the nightcap. Games are scheduled for 5 and 8:30 p.m. EDT.
North Dakota captain Dillon Simpson didn't dress for the national semifinal in 2011 that saw his team fall 2-0 to Michigan. Of the four North Dakota seniors, only forward Derek Rodwell played in that game.
Despite not playing, Simpson took in the atmosphere and has passed on some wisdom to the younger players on the team.
"Coming in as a 17-year-old, I didn't play my first Frozen Four," he said. "But still being part of the team and knowing what it's all about and what it takes, you learn a lot.
"Coming in this year, especially with the younger guys, not to get nervous about it. Obviously, there will be butterflies. But you have to take that nervous energy and turn it into positive energy. Guys will be excited about the opportunity; [we need to] just go out there and play. We have all the faith in the world in each other."
Union is focusing on not being as starstruck as the Dutchmen were in 2012, the school's first Frozen Four appearance. Union lost in the semifinals to Ferris State 3-1.
"I think we're focused, and more understanding," said senior Daniel Carr. "We're here to play hockey and it's more a business trip than last time."
"I think our first time to the Frozen Four we were just happy to be there," said junior defenseman Shayne Gostisbehere. "Of course we wanted to win. It didn't end up our way, but this year [there's] more [of a] business approach here, and we're just looking to do some damage better than we did two years ago."
Minnesota's last trip to the Frozen Four ended in a 6-1 loss to Boston College in 2012. Gophers captain Nate Condon said he expects things to be different this time.
"The last time we were here it was kind of while we were still in the rebuilding stage of our team," he said. "We were really happy to be here and we had a great time in Tampa Bay. But the mentality really wasn't there that we came for a championship.
"Obviously, we wanted to win, but it wasn't the same feeling that we have this time. This time our team is expected to do well and we're expected to win championships. That's been the mind-set all season, that we're expected to win. So I think the mentality is that we're here to win, and that's what we're trying to preach to the younger guys."
Boston College's Frozen Four experience is knowing what it takes to win. For the three other teams, it's how not to make the mistakes that resulted in a loss.
"I think guys were a little bit awestruck with everything in Tampa, but definitely not so here," said Union captain Mat Bodie. "I think the upperclassmen have done a great job of preparing the younger guys. We're just treating it like it is just another hockey game. The net is the same, the puck is the same and we'll be ready to go."