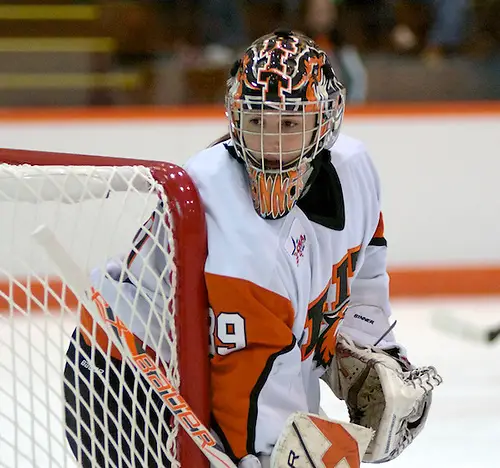 More than any other league, four years ago is ancient history in the CHA. Sure, rosters turn over in four years all over the country. But consider that four years ago:
The CHA did not have an automatic bid to the NCAA Tournament;
The players of the first recruiting class at Syracuse were entering their junior season;
Nate Handrahan was in charge of a Robert Morris program that had never won more than 12 games in a season;
RIT was a D-III powerhouse;
Lindenwood and Penn State played only club hockey;
Wayne State and Niagara still had varsity hockey teams competing in the CHA;
Mercyhurst was welcoming Meghan Agosta back from the Olympics, confident that she'd lead the Lakers to a CHA regular-season title.
Well, maybe the last item hasn't changed much, outside of the Meghan Agosta part. Mercyhurst still finishes atop the standings, but last season it was a little more of a high-wire act and less of a walk in the park.
That's likely because the CHA schedule presents much more of a minefield than it once did. Four of the league's members reached at least 20 wins overall.
"Teams are going to be more competitive, because Penn State and Lindenwood are improving each year, and they're making life difficult," Syracuse coach Paul Flanagan said. "They can snag wins from anybody, and they've done that in the past, so I think that it's not just going to be a couple top dogs winning all the games and walking away with it."
The schedule serves as a warmup for the CHA playoffs, where for the first time the winner will receive an NCAA automatic bid. This conference is as wide open as any, so I'll rank it as:
1) Mercyhurst
2) RIT
3) Robert Morris
4) Syracuse
5) Penn State
6) Lindenwood
Mercyhurst Lakers
USCHO prediction: First
Coaches' prediction: First (tie)
Last season: First (24-9-4, 15-3-2 CHA)
The names
In the preseason poll, only one of the league's coaches agreed with my choice of Mercyhurst to emerge on top. To be sure, there are reasons to doubt the Lakers.
The first problem for Mike Sisti is that his best player, Christine Bestland, graduated after a 226-point career, and she had the ability to make others better. However, although the Lakers lose the league's top scorer, they return players who finished second, third, tied for fifth, and tied for 10th in CHA points.
Juniors Emily Janiga and Jenna Dingeldein and senior Shelby Bram figure to spearhead the Mercyhurst attack up front. The Lakers graduated a couple of other key forwards in Christie Cicero and Kaleigh Chippy, so there are several holes, and freshmen Brooke Hartwick, Jennifer MacAskill, Kirsten Miller, and Sarah Robello arrive as candidates to fill them, with Miller figuring to have the largest role early on.
All-CHA senior defenseman Molly Byrne anchors a veteran defense that includes senior Caroline Luczak, junior J'nai Mahadeo, and sophomore Jillian Skinner among six returnees and adds Callie Paddock.
Senior Amanda Makela made all but three of the starts in net and responded with a .925 save percentage. Junior Julia DiTondo and rookie Jessica Convery provide depth.
The numbers
At some point, the Lakers always seem to put it together. A 7-5-2 start exhibited some struggles out of the gate, but they closed the regular season with an impressive 15-2-2 push.
Although it may have taken them awhile to get there, it wasn't a fluke that they wound up on top. Mercyhurst had the league's best scoring offense and defense, the most efficient power play, and the stingiest penalty kill. About the only negative was that it was also far and away the most penalized team in the league; maybe the players just like to see the name "Mercyhurst" appear on top?
And that's how it ends up every year, with Mercyhurst on top of the standings. In doing so, the Lakers have won enough games to reach the NCAA tournament 10 straight times, reaching the Frozen Four in four of the last six.
The prognosis
Sisti has a blueprint for how to succeed in the CHA, and despite only winning the league tournament once in the last three seasons, the Lakers remain the likely choice to accumulate the most conference points once again.
Rochester Institute of Technology Tigers
USCHO prediction: Second
Coaches' prediction: Third
Last season: Third (20-15-3, 11-7-2 CHA)
The names
To demonstrate how far the competition in the CHA has come in just two years, the league's coaches picked RIT to finish third, but the Tigers received more first-place votes (two) than Mercyhurst (one). Winning the conference tournament will earn you that kind of respect, and to be sure, it was in the postseason where Scott McDonald's team made its biggest splash, but it had already proved it could beat anyone during the CHA schedule.
RIT has a new home in which to display that trophy, as it enters its first season in the Gene Polisseni Center, an on-campus facility with a 4,300 seat capacity.
"Our excitement level is at an all-time high," McDonald said. "To be able to play in a sparkling, state-of-the-art arena and defend our league championship is something we are really looking forward to. We know we will have to give our best effort every night."
The Tigers got off to a ragged start a year ago, on the heels of graduating a class that was instrumental in winning the D-III NCAA Championship and smoothing the transition to D-I. After a 4-5 record in the first month, RIT put together a 16-10-3 finish, and along the way, new leaders emerged.
"We have a big senior class, who are all proven winners with tons of big-game experience," McDonald said. "That class has evolved over the last year like no other we've had."
Included in that class are the five top returning scorers, Marissa Maugeri, Kolbee McCrea, Celeste Brown, Lindsay Grigg, and Morgan Scoyne, the latter three of whom will be joined by sophomore Taylor Thurston as the team's captains.
The MVP of the Tigers' championship run was goalie Ali Binnington.
"Having Ali back is a huge piece to the puzzle," McDonald said.
Binnington allowed just four goals on 156 shots in four postseason wins, including a 62-save, double-overtime gem against Mercyhurst.
The numbers
The Tigers' CHA Championship did not earn them a spot in the national tournament, producing an oddity of RIT ending the season with a longer winning streak (seven) than anyone, including NCAA Champion Clarkson (three). Three of the wins in that stretch came in overtime, suggesting that the Tigers had learned how to win close games. They'd certainly had plenty of practice, as the final was their 11th OT game.
RIT lost the first three meetings of the season to Robert Morris, and that went a long way toward relegating the Tigers to third place. They struggled to score versus the Colonials, even when they salvaged the fourth game, 1-0. Perhaps the 4-1 win in the CHA semifinal is a sign that RIT has figured out how to exploit RMU's defenses.
The prognosis
RIT may be at a disadvantage in terms of high-end talent, but McDonald and his charges have to be encouraged by how they finished the season. If they've shown anything in recent years, it is that they know how to win hockey games. Having Binnington back for one more year makes doing so all the easier.
One can't rule out a first-place finish if a magical season comes together just right, but second looks more probable.
Robert Morris Colonials
USCHO prediction: Third
Coaches' prediction: First
Last season: Second (24-8-3, 13-5-2 CHA)
The names
Such is the nature of sport that a great season can leave a bitter aftertaste. Not long ago, nobody would have fathomed Robert Morris winning 24 games. Now the Colonials have done so, but we're left feeling that they not only left some meat on the bone, they missed an entire hind quarter.
Well into the season, RMU looked certain to reach the NCAA field, until a final month that not only squelched that dream, but seemed to suck all of the momentum out of the program.
Several stars are back, but a number of key players' careers are over. Thea Imbrogno, third-leading scorer as a senior, is gone, leaving as the most productive player ever at Robert Morris with 122 career points. Kristen Richards, fourth in points a year ago, graduates and creates another opening up front. Hardest hit is the blue line, where mainstays Anneline Lauziere, Kylie St. Louis, and Brandi Pollock depart.
Senior Rebecca Vint, poised to supplant Imbrogno atop the career scoring chart, brings a unique skill set that makes her a threat anywhere on the ice. As a rookie, Brittany Howard tied Vint for the team lead with 41 points, and Maeve Garvey had a solid debut.
In goal, Jessica Dodds did not experience defeat until the final game of January, going 17-0-2 in her first 19 decisions. That first loss at Mercyhurst, a game where the Lakers outshot RMU 17-0 in taking a two-goal lead over the opening 20 minutes, seemed to damage the collective psyche of the Colonials, and it's doubtful if they ever fully recovered.
The numbers
Despite the loss to Mercyhurst, Robert Morris was still in good shape as February began. The month opened with a loss to Lindenwood and a tie and loss versus Syracuse, allowing 10 goals over that stretch. That set the stage for the final two defeats to RIT in which the Colonials managed a single goal on 48 shots.
The prognosis
Robert Morris has been a bit of a streaky team during Paul Colontino's tenure. That's not all bad, as many of those streaks have been very hot. But last year was the second straight season where RMU looked to have the inside track on the CHA race, and then they hit a downturn; the rough patch just arrived earlier in 2012-13.
Will they suffer a bit of a hangover from the disappointing finish or use it as motivation for an even better campaign? I'd like to see the latter, but I fear it may be the former.
Syracuse Orange
USCHO prediction: Fourth
Coaches' prediction: Fourth
Last season: Fourth (20-14-3, 9-8-3 CHA)
The names
Syracuse has been largely overlooked and relegated to fourth place by most, including yours truly. In a league that doesn't have a dominant team, however, the door is open for someone to come, maybe not from nowhere, but perhaps from a supposed fourth place.
"I think it could be any one of three or four teams, with even five and six pushing everybody," Paul Flanagan said. "It really, I think, is going to boil down to who gets the hot goaltender or consistent goaltending, who can play good, consistent team defense, and at the other end if you can get a couple consistent scorers and get good special teams, any one of those four teams could probably sneak up there."
There have been seasons where Syracuse has attempted just such a sneak to the top, but then a series with Mercyhurst has appeared on the schedule and ended poorly for the Orange, derailing their hopes. A new year brings new possibilities.
"I like our group," Flanagan said. "One of the things you don't see on paper is team chemistry. I really like our team in the locker room."
A team has to be able to translate that togetherness in the locker room out onto the ice, and Flanagan's young squad will try to achieve that.
"We're pretty top-heavy with freshmen and sophomores, but I think at the same time, we have a pretty good nucleus of veteran players," he said.
Forward Margot Scharfe and defenseman Caitlin Roach put together nice senior seasons, so they'll need to be replaced, as will top goaltenders Kallie Billadeau and Jenesica Drinkwater.
"We have a transfer goalie in Jenn Gilligan who came in from New Hampshire, took last year off, and transferred in here this year, so she'll be a junior," Flanagan said. "She's got some experience to replace Billadeau and Drinkwater. Backing her up we have a freshman from Minnesota, Benilde [St. Margaret's], Abbey Miller, so I think we'll be pretty solid in net."
The Syracuse blue line will try to make life easier for whomever is in net.
"I feel pretty good with our defensive corps," Flanagan said. "We're going to be led by Nicole Renault and Kaillie Goodnough. I think we're pretty solid back there from a defensive perspective."
As it does for many CHA squads, the verdict may come down to finding a way to light the lamp.
"We've got to have some people up front step it up," Flanagan said. "I'm sure we're similar to a lot of teams. Scoring in our sport is sometimes hard to come by. If you can find the right combinations up front and get some consistent scoring from some people, then other people start to chip in."
The numbers
Junior Melissa Piacentini and sophomore Jessica Sibley are two cornerstones around which combinations will be formed, as they combined for 29 goals and 56 points last season.
One of the biggest numbers standing in the way of any championship aspirations is the zero for all time versus the Lakers.
The prognosis
My primary prediction regarding the Orange is that no matter where they ultimately wind up in the standings, they will get that elusive first win over Mercyhurst. I'm not sure that they can win enough games against the other contenders to wind up on top.
Penn State Nittany Lions
USCHO prediction: Fifth
Coaches' prediction: Fifth
Last season: Sixth (4-29-3, 1-18-1 CHA)
The names
Coach Josh Brandwene leads Penn State into its third season with increasing reason for optimism. At first glance, the record in season two may look like a step backward, but five of the seven wins in the first year came over Sacred Heart and Chatham. Thus, with four wins over true Division-I opponents in 2013-14, the Nittany Lions actually doubled in that regard.
Beyond the wins, the level on the roster is increasing as eight freshmen and Hannah Bramm, a transfer from Minnesota-Duluth, join the squad.
"We've got tremendous talent, both in our junior class and in the sophomore and freshman classes, so it's an exciting time for Penn State women's hockey," Brandwene said.
Scoring threats like Shannon Yoxheimer and Hannah Hoenshell from the initial class were reinforced by the likes of Laura Bowman and Amy Peterson as offensive producers. In that quartet, PSU returns four of the five players who led the way with between 15 and 17 points last year.
"This is a group that's got a lot of speed, and a lot of work ethic, and a lot of intensity," Brandwene said. "So we are never lacking for great tempo. Our practices have been outstanding in terms of their pace and their tempo."
On the blue line, junior Jordin Pardoski has 18 points in her first two campaigns, and rookie Bella Sutton made her presence known with three points in the team's exhibition.
Primary goalie Nicole Paniccia graduated, so the team will be looking for a replacement from junior Celine Whitlinger and freshmen Hannah Ehresmann and Amber Greene, although Brandwene isn't ready to commit to a starter.
"We take things one day at a time here," he said. "We expect everybody to come, everybody to work, and grind it out every day in practice. We let them know on Thursday prior to practice what the situation is for the weekend."
The numbers
One concern is that the offense was heading in the wrong direction as the season progressed. Penn State scored three or more goals five times in the first two months, but only once thereafter. After being shut out three times through November, the Nittany Lions were blanked eight times the rest of the way.
As with Mercyhurst, PSU's place in the CHA standings was not an accident. The Nittany Lions were last in offense, defense, and special teams. In that respect, the large amount of roster turnover is welcome.
The prognosis
With the roster additions, Penn State should be able to put together a more dangerous line chart than Lindenwood, leading to climbing one rung in the standings.
Lindenwood Lady Lions
USCHO prediction: Sixth
Coaches' prediction: Sixth
Last season: Fifth (5-26-3, 5-13-2 CHA)
The names
Coach Vince O'Mara's strategy at Lindenwood was to play a challenging schedule out of conference to prepare his team for CHA play. At times, that slate proved too tough — the Lions were 0-11-1 against WCHA opponents last season — and an accumulation of losses is one reason O'Mara has been replaced behind the bench by former Ohio State and Robert Morris assistant Scott Spencer.
That's not the only turnover at Lindenwood. Of the dozen freshman that began three years ago, only four return as seniors. With 55 points for the Lions, forward Alyssa West is on course to graduate as the top scorer in the program's brief history. Junior Lyndsay Kirkham is the top returning scorer with 16 points a year ago. Lindenwood will also count on senior Katie Erickson for offensive punch, as she was the team leader in power-play goals and was tied with West for goals overall among returnees. Junior Shara Jasper, a transfer from Minnesota-Duluth, may provide another source of offense.
The experienced members of the blue line contingent are juniors Brooke Peden and Rachel Weich and sophomores Carrie Atkinson and Katie Nokelby. Team defense has been an area of improvement at Lindenwood, and the team allowed 30 fewer tallies than in 2012-13.
The key to that defense is junior goaltender Nicole Hensley. She has single-handedly kept the Lions in a number of games, and her performance earned her a spot on the United States Under-22 team in August versus Canada.
The numbers
Hensley has faced 2,475 shots in her two seasons, stopping 92.2 percent of them. In comparison, Erica Howe saw only 769 shots in starting all 41 games last year for NCAA Champion Clarkson. It's nice to have a great goalie, but no matter how good the goaltending, shots eventually result in goals.
The Lions scored only 44 times a year ago in 34 games. It's hard to win when you don't score. In the 10 games where Lindenwood scored more than once, it was 5-4-1, as opposed to an 0-22-2 mark when scoring one or zero goals.
On the positive side, Lindenwood did manage to take at least one point from every conference opponent, providing belief that it can play with anyone. It just can't afford to fall behind. The Lions only gained points twice in games in which they trailed, both versus Penn State.
The prognosis
No matter what Spencer's hockey philosophy may be, his team will have to work hard and play strong defensively to have success this year. Until more scoring threats emerge on the roster, Lindenwood will be restricted to trying to escape the cellar, and with improvements at Penn State, the odds don't appear to be in Lindenwood's favor.