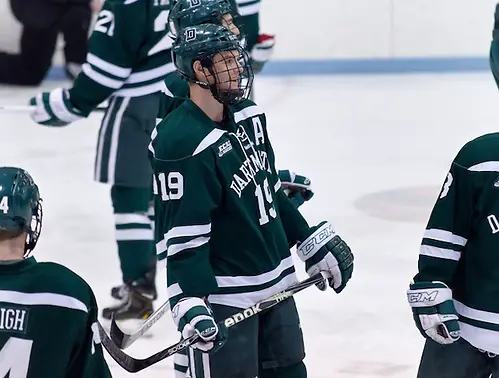 If the Dartmouth Big Green could have played the first half of last season the same way they played after Christmas, we might be talking about a year of contention rather than one of recovery.
"I'm very optimistic about this group. We have a veteran group coming back," said seasoned coach Bob Gaudet. "Last year wasn't good enough. I know that as a coach, and the guys know that."
Last year was a 10-20-4 tease of a season in which the Green — 2-10 at the holiday break — played all but .500 hockey in the new year, going 6-7-4 after the hiatus and upsetting first-round opponent Rensselaer in Troy before falling at eventual champion Union in the quarterfinal series.
The product on the ice was wildly inconsistent all year long, with the offense scoring in explosive bursts and the defense and goaltending bumbling about the ice in between true shutdown outings.
"I think we gained a lot of confidence down the stretch," Gaudet said, and "we had such a jumbled lineup, that … for the guys who were pushed into playing a bunch of different roles, that experience will really help us."
One thing that Dartmouth has in spades is experience. The Big Green return a higher percentage of last year's goal-scoring and overall offensive production (98 and 99 percent, respectively) than any other team in the league, and while the team did not score prolifically (tied for eighth in league scoring), at least there is no reason to expect any further drop in scoring this year.
Another affiliated high note for Gaudet and Co. is the return of redshirt senior Eric Robinson. A rarity in the Ivy League, Robinson returns for a fifth year after just two games played last year. The forward has accumulated 26 goals and 56 points in 91 career games in Hanover.
In net, upcoming junior Charles Grant started 25 of Dartmouth's 34 games last season, and was the only Green goalie to maintain a save percentage over .900 (.909 overall). That will have to go up and his 3.01 overall GAA will have to come down if the Green hope to achieve a home-ice playoff series, much less beyond.
About the Big Green
2013-14 overall record: 10-20-4
2013-14 ECAC Hockey record: 7-13-2 (tie, 10th)
2014-15 predicted finish: Sixth in both the coaches and media polls
Key losses: D Taylor Boldt
Players to watch: F Brandon McNally, F Eric Neiley, F Eric Robinson
Impact rookies: F Corey Kalk, F Kevin Neiley
Why the Big Green will finish higher than predicted: A commitment to team defense and improved play out of Grant and the other goaltenders will stabilize an offensively inconsistent roster.
Why the Big Green will finish lower than predicted: If scoring drops and the defense and/or goaltending fail to improve, it will be a long winter in Hanover.