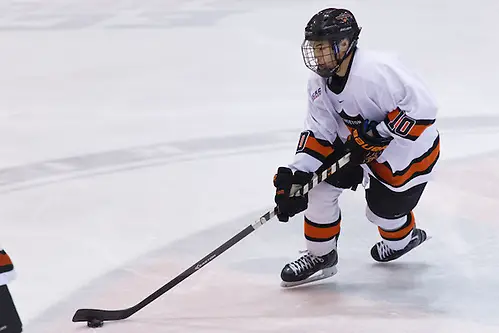 It can't get much worse for Princeton. The Tigers were outscored by just over a two goals a game last season en route to a 6-26 record.
They pulled off arguably the upset of the year in ECAC Hockey play Nov. 23, scoring three straight third-period goals to snap Quinnipiac's 12-game unbeaten streak. But that win failed to carry over for Princeton, as the Tigers went nearly two months before their next win and finished the year with the third-worst winning percentage in the country behind Army and Alabama-Huntsville.
That dismal season was the final one for coach Bob Prier, who resigned in May after three years with the Tigers. Enter Ron Fogarty, a former Colgate forward and assistant coach, who most recently helped launch the program at Division III Adrian and turn it into a national contender, going 167-23-10 in seven seasons.
Fogarty brings several new staff members with him, including former Clarkson and Colgate assistant coach Brad Dexter and Stavros Paskaris, who was an assistant under Fogarty at Adrian for the last five seasons. Volunteer goalie coach George Bosak is the only holdover from Prier's staff.
"It's a fresh start," Fogarty said. "[We're] going to take the time to put players in place where they can succeed."
He and his staff will have to do that without the Tigers' top two scorers from last year, forwards Andrew Ammon and Andrew Calof, who both graduated. Junior forward Jonathan Liau is the top returning scorer with 13 points.
Sophomore goalie Colton Phinney split time with since-graduated Sean Bonar last season and showed flashes at times. He'll be joined by freshman Ben Halford.
Keep an eye on senior Tyler Maugeri. The forward had a solid sophomore season before being limited to 18 games last year due to injury.
It might take a while for the wins to come, but the Tigers should at least be more exciting to watch this season.
"The biggest thing is puck support and putting pressure on the puck when we don't have it," Fogarty said. "We're going to try and eliminate the dump and chase. … We're going to play for the win and not play to not lose."
About the Tigers
2013-14 overall record: 6-26
2013-14 ECAC Hockey record: 4-18 (12th)
2014-15 predicted finish: Last in both the coaches and media polls
Key losses: F Andrew Ammon, F Andrew Calof, D Alec Rush, G Sean Bonar
Players to watch: F Jonathan Liau, F Tyler Maugeri, G Colton Phinney
Impact rookies: F Ryan Berlin, D Matt Nelson
Why the Tigers will finish higher than predicted: Fogarty's up-tempo style and solid goaltending from either Phinney or Halford moves the Tigers out of last place.
Why the Tigers will finish lower than predicted: Princeton can't finish any lower than its preseason prediction, but it will remain in last place if the offense and defense are among the worst in the nation once again.