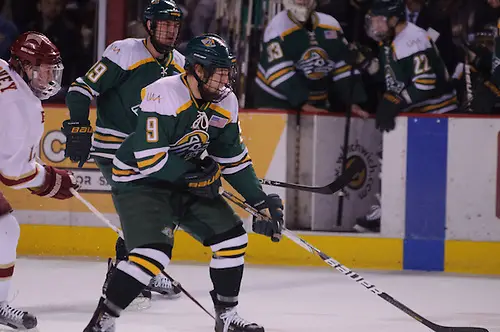 Matt Thomas took over an Alaska-Anchorage team last season that wasn't doing much winning and wasn't having much fun.
"When you come off a four-win season, you don't like hockey that much," the Seawolves coach said. "We kept things light as much as focused. … We didn't want to beat down too much. We wanted them to fall in love with the game again."
Anchorage went from four wins to 18 and enjoyed its first winning season since 1992-93, which was also the last time it had 18 victories. The Seawolves upset archrival Alaska in the first round of the WCHA tournament and took MacNaughton Cup-winner Ferris State to overtime in the Final Five semifinals.
"We got a little taste at the end of the year," Thomas said.
Amid the fun, there was a lot of teaching. Players learned how to compete and how to protect home ice, where they were 11-3-2.
"We taught our players what's available to them if you do compete," Thomas said.
The Seawolves lose some big cogs to their success last season, namely forwards Matt Bailey and Jordan Kwas, their top two scorers, as well as a pair of goaltenders, Rob Gunderson and Chris Kamal, who played 82 and 71 games, respectively, over the last four years.
A top line of Blake Tatchell, Scott Allen and Brett Cameron, as well as standout defenseman Austin Coldwell, are the veterans who will need to step forward, Thomas said, but he believes he has first- and second-year players — including three goaltenders — who can contribute right away, too.
Things get ramped up a bit this year, the 30th season of Division I hockey at the school.
But the fun stays.
"Let's make sure they're still having fun," Thomas said, "but the only way you're having fun is if you're competing the right way and wins are coming as a result of it."
About the Seawolves
2013-14 record: 18-16-4
2013-14 conference record: 12-12-4 (sixth)
2014-15 predicted finish: Seventh
Key losses: F Matt Bailey, F Jordan Kwas, G Rob Gunderson
Key returnees: F Scott Allen, F Blake Tatchell, F Brett Cameron, D Austin Coldwell, D Derek Docken
Impact rookie: G Olivier Mantha
Why the Seawolves will finish higher than predicted in the coaches poll: They become a confident program, building off last season's success in which they won 14 more games than the season before.
Why the Seawolves will finish lower than predicted: They continue to struggle on the road, where they won just three times in league play last year.