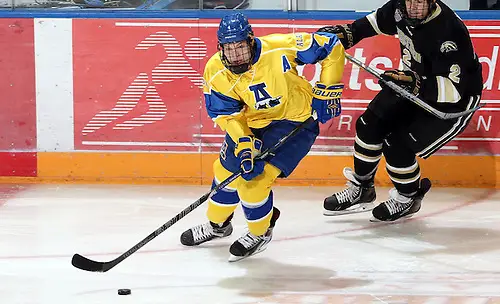 Dallas Ferguson can look up and down his roster and see that there's talent there.
Athletic, 6-foot-6 defenseman Colton Parayko. Slick-scoring center Tyler Morley, one of three double-digit goal scorers. Marcus Basara, coming off a solid freshman season.
But the Alaska coach gets asked about the players not on the list and not on the ice.
And he notices them, too.
"It's a little different look without a Kunyk, a Beck and a Quinn," Ferguson admitted.
That would be Cody Kunyk, last season's WCHA player of the year, along with fellow forward Colton Beck, who were the Nanooks' top two scorers a season ago, and defenseman Michael Quinn.
"How do you replace their minutes, their goals and their presence?" Ferguson asked rhetorically. "You have to look internally."
Once you stop looking for the guys who aren't there and focus on the ones who are, you realize the Nanooks have plenty of returning talent.
Morley and Parayko both were named to the WCHA's preseason all-conference teams.
There's also Basara, who had 12 goals and 26 points last season and two goals in this season's exhibition victory, as well as Garrick Perry, a senior coming off his best season.
Up front, Ferguson expects the steps taken by Morley (17 goals, 34 points last season) and Perry (12, 22) last season to be repeated by players such as Nolan Huysmans, Jared Larson, Brandon Morley and Shawn Hochhausen, all double-digit point scorers a year ago.
"We need those guys to step up, and we need our young guys to grab the horn, too," Ferguson said.
Defensively, the Nanooks are solid but lack depth. Parayko, Trevor Campbell and Josh Atkinson provide a solid core, and Ferguson is hopeful the stability Sean Cahill provided in goal over the second half of last season will continue.
About the Nanooks
2013-14 record: 18-15-4
2013-14 conference record: 14-12-2 (tie, third)
2014-15 predicted finish: Fifth
Key losses: F Cody Kunyk, F Colton Beck, D Michael Quinn
Key returnees: D Colton Parayko, F Tyler Morley, F Marcus Basara, F Garrick Perry, G Sean Cahill
Impact rookie: F Colton Sparrow
Why the Nanooks will finish higher than predicted in the coaches poll: They avoid the kind of slow start that put them in a deep hole early last season.
Why the Nanooks will finish lower than predicted: They're unable to replace the loss of players that made them the highest-scoring team in the WCHA a year ago.