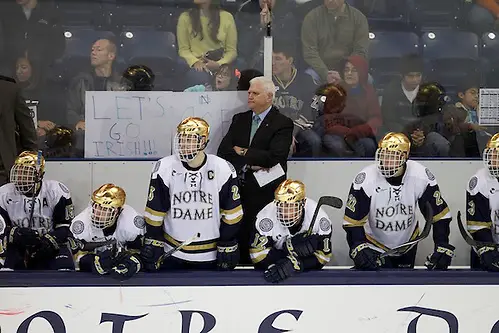 Each week during the season we look at the big events and big games around Division I men's college hockey in Tuesday Morning Quarterback.
Todd: Did the first week-plus of the season really end up like that?
Before every season, everyone around college hockey makes their best guess as to which teams will be the ones to watch, and then reality starts to set in. The teams that our 50 voters picked for the top 20 in the preseason USCHO.com Division I Men's Poll combined to go 14-14 in regular season games over the first nine days of the season.
You never want to read too much into results this early in the season, but what did you take away from that stretch?
Jim: I left the weekend shaking my head, no doubt. Particularly as I filled out my ballot and realized the few teams in the top 20 that escaped the weekend without a loss (of the 18 top 20 teams that played, only six came away without a loss), it was a pretty difficult weekend for the nationally ranked.
What this may say is that voters got things wrong on their first ballot. Even though only three new teams made their way into the poll, there were a number of huge shifts. Wisconsin led the way on the trek down, moving from 10th to 18th after losing twice in the Alaska-Anchorage tournament. Massachusetts-Lowell led the up-and-comers after posting a nice home win over once-No. 4 (now No. 7) Boston College.
But if anything, this weekend proved that the coaches who say that polls are for the media and fans are absolutely right. The game is played on the ice.
Todd: I can see some pretty tough weeks on the practice ice for a few teams. I saw Notre Dame lose both of its home games at the Ice Breaker Tournament, to Rensselaer and Minnesota-Duluth, and I think those results will put the veterans on the Irish roster on notice that they need to give more while the younger players adjust to the college level.
Wisconsin is in the same boat when it comes to youth. The Badgers had 10 freshmen in their lineup for Saturday's loss to Alaska-Anchorage, the most since a game in the 2003-04 season. The losses had to hurt, but the lessons learned are going to be valuable.
Jim: I think that at this point in the season, teachable moments are things that coaches actually want. Yes, winning games would be nice. But particularly if you have a number of rookies, it's good to see some mistakes that you can take to the video room, break down and create awareness so when these players are faced with similar situations later in the season that these mistakes don't happen.
Turning from the negative to the positive, there were plenty of accomplishments to talk about. Out east, most people in Hockey East began the year with the name of Boston University's Jack Eichel on the tip of tongues. Friday at Massachusetts, Eichel's hopeful promise paid dividends as he factored in four goals early in the third period to break open a 2-1 game. His two-goal, two-assist effort led to an 8-1 BU victory.
At least in Hockey East, I can't remember such a highly anticipated recruit possibly since Paul Kariya. Of course, there is the good and bad side of this. If Eichel has an explosive year like most anticipate, it may be his only year on Commonwealth Ave.
So if you're a coach, are you willing to risk a player lasting just a single year on campus? Personally, I'd do it in a heartbeat.
Todd: As long as you have your recruiting targets worked around the likelihood of having a player for only one season, it's a tremendous opportunity for a team. It's the surprise departures that can really throw a wrench into the long-term plans. I'd be surprised if BU's recruiting plan includes Eichel being with the team for more than a year, maybe two.
College hockey isn't going to change the system, so it has to manage how it works within it. I think you take the players that will get your school's name mentioned in a positive light on NHL broadcasts down the road.
Getting back to what we saw last weekend, there were a pair of notable hat tricks on Saturday: Jonny Brodzinski to help St. Cloud State earn a split with Colgate in a matchup of top-10 teams, and Vermont's Jonathan Turk in a win at Northeastern. One name may be more familiar to many than others; Turk scored just three goals in each of his first two seasons with the Catamounts. I suspect production from players like Turk will make Vermont more of a factor in the Hockey East title chase this season.
Jim: Certainly. I was actually quite surprised with how low Vermont was ranked in the Hockey East coaches' poll (eighth). This was a solid team that made the NCAA tournament a year ago. And Saturday proved that this Vermont team has the potency on offense and solid goaltending to become a top-tier team in Hockey East.
Thumbs up
Well done, fans at last Friday's Boston College at Massachusetts-Lowell game. When the national anthem singer's microphone didn't work, you knew what to do:
[youtube_sc url=https://www.youtube.com/watch?v=Xb6a5QZpsgc]
Thumbs down
OK, Kendall Hockey Classic, we'll overlook that we were introduced last weekend to an outfit called Rent A Can. But if you have a system where the tournament champion has to be decided by which team allowed the fewest goals over two games, that we won't overlook. An event where four teams are brought to one arena to play deserves to be decided by a championship game.
Coming up
We've got our eyes on some home-and-home series between ranked teams (and some former conference foes) this weekend.
From the old CCHA, No. 11 Miami and No. 17 Ohio State square off. From the old WCHA, No. 12 Minnesota State meets No. 20 Minnesota-Duluth. And from the old Division II independent ranks, No. 9 Massachusetts-Lowell matches up with No. 13 Quinnipiac.