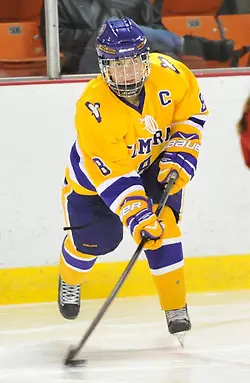 It's often said that defense and goaltending wins championships, and that is a point that holds water.
Then again, no offense generally leads to no wins, but in Elmira's case, the Soaring Eagles have been led this season by the dynamite senior duo of Ashley Ryan and Ashton Hogan.
Together, the pair has combined for 52 of the team's 161 points through 12 games. Yes, roughly one-third of the total team's points have come from two players.
"Being offensive-minded is something that takes time and you have to work toward," Ryan said. "I think the people I play with have helped me become the player I am today, and they have taught me so much and to become so successful."
Hogan echoed those sentiments.
"I don't (the offensive output) they have shocked me too much as over the years," admitted Hogan, a native of Shelburne, Ont. "I have been given more opportunities to play in the tight games or on the power play and penalty kill, which has allowed me to improve my numbers each year. I worked hard in the off season and that has allowed me to come in stronger and in turn, have a good start. Playing with the same players over the past couple of years has also built chemistry and familiarity, which allows me to be successful on the ice. I have always been driven to help my team, whether that's winning an important draw in the D-zone or on the power play to give us possession, or if it's needing a big goal to tie or win a game.
"I try not to focus on needing to score, but take in every situation and do what I can to help the team in that moment."
Thus far this year, Ryan has five goals and 24 assists for 29 points, while Hogan has contributed 16 goals and 23 points. Ryan leads all of Division III in assists and points, and Hogan is fourth in points, but tied for first in goals with St. Scholastica's Nina Waidacher, who has also played two more games than Hogan.
Individual stats aside, both Hogan and Ryan would trade it all for a shot to be national champions and repeat the feat from 2013.
"The outlook our team has is very high, and we all want to feel that feeling we had two years ago," Ryan said. "That's something that we tell our freshmen and sophomores they want to feel, because it's something that you always dream of as a kid growing up and when it happens, it is the greatest moment in your life and no one can take that away from you, and you get to celebrate it with the 'sisters' that you have been playing with all year, coaches and your family. There is no better feeling than raising that trophy and all your hard work throughout the season has paid off in the greatest way."
Not to look too far ahead, but Hogan is looking at Elmira's series at the end of the month with Plattsburgh as two games that will potentially have conference and NCAA tournament implications on the line.
"That's one weekend that is circled on the calendar, but I think the most important thing is to take it one game at a time and not look too far ahead because any team is capable of playing well," Hogan said. "I think it's every player's dream to win a national championship, so no matter what our record is or what successes come with the season, the team's ultimate goal is to win the national championship. Being a senior and not being able to have another shot at it, in that moment it will be a disappointment [if Elmira doesn't win it all]."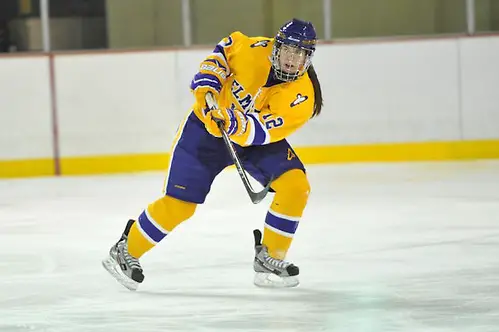 For Hogan, she is also a standout lacrosse player at Elmira and as fate would have it, began her collegiate career at Plattsburgh and transferred to Elmira after her freshman year.
"I chose Elmira College for their competitive hockey program and they had an academic program (biology) that I was interested in pursuing," explained Hogan.
"I chose Elmira because I knew it had a solid hockey program and it also had my major, criminal justice," added Ryan. "Being here for four years now, I wouldn't change a thing."
Ryan, a North Chili, N.Y., native, went on to say that Elmira's coaches, led by Dean Jackson, get much of the credit for helping her realize her full potential.
"I have improved in all areas of my game, but I give all the credit to my coaches and my teammates I played with the last four years in helping me become to the player I am today," said Ryan. "Without them, I do not know what I would have done or what player I would have become. We maintain focus all the time;-that way, we can be successful in our season. We make sure we get all the systems down and practice those before the games we have in the upcoming weekend. But most importantly, our team just loves to be at the rink and playing something that we love and have fun doing it. This team this year is something special because we all love to learn and get better day in and day out and we focus on the little things to be a highly ranked team."
Elmira is currently No. 2 in the Jan. 12 USCHO.com Division III Women's Poll.
"For me, it's just taking the approach of working hard each game and practice and believing that things will take care of themselves," Hogan said of being a top team in the nation. "Being a senior, I am just trying to take it day by day and remember every moment and take it game by game and not look ahead to March too much."
Hogan added that she has seen her overall talent level boom from her freshman year to now.
"I think I have improved in all areas of my game over the past four years," said Hogan. "As a freshman, I didn't know what it took to be a complete player or how much time and effort it takes to compete at a high level every day. Coach Jackson over the past three years has really helped me to focus on the little things that have refined my game and made me a better overall player."
With their NCAA careers ending this season, both Ryan and Hogan have aspirations to stay on the ice, though neither is looking forward to the day the Soaring Eagles' jerseys get hung up for the last time.
"Honestly, I haven't given [the future] much thought," said Hogan. "I would love to continue to play hockey, but in what form I'm not sure. I suppose we will see what opportunities arise after the season is over. I definitely want to continue to be around hockey, whether that's playing or coaching a team back home or at a higher level, I haven't given it much thought. I will probably end up going back to school in Canada eventually, but I think I need a year or two off to really decide what field I want to go into."
"My future is undecided," Ryan added. "I have a major in criminal justice, but I have not thought of what I wanted to do after this year. I'm just soaking up all the memories of my senior year and making the best of it before the real world hits and you have to work every day of your life and not get to play hockey for the college that you love."
NOTEWORTHY
Plattsburgh was a unanimous No. 1 team in this week's D-III women's poll, garnering all 15 first-place votes. … In Adrian's 4-1 win over St. Mary's last Saturday, sophomore goaltender Jade Walsh earned the victory in goal for the Bulldogs by making 10 saves and recording her first career assist. … Plattsburgh (10-0-2) and Adrian (11-0-2) are also the country's last two unbeaten teams; Amherst and Elmira are each 10-1-1.