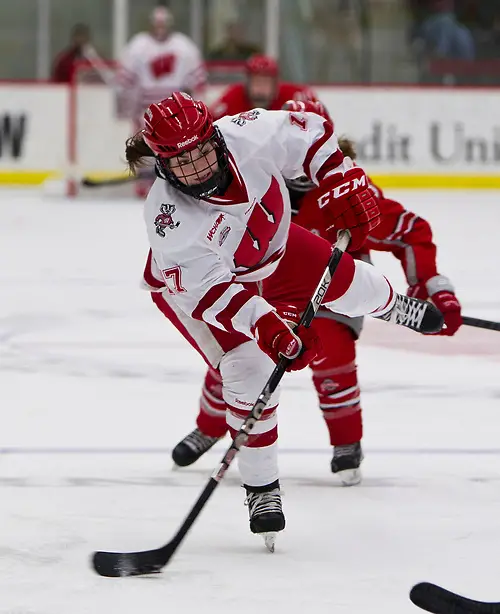 If No. 3 Wisconsin is in a decline, then most programs would gladly struggle in a similar manner. The Badgers reached the Frozen Four in 2014, and they look destined to be a top-four seed for 2015 as well.
However, coach Mark Johnson has set the bar so high in Madison that by those standards, Wisconsin dipped a bit. Excluding 2010 while he led the United States Olympic Team, he coached the Badgers to six straight NCAA championship games, winning four of them.
That final trip to the title game in 2012 ended in a loss, meaning fifth-year senior Brittany Ammerman is the only member of the current roster who owns an NCAA championship ring, won in 2011. Since then, postseason success has waned, and the Badgers haven't gotten past the semifinals in the WCHA tournament the last three years. The seniors did win the league's season title in 2012 in addition to that runner-up finish in the national championship.
When Johnson's teams were winning, they usually had the best players. The last three times that Wisconsin competed in the season's ultimate game, it did so with a newly crowned Patty Kazmaier Award winner. Of late, the Badgers haven't had the same type of players. Ammerman is the leader among active players in career scoring with 126 points. Four of her former teammates from her first season in Madison surpassed 200 points in their Wisconsin careers.
None of her current teammates have reached 100 points. Those with the best shot at doing so during this campaign are seniors Blayre Turnbull, who has 80 points as a Badger, and Karley Sylvester with 77 points.
Not that Turnbull, the team's captain, is focused on her statistics.
"That stuff to me is irrelevant," she said. "Teams goals come first no matter what. If I'm going to get 100 points, if that's going to help the team be successful, if that's what I need to do that's what I'll do, but I don't think that's something that's very important for me to do. Obviously, that would be a pretty impressive accomplishment if I could accomplish it or some other teammate could accomplish that, but right now, that's not even in my mind."
There were times during her career where it would have helped the Badgers to have someone putting the puck away with more regularity. After scoring more than five times a game on average during its most recent NCAA Championship year, that scoring average dropped to 4.5, and the offense scored three times a game the last couple of seasons.
The good news is that offensive production is on the upswing; the team currently averages 3.77 goals per contest.
"We're not a one-dimensional team," Turnbull said. "It's not just one line that's going to get us as far as we want to go. We can rely on every single player on our team. Every player in the dressing room knows that they have a really important role, and so far, everyone's buying into that role and playing to their potential and helping us out in every way they can."
Sylvester leads the current team with 27 points. She's one of 11 players with double-digit points, and eight forwards have 15 or more.
"We have three solid lines, even four sometimes, that can put the puck away," Slyvester said. "That's kind of a stress reliever, knowing you don't have to rely on just one line."
The problem has been that sometimes none of the lines are clicking. Wisconsin has lost 11 games over the last season and a half, and in nine of them, it was limited to a goal or less. That's been true in its three losses this year, all to Minnesota.
"I think from an offensive standpoint, we've got to try to create some more goals," Johnson said Sunday after breaking through to tie the Gophers, but again scoring just once. "The one thing we didn't do this weekend was hit the net. Our shooting attempts were quite a bit higher than theirs, but we're not hitting the net enough. That takes away from rebounds and maybe some potential goals. If we play our next 12 games like we played today, we'll be sitting pretty good. It's just a matter of playing those 12 games. Now we've got two big weekends at home with Bemidji and Clarkson, so our next four games become real important."
Those next two opponents rank sixth and seventh respectively in scoring defense, so they present a challenge to any offense. In the case of the Beavers, it's a familiar challenge.
"Bemidji State has always been a very hard-working team," Sylvester said. "They like to block shots and clog the middle, so it's pretty tough to get shots on net. Their defensive-zone coverage is very difficult at times. They're a very skilled squad and they're tough to play against."
The following series versus the Golden Knights is entirely different, as the two programs have never met.
"It's exciting," Turnbull said. "It'll be a test for us to see where we're at. It'll be a good measure for us to see where we're at, facing one of the top teams from out East and the defending national champions. I think we're all looking forward to playing a new team and doing something a little bit different for a weekend."
Sylvester has proven she can come through in those tough, defensive battles. The Warroad, Minn., native was involved in both of her team's goals this past weekend in Minneapolis.
"I try to play the same way regardless of it is Minnesota or another team," she said. "Definitely having family and a lot of support system at games like that, that's kind of fun. For them to be able to see me be successful in those types of games is cool. But I try to keep my game very similar no matter who we're playing."
Her coach said Sylvester has had a strong four years in Madison.
"I think with a lot of seniors, they want to go out on a high note," Johnson said. "She's a good two-way player. We put her on a different line tonight, and I thought they played really well."
She spent much of the season skating with two classmates.
"The senior line, we've obviously been playing together on the same team for four years now, and I've played with both [Turnbull] and [Ammerman] previous years, so we kind of know how each other plays," Sylvester said. "That helps out. The freshman line that I played with [Sunday], Annie [Pankowski] and Emily Clark, the three of us played together at the beginning of the season, so we kind of knew each other as well. Either line works. All four of those players are very fast and quick at the game, so it doesn't really matter to me who I'm playing with, as long as I'm getting the opportunity to play."
Players like Pankowski, Clark, and sophomore Sarah Nurse look like they'll soon have Wisconsin's offense back to its usual lofty heights and will be mainstays on their countries' national teams. Turnbull has been in the national-team mix for camps and competitions of late.
"They mean a lot," Turnbull said. "They're fun; they're exciting. They give me a chance to develop my game, and I learn a lot when I'm at those camps and playing for Team Canada that I can bring back here and share with my teammates here and help them out a little bit and help myself out. They're helpful in my development as a leader and as a player."
Another key for Wisconsin is sophomore Ann-Renée Desbiens, who is in her first season as the successor to Alex Rigsby as the team's primary goaltender, and is progressing nicely. She is tied for second nationally in shutouts and ranks in the top 10 in all the main categories.
"I think the main thing is her poise," Turnbull said. "I think that's the biggest part of her development. From the start of the year to now, you look at the games she's played, she's actually saved some games for us and held us in all the games. I think her confidence and her poise have grown immensely. I think that's going to help us a lot in the end and down the road."
As many seniors have realized, those four years that seem so long at first fly by quickly, and the road starts to look much shorter.
"One more semester, a few more games left, and then we'll be cutting into the tournament play," Sylvester said. "We try not to look at the far, end goals quite yet. We've got to take it weekend by weekend. The ultimate goal would be a national championship, but we have a few little steps before that. Possibly regular season and WCHA championships to look forward to. We have a lot of exciting things to look forward to and can't wait."
The past weekend, taking only one of six possible points, dealt a blow to the hopes of a WCHA season title. Wisconsin remains atop the league standings, but its lead was reduced to a single point, with Minnesota having two games in hand.
"I think taking the positives away is most important, no matter what type of game it is," Turnbull said. "Whether we win or lose or tie, taking positive things away is going to help us in the end."
From that standpoint, opening 2015 versus a highly ranked opponent can serve as a springboard.
"I think that's all about practice," Turnbull. "Showing up to the rink every day with that mentality and being prepared to work hard and continue to play at a high pace and high tempo even if we're not playing a game, I think is going to help us ultimately in the end."
The captain believes her squad has something extra that will be key to its success.
"This year, I think we're a team," Turnbull said. "Not to say we weren't teams in the past, but I think we really have it etched in everyone's mind that we're a team first and individual success and individual goals come second. And everybody seems to know that. It's something that I've stressed is one of the most important things we can do moving forward is be confident in our ability as a team and put our team goals first, and that's going to get us to where we want to be."