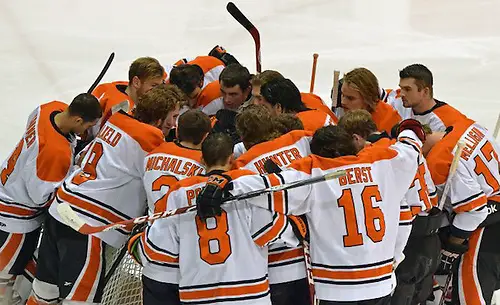 It takes more than mere wishing and hoping, but just about anything else, even something caustic like two coats of shellac can help turn around a season going in the wrong direction.
Such is what it took to put a better sheen on Buffalo State's lackluster campaign.
The Bengals have won four of its last six encounters, all of it out of conference, except for a 3-2 overtime win against SUNYAC foe Geneseo back on Dec. 6.
Up to then, Buff State had thrown together five straight losses in a 1-6-2 stumble out of the gate.
Even worse, the Bengals had gone three complete games without scoring, and had absorbed shellackings of 7-0 and 8-0 on a visit to then No. 1 St. Norbert.
Ironically, though, it was that exceeding lost weekend – Nov. 28 and 29 – that led to the Bengals self-rediscovery.
"It was a great experience," said Bengals coach Nick Carriere, "for our group to see what the best team in the country does. How they play, how they operate with and without the puck. That was a turning point for us."
Asked to pinpoint a specific benefit of having been handed such decisive thrashings, Carriere cited two.
"They go hand in hand," he said. "There weren't too many opportunities where they had the puck on their stick and didn't get pucks deep one way or another. They either escorted it into their zone and had an opportunity to get pucks to the net. Or if there were tight gaps, they were chipping it behind our [defense] and hammering it.
"The other part is that they were relentless. I don't have enough fingers on my hands to count the number of times they stripped us of the puck in our zone and created another offensive opportunity."
The Bengals have since tried to apply those lessons on a shift by shift basis, and have reaped the rewards as a result.
"We're playing better hockey," Carriere said. "It's funny how that helps out. We've had 10 freshmen on our roster this year. I think when you get that many young people trying to implement systems, and trying to get them to understand [the] culture of play, there's a lot of learning for these guys to do in a pretty limited amount of time."
Among those newbies is goaltender Ian Sylves, a Buffalo-area native who spent most of last season as a backup in Junior B.
Sylves moved into the crease after senior Mike DeLaVergne suffered a knee injury, and has proved impossible to push aside.
"Ian jumped in," Carriere said. "I think it took him a little while to get comfortable. I think now he's settled in a little bit and is continuing to compete and develop. He's doing a better job of controlling the puck, and he's playing a little bigger in the net, now. He's slowly working to refine his game. He's our starter right now."
Warming up
Which team is the hottest in the country as the calendar hits the dead of winter? Three squads share that distinction at the moment, namely Wisconsin-Stevens Point, Trinity and this is a bit of a surprise, Brockport. All of them have logged six consecutive victories, and counting.
Now such winning streaks are not uncommon for Stevens Point – it had a nine-gamer last year – or the Bantams – with skeins of six and eight last season.
But when was the last time Brockport clicked off six wins in a row?
How 'bout never.
It's true.
In the history of the program – which was established in 1973 – Brockport had never reeled off such a string, until last Saturday, when the Golden Eagles polished off another quality flock, the Soaring Eagles of Elmira, 5-3.
Senior goalie Aaron Green has backboned each of the wins, a streak that began on Nov. 28 with a 4-2 win against Tufts and includes two of Green's three varsity shutouts.
Elmira back on track
Elmira, by the way, rebounded from its loss on Tuesday with a strong, 5-2 triumph on the road at Potsdam. The Eagles got a pair of goals from Michael Collins, freshly named the ECAC West's Player of the Week, and scored three times in the third period to snap a 2-2 tie. The win was Elmira's fourth in five games, the exception being the aforementioned to loss to Brockport. … Meanwhile, Connecticut College junior netminder Tom Conlin earned POW honors in the NESCAC last week for having stopped 92 of 95 shots in leading the Camels to two wins and a tie.