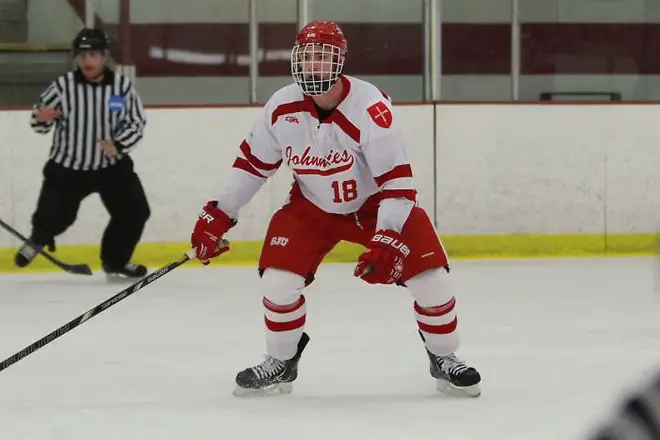 Neal Smith never really considered going anywhere else but St. John's.
His dad and brother both played baseball for the Johnnies and he spent a lot time on the campus while growing up.
"I always liked the school and it was the only one I applied to," Smith said. "I wanted to play hockey there. I was fortunate enough to make the team and I haven't looked back."
Smith has definitely gone forward, however, and is having the best season of his college career, ranking second on the team in points. The junior forward has scored six goals and tallied four assists for the 14th-ranked Johnnies.
During his first two seasons, he tallied two goals and eight assists.
"I'm not sure if I've really made any big improvements to my game, I have just focused more on the little things," Smith said. "It's about my body position and being in front of the net to make plays."
Smith didn't go the junior hockey route like a lot of players do before moving on to the college level. That, of course, had a lot to do with the fact that he knew he wanted to go to St. John's.
His high school hockey career was a successful one, especially as a senior when he scored 20 goals and dished out 20 assists. Still, making the leap from high school to college was a challenge – and a little intimidating.
"When I came in as a freshman, I was extremely nervous," Smith said. "The game was really fast. It took time to adjust. I felt a little more comfortable last year, and I think that experience has been a big help this year."
Smith almost decided to play baseball instead of hockey. He grew up playing the game in addition to being a hockey player and nearly took an offer to play both sports at St. John's.
"I felt like playing both sports would have been too tough because of the time commitment," Smith said. "I had to choose one and hockey was the sport I thought I could be the most successful at in college."
The Johnnies have been successful as a team, fashioning a 7-3-4 record. They are in first place in the MIAC with a 4-1-1 record. John Haeg leads the team in points, scoring three goals and dishing out nine assists. Fourteen other players have come through with at least three points on the season.
Smith is hopeful he can help the Johnnies remain in contention for a MIAC title and perhaps a spot in the NCAA tournament. He said consistency will be a big key to the team's success going forward.
"We have to stay consistent," Smith said. "We've had games where we have a good first period, but don't play as well in the second and then come back with a good third. Coming down the stretch here, we have to be at our best every game. Everyone one is good in our league and we have to make the most of every opportunity we get."
Back on track
St. Olaf earned its first win of the new year on Saturday, knocking off Finlandia 2-1. The Oles had opened 2015 with a 3-1 loss to Williams and a 3-3 tie against Northland.
Ole Setsaas and Matt Geurts both scored for St. Olaf, which earned its first victory since Dec. 6 when it beat Gustavus Adolphus 4-2. The Oles are now 4-9-2 overall and return to MIAC play this week against Hamline. They are 2-3-1 in the MIAC
Luke Andruik nailed down his first collegiate win between the pipes, tallying 21 saves.
The goal by Setaas was his first of the season and that is good news for a St. Olaf team looking to generate more offense. The Oles have scored 31 goals, with Tim Tuscher, Steven Sherman and Peter Lindblad coming through with four goals apiece. Sherman has also dished out seven assists.
Andriuk has played in three games this season, starting twice, and owns a 1-1 record. Steve Papciak has seen the majority of time in goal and owns a 3-7-2 record.
First time for everything
For the first time in program history, St. Scholastica skated to a scoreless tie against an opponent. The Saints' game against Gustavus on Saturday ended with a 0-0 score.
The Saints held a 39-34 edge in shots but went 0-for-5 on the power-play. The Saints fell to 8-6-1 and have won only once in their last five games. On Friday, St. Scholastica was beaten 5-2 by St. Mary's.
Tyler Bruggeman, who has started nine games, is now 5-3-1 and owns a goals-against average of 2.17.
The Saints have only failed to score in a game one other time this season, and that was in a 1-0 loss to Lake Forest last month. St. Scholastica has scored three or more goals in a game nine times and has tallied 50 on the season.
St. Scholastica hasn't played at home since the week of Thanksgiving and it's hoping to get back on track this weekend when it plays host to nationally ranked Adrian in a two-game NCHA series. The Saints are 5-3 in conference play, which is good enough for fourth place. Adrian is 8-0 in the league and in first place.
Crucial showdown
Wisconsin-Stevens Point plays host to Wisconsin-River Falls this weekend in a pivotal WIAC series. The Pointers and Falcons are both ranked in the top ten in the country and feature the top two offenses in the league.
Stevens Point had its six-game win streak snapped over the weekend in a 5-4 loss to Hamline. The Pointers come into the series averaging 4.43 goals per game. Eight players for Stevens Point have tallied at least 10 points, including Joe Kalisz, who has scored 11 goals and recorded five assists. The Falcons have seven players with 10 or more points.
The Pointers have been solid on defense as well, allowing only 34 goals. Brandon Jaeger has led the way, fashioning an 11-2 record as the starting goalie for Stevens Point.
Stevens Point has the advantage of being at home where they are 6-1 on the year. This game marks their latest test against a nationally ranked opponent. The last time Stevens Point faced a top 10 team, it came out on top, knocking off No. 1 St. Norbert 6-5 on Jan. 3rd.
In the poll
Six teams from the west region are nationally ranked this week, including St. Norbert, which is back to No. 1. River Falls is ranked fourth and Stevens Point is seventh in the nation. Adrian is also in the top 10 as it sits in eighth this week. Wisconsin-Eau Claire and St. John's are ranked 12th and 14th, respectively.