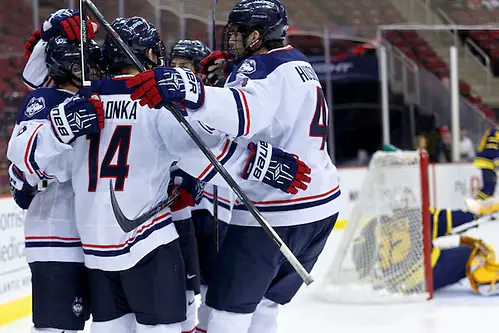 When the season was about to start, expectations for Connecticut were low. And that's an understatement.
The UConn Huskies got the cellar hat trick. Hockey East coaches picked them to finish last. Jim Connelly shared that opinion. And so did I.
The UConn season preview here at USCHO included sentiments like, "Welcome to the new league and welcome back to coach Mike Cavanaugh. Try not to get pummeled." And this one: "It could be a very long season in Storrs."
Oops.
Upon further review, the Huskies have acquitted themselves quite nicely, thank you very much.
Pummeled?
They've defeated sixth-ranked Massachusetts-Lowell (just last weekend), 10th-ranked Vermont, 12th-ranked Quinnipiac and 17th-ranked Boston College. They've tied No. 2 Boston University and No. 20 Merrimack.
On many a game night, the expected pummelee has become the pummeler.
So much for the very long season in Storrs. It's January and the Huskies are .500 in Hockey East.
None of which has been a shocker to Cavanaugh.
"I'm not surprised," he says. "Last year we had a win over UMass and had a win over Providence and played very well in those games. I thought we were certainly capable of this.
"The biggest difference we were going to have [was that] last year we were playing an Atlantic Hockey league schedule and we'd parachute in to play a Hockey East team. This year we have to consistently be playing at the top of our game. We're not going to parachute in to play anybody."
Which is not meant as any knock on Atlantic Hockey. Woe to the team in the NCAA tournament that underestimates the Atlantic representative. (Hello, Minnesota, Michigan, Denver and New Hampshire.) Let's not forget that Rochester Institute of Technology advanced to the Frozen Four just a couple years ago. The best Atlantic has to offer is a formidable foe.
But there's a significant difference in the top-to-bottom strength of Atlantic Hockey and Hockey East. This year, Hockey East holds a 15-1 record against its Atlantic brethren.
Indisputably, a Hockey East schedule is tougher than one in the Atlantic league.
"This week we have two games with Notre Dame," Cavanaugh says. "The following week we have BC and Merrimack. It just continues after that. You're constantly playing elite teams on a nightly basis."
And UConn has proven that it can play with those elite teams.
"Well, we think we can," Cavanaugh says. "Our kids in the locker room think we can. I believe we certainly can.
"But we have to stick with what's working for us."
And what would that be? What's the secret?
"I don't know if there's any secret," Cavanaugh says. "We've played pretty consistently all year long. We've played pretty good defense. We have a good goaltender and we do a decent job of blocking shots and clearing second-chance opportunities.
"[Beating Army and Lowell] this weekend was important because it proved to our kids that whether we're playing Army or Lowell, we have to play disciplined, we have to compete, we have to play within our structure and really be focused on winning battles.
"If we didn't do that stuff, we could have lost both games on the weekend. It's important that no matter who we play that we stay focused, win battles, stay within our structure and play together as a team."
With only four seniors, the Huskies' success should be not only sustainable but something the program can build on.
"Well, I hope so," Cavanaugh says. "After we beat Boston College, I said I didn't want to be a one-hit wonder, I wanted to build a program where eventually we're in the top 10, we're a top-10 team.
"But I've learned it's hard to look ahead and say, 'Next year, we'll be good' because a lot of things can happen from now until next year.
"I will say that part of the reason that we've had some success this year — and a big part of the reason — is because of our seniors. Ryan Tyson has been outstanding leading our team. Every single night he believes we can win. When your captain expects to win, others fall in line.
"Jacob Poe is having an outstanding senior season for us on defense. At one point, he was leading the country in blocked shots. He still might be. Trevor Gerling is one of our top scorers this year. Cody Sharib is playing a hard-nosed style of hockey.
"So we're getting great leadership from our seniors and I think that goes a long way. I don't think you can ever dismiss that. Through my experiences, your seniors are the ones that lead you and help you win trophies."
On campus and throughout the state, the team has generated terrific excitement. The Huskies are averaging 5,513 fans each night, second in Hockey East only to Boston College, and almost certainly would rank first if not for a few poorly attended games in Bridgeport.
"Just look at Saturday," Cavanaugh says. "Our basketball team plays a game at 11 a.m. and there are 15,000 people there, at 11 a.m., to watch a basketball game in Hartford. The Patriots are on TV at 4:30. The hockey team is playing at 7, and there's 7,000 people there for a hockey game.
"The support of the state is just phenomenal. UConn is [like] a pro team in Connecticut. That's how you're looked at by the fan base here. It's been spectacular that we've been able to generate this much excitement. Credit to our kids, too, because at home we're playing very well."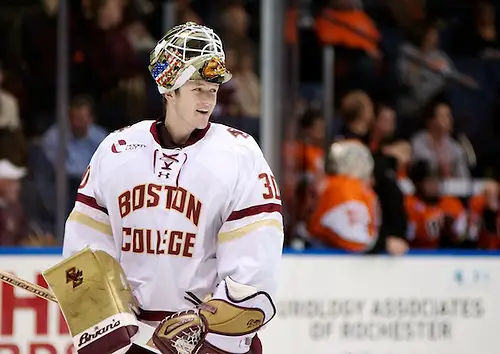 Boston College: Stellar goaltending and scoring by committee
Some seasons, Boston College has just overpowered its opponents. Superstars like Johnny Gaudreau have dominated at the offensive end. Lines like last year's trio of Gaudreau, Kevin Hayes and Bill Arnold have been unstoppable.
This season, however, the Eagles' attack includes no one in the league's top 13 in points and only one player in the top 23. That player is Adam Gilmour, whose four-game goal-scoring streak has him tied for 14th with nine others with a 6-11–17 line.
Not since BC coach Jerry York's second year at the Heights, back in 1995-96, have the Eagles failed to place at least one player in the top five in league points or goals scored.
But as the old saying goes, there's more than one way to skin a cat.
(Not to go off on a tangent, but who's the sicko who came up with that one? I was pretty pleased with myself earlier this year when I came up with grease de résistance to describe a pivotal greasy goal, but if my only path to immortality was a phrase like "more than one way to skin a cat," I think I'd rather be forgotten.)
As I was saying …
That's not to say this is a lost season for BC, one likely to be bereft of trophies. The margin between wins and losses will be thinner this year, but many teams have won titles without individual stars.
"Everyone knew at the beginning of the season that we weren't going to come in and blow teams out of the water like we did last year and like BC has in years past," Gilmour said after last Friday night's 1-1 tie with Northeastern.
"But everyone knows their role this year. "When people need to step up, they're doing it. Teddy Doherty has been outstanding this year for offense as a defensemen; [Ryan] Fitzgerald's line has been, too.
"It's just a matter of taking care of the opportunities when they're in front of you. That's how we're going to win games this year."
Goaltender Thatcher Demko is also going to be a key component. He stopped 61 of 64 shots in BC's three-point, home-and-home series with Northeastern, and both nights York credited the sophomore with keeping the Eagles in the game.
"Thatcher played outstanding in goal and made some incredible saves to keep it a 1-0 score," York said on Friday. "[He] kept us in the game through the first two periods."
One night later, the praise was the same.
"Thatcher gave us a great base to win the hockey game with," York said. "A 60-minute play from Thatcher Demko was the catalyst that held serve these home-and-homes."
Northeastern: Special special teams
Although BC held Northeastern's power play in check on Saturday, making it go 0-for-7, the Huskies' man advantage has been one of the most potent in the league. It ranks second (despite Saturday's oh-fer) with a 20.6 percent conversion rate, just a hair behind Lowell's 20.8.
What's remarkable is that this unit opened the season 0-for-18. From that rough start going into last weekend, the Huskies' power play converted 28.8 percent of its chances, best in Hockey East and third in the country over that span.
"We've been getting a power-play goal a game or creating some momentum for ourselves," Huskies coach Jim Madigan said after the unit went 1-for-2 on Friday night. "Guys are retrieving pucks a little more, [they're] a little heavier on pucks, and getting pucks to the net. There's a lot of confidence, and confidence is a big thing."
The penalty kill, which is still last in the league, has improved greatly. The Huskies' PK did surrender a goal to BC on Saturday, but that was its first over the past four games. During that stretch, it has allowed only the one goal in 15 chances.
"[We've displayed] better habits, a little bit better details," Madigan said. "We're pressuring a little bit more.
"Quite frankly, when we were giving up some power-play goals to the opposition, we were doing some good things structurally. We were eating pucks. I can point to three or four times when we blocked pucks, the puck would go right to their guy, and they had puck luck.
"When you're giving up power-play goals, those things don't go your way. I like the way our mentality [is now] to kill penalties."
And finally, not that it has anything to do with anything, but …
My new novel, "Offside," is now available in trade paperback as well electronic formats. The ebook sells for $5.99; the trade paperback lists for $17.99.
If you'd like a personalized copy, I can send you the trade paperback for $15 and that includes standard shipping. Email me if you're interested.
Here's the description:
"Rabbit" Labelle loves football, but the tiny, rural Maine town where he lives isn't big enough to support a team. After his father moves the family to the big, bad city, Rabbit finally gets his chance to play the sport he loves the most, but he must also confront the dangers of "Lynn, Lynn, City of Sin."

It's 1967 and cities torn by racial turmoil, this includes his father's greatest fear: "the Negroes."

Rabbit, who'd been the most popular kid in Plainfield, Maine, struggles to make friends and wonders if he'll even survive.

Only football can save him.

"David H. Hendrickson is one of my favorite writers."
— USA Today best-selling author Kristine Kathryn Rusch
If you read and enjoyed "Cracking the Ice," let me add that Jessie Stackhouse plays a role in this novel, too.
You can always follow my fiction writing on
my website where you can sign up for my newsletter so you can hear (never more than once a month) about my latest releases.
Contributing: Joshua Brown