When Northeastern began its season 0-8-1, it was pretty easy to recognize that there was a tough road ahead.
Predicted to be one of Hockey East's best teams after returning a solid core of last year's club that proved predictions wrong, finishing tied for fourth and being a bubble team for the NCAA tournament, the Huskies struggles out of the gate were almost unimaginable.
But since winning its first game of the season, a 2-1 victory over New Hampshire at home on Nov. 15, Northeastern is a more-than-respectable 8-3-3. Granted, an 8-11-4 mark overall isn't exactly threatening to the NCAA picture just yet. But the team's ability to reduce its goals against from a putrid 3.89 per game over the first nine contests to 2.29 per game in the 14 games since has been the biggest difference-maker.
One small part of that improvement has been the ability to rely, at least part of the time, on sophomore goaltender Derick Roy. The brother of standout forward Kevin Roy, Derick has seen little of the limelight until recently when he earned wins against St. Lawrence and Yale and a tie and win last weekend at Vermont.
Coach Jim Madigan is clear that there isn't a new No. 1 goaltender in front of Clay Witt on campus. But the ability to rely a bit on a second netminder has made his club better and given confidence in another player between the pipes.
"We've been playing well since mid-November and we've gotten points each weekend," said Madigan. "I've always said we have two good goaltenders and people don't believe you because you always go with the same one all the time.
"Derick has been playing well and is continuing to make improvements under the tutelage of [goaltending] coach [Ed] Walsh. During the stretch of games in early January when we had five games in eight nights, we put Derick in and he played really well. We thought we had the opportunity to go with him again against Vermont on Friday night and he responded well so we went back with him on Saturday.
"So his last four games, against quality opponents like St. Lawrence, Yale and Vermont twice, he's played real well."
The wins have given the Huskies a bit of a renewed confidence in itself. So many of these players had high expectations coming into the year. And after such a struggle at the start, Madigan said he is seeing that level of belief return to his locker room.
"It's a quiet confidence," said Madigan. "Hey, we're sub-.500 and there a hole to climb out of. There's no cockiness. There's no arrogance. We're all about going out and doing our jobs.
"The leadership corps has been good and other guys in the room have taken on more leadership, which from a coaching perspective you like to see as the season evolves.
"We're in a good spot knowing we have a long way to go."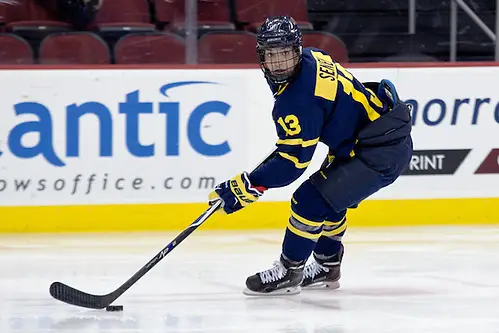 Let's make this simple: Don't forget about Merrimack
Two weeks ago I wrote about how I really liked Merrimack's team. I worried that the Warriors hadn't played stiff competition and noted a solid win at Minnesota was matched the following night by a loss to UMass-Lowell in the Mariucci Classic title game.
Honestly, I realize now everything I said was relatively noncommittal toward the Warriors.
But after last weekend's sweep of the first-place team in ECAC Hockey, Quinnipiac, there is no doubt in my mind this team has many of the components to be a championship club.
A couple of weeks ago, I noted Merrimack's stifling defense, which can frustrate any team. But when this team finds a little bit of offense, it becomes more than equal to its opponents. Merrimack becomes downright deadly.
Last weekend, it was rookie phenom Brett Seney, a guy who would be grabbing all the headlines if it wasn't for a boy named Eichel playing in Beantown. Friday night in a 4-3 win, Seney picked up a goal and an assist. He followed that Saturday with his first two-goal performance of the season.
Most importantly, Merrimack tallied seven goals against a solid defense like Quinnipiac, the most the team has scored in a two-game weekend since facing Mercyhurst in late October.
Even though Dave and I put our weekly picks in writing on Friday, I'm not one who loves predictions. But you can take this to the bank: If Merrimack continues to score around a 3-3.5-goal-per-game clip, this team will contend for a national title.
PairWise predicament
Yes, it's only mid-January and many of you may think it is way too early to look at the PairWise Rankings. But I simply have one of those minds that watches this PairWise with a bit of an unhealthy obsession and, thus, I like to share some of my findings as I crunch the numbers.
First off, let's start with Hockey East as a whole. If the season ended today, the PairWise picture wouldn't be totally bleak for the conference as four teams (Boston University, UMass-Lowell, Providence and Vermont) all sit within the top 14 and could claim spots in the NCAA tournament. With that said, no team in Hockey East sits higher than eighth in the PairWise, with Vermont tied for 12th and Providence near the bubble at 14th.
Simply put, there is a lot of danger remaining for Hockey East teams as this season plays out. If a few of the current teams slip up, the league could be faced with an unthinkably low number of teams (two could be realistic) in the NCAA tournament. Sure, a team below the bubble like Boston College (19th) could sneak in, but with all other teams ranked 27th or below in the PairWise, it's an uphill battle.
The same can't be said for the NCHC, which, at this moment has a similar five teams in the top 14 of the PairWise, but four of those clubs are ranked sixth or higher. Omaha is ranked second, North Dakota is fourth, Minnesota-Duluth is fifth and Miami is sixth. These rankings come despite the fact that teams like Omaha and Minnesota-Duluth have worse records than Boston University, Lowell and Vermont (and in UMD's case, also worse than Merrimack and Providence).
Anyone who reads my PairWise ramblings enough knows the reason why: out-of-conference success. After last weekend, the NCHC has a .667 winning percentage out of conference, by far the best of the six conferences. Hockey East, although guaranteed to have the second-best OOC record, is well behind with a .581 winning percentage.
Time has virtually run out for Hockey East teams to improve against other conferences. Merrimack helped the league considerably last weekend by sweeping Quinnipiac. But the only games remaining for Hockey East teams against the other conferences are Vermont's game against Penn State in Philadelphia and the two games that Harvard will play against Boston University and either Boston College or Northeastern in the Beanpot.
Hockey East has a potential high-water winning percentage mark of .592 should it win all three remaining games. Lose all three and the floor is .566.
Rather than focusing on nonconference games, we instead can also look at the bulk of what remains: league contests.
You hear each coach use the same cliche over and over: Every game matters. Nowhere more is that true than when it comes to the PairWise.
After crunching some numbers from last weekend's games, you can see just how dramatic a difference a single game or two can make when you're talking PairWise. Here are some examples:
• Boston University beat Lowell 4-3 in overtime on Sunday. The win allowed the Terriers to leapfrog the River Hawks into the eighth spot, while Lowell fell to ninth. Had the River Hawks scored the winning goal instead of the Terriers, Lowell would have jumped all the way to fourth, while BU would have fallen all the way to 14th.
• Boston College lost to Maine on Sunday afternoon, dropping the Eagles to 19th in the PairWise. (They since moved up to 18th with Wednesday's win over Merrimack.) Had BC won that game, it would have moved to 16th, square on the bubble. Not as dramatic, but it certainly highlights what a single loss can to for those bubble teams.
• Vermont played two games against Northeastern at home last weekend. The Catamounts lost a Hockey East game on Friday night and battled to a 1-1 tie in a nonconference game on Saturday. The status of the game means little to the PairWise but the results are critical. Getting just one of four points left Vermont tied for 12th in the PairWise. If the Catamounts turned Saturday's tie into a win, they would have jumped to ninth. And if Vermont swept Northeastern, it would sit fourth today.