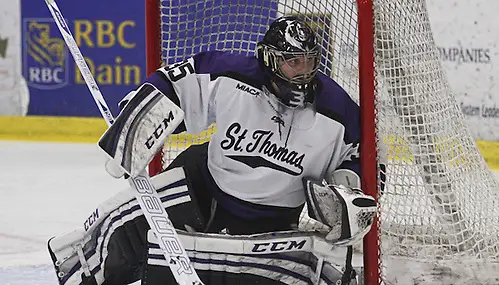 This is when Dan and Brian really hope that magic 8-ball works wonders as they pick the nine conference tournaments in men's Division III.
BRIAN LESTER
MIAC
St. Thomas vs. Hamline: I'm picking Hamline to knock off Augsburg in the quarterfinal game, which means the Pipers will battle the Tommies on the road Saturday in a semifinal showdown. The Tommies are tough to beat at home. St. Thomas, 4-2.
St. Mary's vs. Concordia (Minn.): The Cardinals are having one of their best seasons in more than a decade. The Cobbers have had a great year as well, but haven't played in nearly two weeks. I like the way St. Mary's has played in the second half of the season. St. Mary's 5-4.
Championship: St. Thomas will once again be the top team in the MIAC and head back to the NCAA tournament. St. Thomas, 4-3.
NCHA
Adrian vs. St. Scholastica: The Bulldogs are a hot hockey right now and have a dangerous offense and a stingy defense. The Saints were nationally-ranked at times this season and are coming off an upset in the opening round. But it's hard to bet against the Bulldogs, especially at home. Adrian, 5-2, 4-2.
St. Norbert vs. Milwaukee School of Engineering: The Green Knights are on a roll, winning five consecutive games, and are determined to defend their NCHA title. MSOE beat St. Norbert once this year, but I think St. Norbert will rise to the occasion this weekend. St. Norbert, 5-3.
Championship: Adrian is the best team in the NCHA this year and the Bulldogs will be the team holding up the trophy when the tourney is all said and done. Adrian, 6-4.
WIAC
Wisconsin-Stevens Point vs. Wisconsin-Superior: The Pointers have put together back-to-back 20-win seasons and are hungry for a league tourney championship. Superior will play hard, but Stevens Point is too good of a team to lose this series. Stevens Point, 5-2, 4-0.
Wisconsin-Eau Claire vs. Wisconsin-River Falls: This series could certainly go the distance. The Blugolds and Falcons are both playing good hockey heading into the tournament. Eau Claire went 3-0 against River Falls in the regular season. Eau Claire 4-2, River Falls 4-3, Eau Claire 2-1.
Championship: Stevens Point and Eau Claire will duke it out for the title in a showdown between two of the best teams in the nation. But the Pointers are on a mission and I expect them to get the job done. Stevens Point, 5-4.
DAN HICKLING
All games Saturday
ECAC EAST Semifinal – #4 Castleton ( 11-15-0, 8-10-0) @ #1 Norwich (22-3-1, 17-1-0). Norwich 5, Castleton 1. Norwich is on the sort of roll that could land them a spot in the Frozen Four. Castleton happens to be in line for a flattening.
ECAC NORTHEAST Semifinal – #6 Suffolk (11-12-2) @ #3 Johnson & Wales (14-10-1, 8-6-0). J & W 3, Suffolk 2. Suffolk got off to one of the best starts (7-0-1) in school history, then fell apart after Christmas. J & W could use a little traction themselves, but chances are they'll find some here.
ECAC WEST Semifinal – #3 Nazareth (12-9-5, 7-4-4) @ #2 Neumann (13-8-4, 9-5-1). Neumann 5, Nzareth 3. As a third year program, the rise of Nazareth has been impressive. Neumann did knock the Golden Flyers off twice, two weekends back and has been strong at home (8-3-1) all season long.
MASCAC Quarterfinal – #4 Westfield State (11-12-2, 8-8-2) @ #6 Worcester State (9-14-2, 7-10-1). Worcester 4, Westfield 3. Worcester put on a bit of a finishing kick to slip into the league's final playoff spot. The guess here is that there is a little more left in the tank.
NESCAC Quarterfinal – # 5 Bowdoin (14-7-3, 8-7-3) @ #4 Williams (14-8-2, 10-7-1). Bowdoin 3, Williams 2. Could history repeat itself? If so, then the fifth-ranked Polar Bears should prepare for three more upset wins on the way to a second consecutive tourney title.
SUNYAC Semifinal – # 6 Brockport (13-11-2, 6-8-2) @ # 1 Plattsburgh (18-5-2, 13-2-1). Plattsburgh 6, Brockport 3. Brockport has enjoyed a very nice year, but Platty is not of a mind to make nice. Doubtful the Cardinals are looking past Bport to next week's presumed clash (on home ice) with Oswego for the SUNYAC crown.