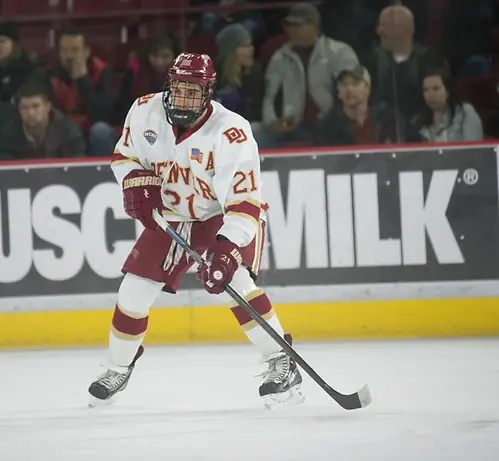 Denver and North Dakota combined to take home nine of the 10 awards Thursday night at the NCHC awards night at the Muse Event Center in Minneapolis.
Pioneers' senior Joey LaLeggia was named Player of the Year, Defenseman of the Year and Offensive Defenseman of the Year as he tallied 12 goals and 29 points in NCHC conference play this season.
North Dakota's Dave Hakstol won the Herb Brooks Coach of the Year honor after taking UND to a 16-6-2 conference record and the Penrose Cup.
DU's Danton Heinen earned Rookie of the Year laurels after a 26-point campaign in conference play. His 42 overall points led the NCHC.
Denver's Trevor Moore led the conference with 30 points in conference games and was selected Forward of the Year.
UND's Zane McIntyre compiled a 16-6-2 mark in goal and was chosen Goaltender of the Year. McIntyre was one of two NCHC goalies to start all 24 conference games.
Rounding out the awards was North Dakota's Mark MacMillan taking home Defensive Forward of the Year, teammate Nick Mattson being named the Scholar-Athlete of the Year (3.9 GPA) and St. Cloud State captain Nick Oliver being selected for the Sportsmanship Award.