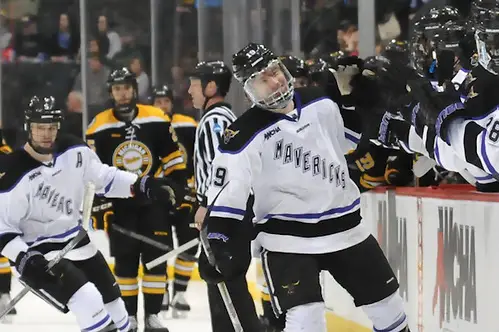 ST. PAUL, Minn. — Coming into the WCHA Final Five, Brad McClure had only 10 goals on the season.
He multiplied that by one and a half at the Xcel Energy Center this weekend, and he was a big part in helping the Minnesota State Mavericks capture their second straight Broadmoor Trophy and the No. 1 overall seed in the NCAA tournament.
WCHA playoffs
See the tournament bracket and get links to schedules and stories at WCHA Playoff Central.
With Saturday's WCHA championship game tied at 2-2 in the third period, McClure provided the difference in the final score as he recorded a natural hat trick to finish his weekend with five goals and an assist.
"To be honest, there was quite a few bounces going my way," McClure said after his team's 5-2 victory over the Michigan Tech Huskies. "It's always nice to have those. Some nights, you don't have those and tonight it just seemed like the puck was on my stick at the right time."
Mavericks coach Mike Hastings had plenty of praise for his freshman forward, who accounted for more than half the scoring in the tournament for Minnesota State in capturing the Final Five's most valuable player award.
"He can shoot from our bench," Hastings said.
When asked by a reporter if he thought McClure would do what he did this weekend, Hastings replied to laughter, "There's a possibility in that; not to say I'll take anything to the bank."
"Brad was very deserving of the [MVP]," Hastings said. "He made a tremendous impact both nights, and I'm happy he's wearing our jersey."
The Mavericks most likely will be placed in the Midwest Regional in South Bend, Ind., as the No. 1 seed. They will begin their quest for the school's first national championship next weekend.
And with players like McClure, a championship run could very well happen.
The NCAA hockey selection show will air on ESPNU at 11:00 a.m. CDT Sunday.