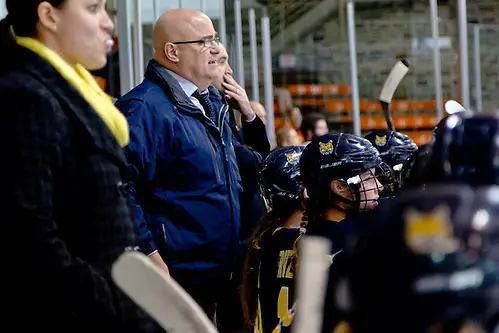 According to Q30 Sports, Quinnipiac women's head coach Rick Seeley has been removed after seven seasons behind the bench following an investigation into what the website calls "potentially abusive behavior."
Unnamed sources confirmed to Q30 Sports that Seeley had been under investigation from the school after he allegedly forcibly grabbed one of his players by the jersey during the team's first-round NCAA tournament game at Harvard.
It is unclear if Seeley has been fired or if he stepped down, but an official announcement should be forthcoming. Associate head coach Cassandra Turner is the probable choice to take over for Seeley.
In 2014-15, Seeley the Bobcats to their first ever NCAA tournament berth, finishing 26-9-3 overall with the 26 wins a program-best.
UPDATE: In another Q30 Sports report on April 14, players that played for Seeley when he coached at Clarkson came forward with alleged claims of abuse.