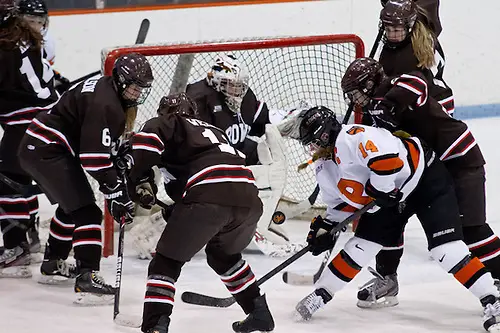 Brown Bears
USCHO prediction: 10th
Coaches' prediction: 12th
Last season: 12th (5-23-1, 2-19-1 ECAC)
The names
This season, the most important name is new coach Bob Kenneally.
"The team that I'm inheriting here has some skilled players," he said. "I think what they were lacking was confidence, so right now, we're trying to change that culture and to return back into what Brown was in the earlier years, back in the late '90s and the 2000s under coach [Digit] Murphy. The program has taken a hit the last eight to 10 years, but taking on the challenge with my staff and our captains to turn this program around."
It can be a chicken-egg thing, but sometimes the reason that players lack confidence is because they take the ice game after game versus opponents who are simply better. It remains for the Bears players to prove that's not the case here.
"Sam Donovan was, I believe, the leading returning scorer," Kenneally said. "She's a sophomore out of Minnesota and a real quality player. She's on the small side, but works really hard and can find the back of the net. Maddie Woo, also from Minnesota, will be a junior this year. She's one of my assistant captains. Very good player, really hard shot. Again, somebody who we're counting on greatly this year, especially on special teams."
Unfortunately, those are the only two returning players who exceeded 10 points last year.
"We have two returning goalies," Kenneally said. "The two of them are probably the most important players on the team right now, because without two solid goaltenders or without one solid goaltender, it can really turn a season. So we're hoping that either [sophomore] Julianne Landry or [junior] Monica Elvin can either do it together as a tandem, or one of them steps up and is a leader and can help steal some games this year for us."
The Bears are going to need some contributions from newcomers other than the coach.
"We have a couple of local Massachusetts players who we're really high on," Kenneally said. "Bridget Carey, her brother plays in the NHL; she's from St. Paul's School. Bridget is someone that's going to be on our special teams, power play, probably penalty kill as well. We're really excited about her. Cara Najjar is from Stoneham, Mass., and she went to BB&N, a Massachusetts private school. Cara is a forward and a defenseman, we'll be utilizing her in both ways again, probably at the point on the power play, and then taking a regular shift in the top six as a center. I met with the freshmen, there are six of them coming in, and I told them there was really no time for them to be freshmen this year, that I'm going to be counting on them a lot."
The numbers
Brown's scoring offense was up 38 percent over the previous season.
The bad news is that the Bears allowed 44 percent more goals.
The prognosis
"We're going to have to play up-tempo and we're going to have to outwork everybody," Kenneally said. "Right now, with this current team, that's how we're going to have to stay in games. We have to outwork every single one of our opponents. If they're willing to put in the work and the effort, which I know they are right now, then we'll have a chance to win some games this year."
But how many games?
"This is going to sound trivial, but one of the first things I said to the team when I was announced was that everything I say to them will come from the heart and I'll never lie to them," Kenneally said. "I told them right out, 'You're not going to win a championship this year.' The goal this year is to give an opportunity for my three seniors to make the playoffs."
A move up to 10th is my nod to the message that Bob Kenneally is delivering. He'd like his team to rise up to a playoff spot. Sorry, this is the best I can do.