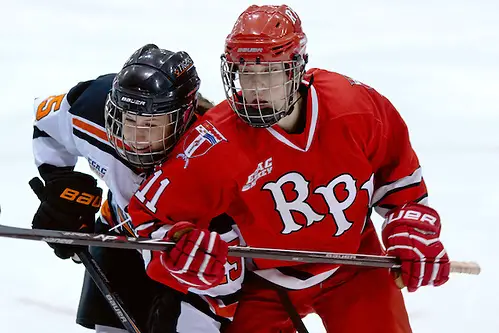 Rensselaer Engineers
USCHO prediction: 11th
Coaches' prediction: 10th
Last season: Ninth (7-23-4, 5-16-1 ECAC)
The names
Two years ago, Rensselaer got off to a 6-5-1 start in ECAC play, only to go winless over the final 10 games. Last year, the Engineers started slowly and were never really in the hunt. Two different routes led to the same destination, and it wasn't the postseason.
RPI is another team that's looking for a new goaltender this season after graduating two.
"All three of our goaltenders — we have a senior [Sarah Till] and two freshmen [Kira Bombay and Lovisa Selander] there — have limited experience at this level, so we're excited to be working with them and see what they have," coach John Burke said.
To produce a different ending to the Engineers' season, the goaltending will have to be a strength. RPI hasn't had a goalie stop at least 92 percent of the shots faced since the 2009-10 season.
"As a coach and a former goaltender, you want someone to take the reins there," Burke said. "I think we've got some talented kids in that group that can definitely step up. I think it's going to be a great battle for playing time at that position."
Offensively, Rensselaer failed to score two goals per game.
"We rely a lot on our senior class," Burke said. "Up front, two forwards in particular, Alexa Gruschow and Lauren Wash, with their offensive ability there, and Jenn Godin on defense, who's got three solid years for us."
Gruschow and Wash are the only players on the current roster to have had a double-digit season in goals at RPI.
The numbers
When asked where his team most needed to improve, Burke's answer was definitive.
"Special teams, no question, both power play and penalty kill," he said. "It's one area that can win and lose you hockey games. At times last year, we had opportunities, whether it be on the power play or the penalty kill to win a game, and to some degree, it just didn't work out. Special teams is definitely an area that we want to improve upon and we've been focusing on all summer long."
While the power play ranked 10th in the league, the penalty kill was particularly troubling, ranking dead last in ECAC play at 72.5 percent.
The prognosis
While the Engineers were only one spot shy of reaching the playoffs, they trailed Dartmouth by nine points for the final slot. With a young team, the emphasis may have to be on laying the foundation for the future in this campaign.