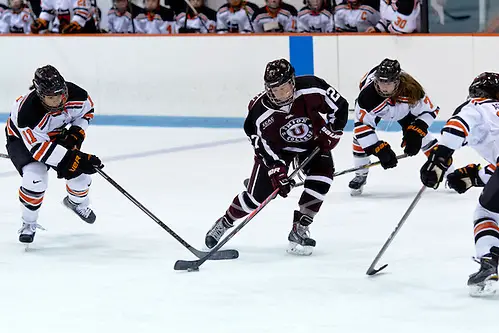 Union Dutchwomen
USCHO prediction: 12th
Coaches' prediction: 11th
Last season: 11th (4-22-8, 1-16-5 ECAC)
The names
Coach Claudia Asano Barcomb says this is the most talented group of seniors she has seen at Union as she enters her ninth season.
As juniors, Kathryn Tomaselli and Jessica Kaminsky gave her two players with at least 20 points for the first time. She looks for an even stronger senior season from the group.
Courtney Turner, who had 12 points two years ago as a sophomore, is back and healthy, and Barcomb expects a lot from her as well.
On the bad-news side of the equation, goaltender Shenae Lundberg has graduated after recording over 3,000 saves in her career. Barcomb concedes that it is tough to replace a three and a half year starter, but she welcomes competition among the goalies on the roster.
The competitors for the goaltending job are two freshmen, Leah Patrick and Melissa Black. Barcomb says it will be a challenge, but she is anxious to see who steps forward to fill the role.
The numbers
The key number is one — the number of conference wins Union celebrated last season.
The Dutchwomen fared a little better outside the league, as they chalked up three additional victories there.
The prognosis
If everything breaks in Union's favor, perhaps it could climb as high as the 10th spot, but I don't expect it. There is just too much of a gap to close to reach the playoff teams.