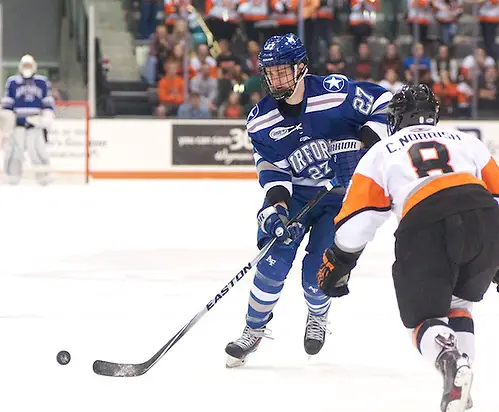 The ever-quotable Air Force coach Frank Serratore opened his comments at the league's media day with a simple, "Here we go again."
But in his case, maybe not. Air Force has a new look with a underclassmen-heavy roster that includes 12 freshmen and just four "staples:" seniors Ben Carey and Max Hartner, and juniors Johnny Hrabovsky and A.J. Reid.
"We're going to have the youngest team we've fielded since joining the conference [in 2006]," said Serratore, who is about to begin his 17th season at the Academy.
"The bad news is we're young," he said. "The good news is we like our young guys. The freshmen have integrated into our team and our culture."
Serratore, while not directly criticizing last year's team, said that a fresh slate presents an opportunity to reestablish the work ethic he thinks is required to succeed.
"We have always prided ourselves on being the hardest-working team in the country and we weren't last year," he said. "We ran into a team [Rochester Institute of Technology] that worked harder and was tougher to play against."
A big question mark out of the gate for the Falcons is goaltending. All three goalies who saw playing time left the Academy in the offseason, including Chris Truehl, who appeared in 36 games as a sophomore last season. He transferred to Quinnipiac, where he will sit out this season.
"It's the nature of the beast," said Serratore. "It's always tough when you get dinged at the same position. We had recruited a goalie and picked up another late."
That pair of freshmen, Billy Christopoulos and Shane Starrett, will vie for the starting job.
"They're the only girls I have to dance with, but we like our chances with them," said Serratore. "Our goal is to get better as the season progresses and in the second half be the team that no one wants to play."
Last season
16-21-4, 13-12-5 (seventh) in Atlantic Hockey. Lost to RIT in the league quarterfinals.
Names to know
Defenseman Phil Boje looks to build on an excellent rookie season (seven goals). Junior A.J. Reid and sophomore Erik Baskin are the top returning scorers with 10 goals each last season.
Three questions
1. All three Air Force goalies, including last year's starter, Chris Truehl, have left the Academy. How will freshmen Billy Christopoulos and Shane Starrett fare out of the gate?
2. Who will replace the departed top line of Cole Gunner, Chad Demers and Scott Holm?
3. After claiming the AHC title five of its first six seasons in the league, Air Force hasn't been to the top of the mountain since 2012. How long will the rebuilding effort take to get the Falcons soaring again?
Crystal ball
Air Force is another team with a large rookie class, and that makes for unpredictability. With so many new faces, it will be difficult to match even last year's seventh-place finish. Expect the Falcons to be relegated to the first round of the playoffs again, possibly having to go on the road.