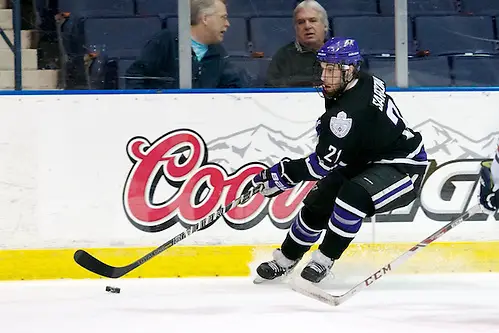 Niagara coach Dave Burkholder is eager to get the 2015-16 season started, and you can't blame him. He and his Purple Eagles want to wash away the taste of last year's injury-plagued, crashed-and-burned campaign.
"We're excited to get it going and make amends for what was the worst season in our history," said Burkholder, whose team went from 23-10-5 and an at-large NCAA bid in 2013 to 7-28-4 last season.
The Purple Eagles are still recovering, physically and mentally.
"As bad as it was, we had five players have surgeries in the offseason," said Burkholder.
And, in hopefully not an omen of things to come, starting goaltender Jackson Teichroeb is banged up and will miss the first few weeks of action.
"When he's healthy he's going to get the net," said Burkholder. "Behind him, Guillaume Therien was the most decorated goalie in Tier II junior hockey last season."
Adrian Ignagni, who split time in net with Teichroeb the past two seasons, transferred in the offseason to Division III Oswego, which means Therien will get his feet wet early. Joining him are eight other freshmen, and Burkholder said they're fitting in well.
"We've got to get [the freshmen] acclimated quickly and be ready to go," he said. "We need to come together as a unit, and I think that's happened so far."
Niagara will look for leadership on and off the ice from its captains, senior defensemen Matt Dineen and Nick Cecere.
"We are so confident in our core senior leadership group," said Burkholder, whose team has a nonconference schedule that will see it travel to Michigan and host Penn State and Cornell.
The Purple Eagles' mission is clear: They are out to prove that last season was a fluke, and that they're deserving of more than the ninth-place finish predicted by the league's coaches.
"What happened last year made us look inward, both players and coaches," said Burkholder. "That's going to motivate us to make sure that never happens again."
Last season
7-28-4, 5-19-4 (11th) in Atlantic Hockey. Lost to Robert Morris in the Atlantic Hockey quarterfinals.
Names to know
Although sidelined by an injury, expect junior goalie Jackson Teichroeb to be the starter once he's healthy. Up front, both junior TJ Sarcona (18 points last season) and sophomore Robert Angiolella (13 points) were the leaders in points per game with both missing significant time due to injury.
Three questions
1. What will this team look like if it's healthy? Burkholder sure hopes to find out.
2. Can sophomore defenseman Vince Muto rebound from a tough, injury-plagued sophomore campaign? He had 19 points his freshman year and just six last season.
3. Will we have a goaltender battle? Teichroeb will be pushed by freshman Guillaume Therien.
Crystal ball
Nine rookies can make for a volatile season, but expect a better start for the Purple Eagles, and if they can stay healthy, a top-eight finish.