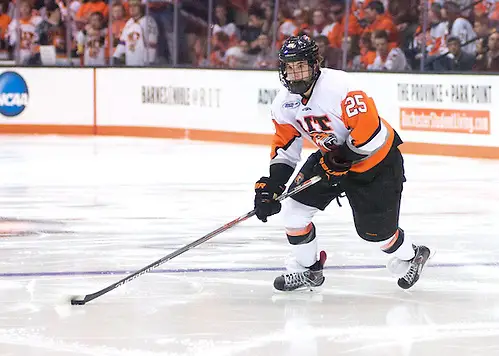 Last season was all about chemistry, according to Rochester Institute of Technology coach Wayne Wilson. He and the Tigers are hoping to gather the right ingredients again for another trip to the NCAA tournament.
The last time out, the Tigers languished in the middle of the standings until mid-February, when they found another gear and finished the regular season 4-1, blasted through the Atlantic Hockey tournament and then stunned No. 1 Minnesota State in the first round of the NCAAs, becoming the first No. 16 overall seed to knock off the top team.
"I really, really enjoyed the group of guys we worked with last season," said Wilson. "It was fun to come to practice. Everyone supported each other. There were no agendas.
"It looks like we have a great group of guys again, but every team is different, even if you lose just one player. You have to find the right chemistry. Chemistry begins with big wins and even big losses."
RIT lost a lot more than one player to graduation, including goaltender Jordan Ruby, who backstopped the Tigers during their postseason run, and the duo of Matt Garbowsky and Brad McGowan, who combined for 100 points last season.
Wilson is hoping a mix of veteran defensemen and young forwards will help the Tigers defend their title.
"For us, it's who's going to take a step forward and take on more responsibility, especially up front," said Wilson. "We've been known for our offense but the way the freshmen played [last season], our defense was really good as well."
The Tigers return seven blueliners, including senior Alexander Kuqali and sophomore Brady Norrish, who each posted 22 points last season.
And while RIT lost a lot of firepower, it also gets some back.
"Dan Schuler was concussed most of last season and played only nine games," said Wilson. "He was our leading goal scorer the year before. He's healthy and ready to go."
That may reunite Josh Mitchell, RIT's leading returning scorer (52 points last season) and Schuler, who were linemates two years ago.
In net, junior Mike Rotolo will be the starter out of the gate. He was on a roll (8-1-1, .924 save percentage) before getting sidelined with an injury late last season.
The Tigers start with a trip to the North Country to face Clarkson and St. Lawrence, opening a nonconference schedule that includes five games against teams in the preseason USCHO.com Division I Men's Poll.
"Our nonconference schedule will test us," said Wilson. "But last year it helped us prepare for the NCAA tournament and the teams we might face. Playing Minnesota State, there was no fear of the unknown. It felt like it was just another nonconference game, but with more on the line."
Last season
20-15-5, 14-9-5 (tied for third) in Atlantic Hockey. Won playoff title and defeated Minnesota State in the first round of the NCAA tournament. Lost to Omaha in the Midwest Regional final.
Names to know
Senior forward Josh Mitchell had 52 points last season, including a school-record 36 assists. The defense will be anchored by senior Alexander Kuqali (22 points last season) and sophomore twins Brady (22 points) and Chase (12 points) Norrish.
Three questions
1. Two-thirds of the "MGM" line (Brad McGowan, Hobey Baker Award finalist Matt Garbowsky and Mitchell), which accounted for 54 percent of RIT's goals, has moved on. Who will step up?
2. After almost two seasons of platooning, Mike Rotolo looked to win the starting job late last season, but was injured shortly after. Is he ready to be the No. 1 goalie out of the gate?
3. The Tigers' power play, which has traditionally been one of the best in the nation, struggled last season. Can it improve despite losing its top weapons?
Crystal ball
It may take the Tigers time to find chemistry up front, but if Rotolo can play well with an experienced defensive corps in front of him, RIT will finish in the top four.