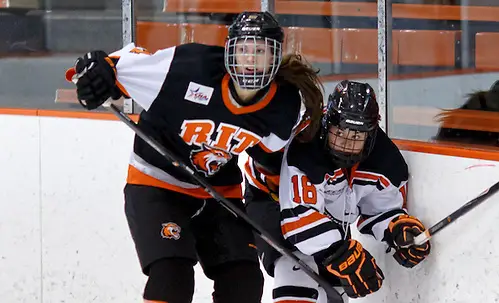 Rochester Institute of Technology Tigers
USCHO prediction: Third
Coaches' prediction: Third
Last season: Sixth (15-19-5, 5-12-3 CHA)
The names
RIT loses star goaltender Ali Binnington, who backstopped her team to consecutive CHA titles, but at least her returning backups, senior Jetta Rackleff and junior Brooke Stoddart, have some experience, having played in 15 and 14 career games, respectively. The Tigers add freshman Jenna de Jonge to the rotation.
"All three goaltenders will get a chance to become the No. 1 goaltender," said coach Scott McDonald. "All three have great physical tools, but will need to mentally step up and handle the pressure."
The Tigers also lost six skaters to graduation, and will look to five more incoming freshmen to help fill the holes.
"We have a lot of increased skill and speed up front," McDonald said.
The top returning scorers are a trio of forwards, junior Mackenzie Stone, who had 16 points, and seniors Carly Payerl and Jess Paton, who chipped in 13 apiece.
RIT has been a team that is more than the sum of its parts. As the recruiting classes continue to arrive and the parts get better, the challenge is in holding that truth.
The numbers
RIT's outgoing class was 16-2 in their careers in the postseason. Assuming the same mentality has been passed on to their teammates, whatever the Tigers do or fail to do during the regular season, they will present a challenge once the postseason arrives.
The prognosis
Whatever this season holds for RIT, and it could finish anywhere from first to last and it wouldn't be a huge surprise, the Tigers look to be well positioned for the long run with their new home in the Gene Polisseni Center. For now, place them somewhere near the middle of the CHA pack, but keep an eraser handy.