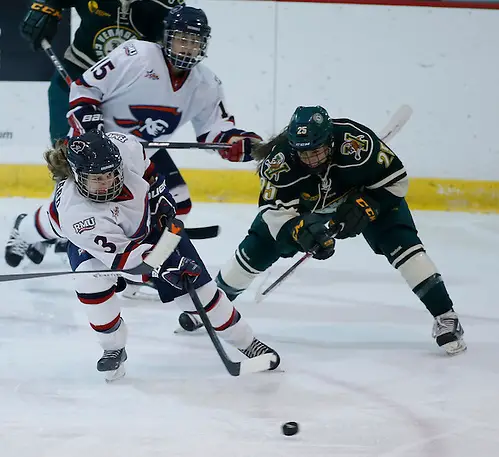 Robert Morris Colonials
USCHO prediction: Fourth
Coaches' prediction: Fifth (tie)
Last season: Third (tie) (11-19-5, 8-8-4 CHA)
The names
Last year was somewhat of a lost season for Robert Morris. Brittany Howard was lost to injury right out of the gate, and the team never found high gear. Now she returns for a much-delayed sophomore season.
"Obviously, it was great to have her back in the line-up," coach Paul Colontino said. "She hasn't played a game in a long time, 12 months. I know with the kind of person she is, she's going to keep growing. I think more than anything, her teammates and her were happy to see her in the locker room wearing a jersey."
The Colonials got a September start to the season with a nonconference series in Bemidji.
"Our freshmen, literally every one, just stepped in and played like veterans," Colontino said. "I think it's a great opportunity and experience for them to grow off of. If this is their first step, I can't wait to see their fifth and sixth."
Among the rookies who showed particularly well were goaltender Lauren Bailey, who entered late in the second period and handled all shots she faced, and forward Amber Rennie, whose second goal in the final seconds allowed the Colonials to salvage a tie on the road. Four of the freshmen found the scoring column in the opening weekend, and with three assists, defenseman Kirsten Welsh sits atop the scoring chart.
After opening with a loss and a tie, there are places that need improvement to avoid another disappointing campaign.
"In all honesty, I think it's a little bit of everything," Colontino said.
He thinks it will be key to honestly critique each performance, and the coaches and players must work together to identify the issues and determine how to fix them.
The numbers
Howard had 41 points as a freshman. Last year in her absence, the 21 points of Mackenzie Johnston led the team.
The prognosis
Seven years ago, I saw Robert Morris play in person for the first time. The underdog Colonials handed Minnesota an opening night loss. I hadn't seem them again until last weekend. Different coach, different players, but still unpredictable. RMU managed to get a tie in a game that looked on the brink of being over a number of times.
So now I'm supposed to say how Robert Morris will do this season. The Colonials will win some games; they will lose some games. I'll never be able to tell with any certainty which will happen next.
When all the games have been played, that should place RMU somewhere around .500.