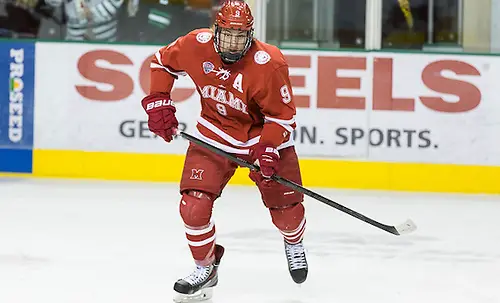 After racking up 17 losses in the NCHC's inaugural season, Miami opened its 2014-15 campaign on a mission to prove that their last-place finish the season before was a fluke.
The RedHawks definitely did that. After finishing second to North Dakota in the NCHC regular season, Miami won the league's playoff title and clinched an automatic NCAA tournament berth before falling in the first round against eventual champion Providence.
If coach Enrico Blasi's group is to keep climbing this season, it will have to do so without three of its biggest stars from last season. Departed forwards Austin Czarnik (9 goals, 36 assists), Riley Barber (20 G, 20 A) and Blake Coleman (20 G, 17 A) terrorized Miami's opponents last season and now leave big skates to fill.
Fortunately for the RedHawks, plenty of talent returns. Junior forward Anthony Louis (9 G, 27 A) has high expectations upon him going into the new season, and senior Sean Kuraly (19 G, 10 A) will hope to finish his college hockey career with a bang.
Also back is Miami's two-headed monster in goal. Seniors Jay Williams (.917 save percentage, 2.04 GAA in 28 games last season) and Ryan McKay (.898, 3.09 in 16 appearances) are both back for one more go-round.
There's plenty of youth to be brought up to speed — five of Miami's seven freshmen this season are forwards — but Blasi is hopeful about what's in his arsenal this season.
"When you graduate some key players from your lineup," Blasi said, "you need [returning] guys to step up and have a great summer and do the things they need to do off the ice but also be ready to go on the ice and take on new roles.
"We're extremely happy where our team is at. I know we're young in certain areas, but we have some good veterans and good leadership at the senior level and we're looking forward to the season."
Last season
25-14-1, 14-9-1-1 (second) in the NCHC. NCHC playoff champions. Lost to Providence in the first round of the NCAA tournament.
Names to know
Louis and Kuraly will hope to make their names as big as Czarnik, Barber and Coleman did in the NCHC and around the country last season. Williams and McKay will keep the RedHawks steady at the back, and sophomore defenseman Louis Belpedio (6 G, 13 A) seems primed for a breakout season.
Three questions
1. Miami made big strides last season and was the NCHC's playoff champion. Can the RedHawks enjoy an even better regular season this time and lock up a more favorable NCAA tournament draw?
2. Will Williams or McKay wrest the No. 1 goaltending job from the other this season, or will the RedHawks rely evenly on both?
3. How will players like Louis, Kuraly and Belpedio cope with the heightened expectations placed upon them for this season?
Crystal ball
Miami will enjoy another solid season and land somewhere more hospitable for the first round of the NCAA tournament. In terms of the NCHC, the RedHawks will have to find a way to ward off fellow favorites like Minnesota-Duluth and North Dakota.