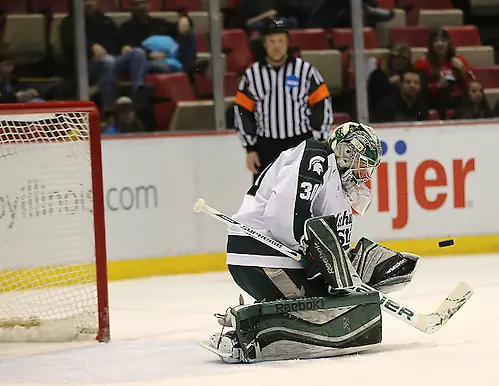 For Michigan State this season, everything starts from the net. Coach Tom Anastos is counting on senior goaltender Jake Hildebrand to be Jake Hildebrand.
"I think that Jake just has to continue to be Jake, to do what he does," said Anastos. "He influences our team a great deal. He makes our team better in practice every day because he's so competitive. He pushes guys. He provides leadership. I don't think he has to do anything more than what he's been doing and do it in every single game that he plays."
Hildebrand — an All-American in 2014-15 and the Big Ten's best goaltender last year — played every game for Michigan State last season, and Anastos is counting on Hildebrand's stability to help with the one aspect of Michigan State's game that is in serious need of a boost.
"We've got to figure a way to increase our offensive productivity," said Anastos. "I think that being able to take a few more chances knowing that he's back there is probably a good thing. There's such a confidence knowing that when you make a mistake, he's the last line of defense and people in spite of a mistake still have to beat him at the end. He's the kind of guy who can steal a game for you and that gives your team confidence."
The Spartans return all but one of their top scorers from last season. Senior Matt Berry netted a dozen goals last year on a team with only four players with more than 10 markers. Berry is only one of three departures, however, to impact the roster.
"We do return a group of more experienced players and a more upperclass team than we've had since my first season here," said Anastos, "so we're excited about the group — actually very excited about the group."
Last season
17-16-2, 11-7-2-2 (second) in the Big Ten. Lost to Michigan in the semifinals of the Big Ten tournament.
Names to know
This is a senior-heavy roster, with three of Michigan State's top four scorers returning. Senior forward and captain Michael Ferrantino had a great junior season and leads the team with his relentless passion. His classmate, Ryan Keller, had a breakout year last year, and junior Mackenzie MacEachern will only get better. Junior forward Villiam Haag and senior forward Matt DeBlouw have yet to reach their offensive potential.
Three questions
1. Will the Spartans be able to score enough goals per game consistently to push them beyond the development they saw last season?
2. Will Hildebrand begin his season where he ended it, as a rock-solid netminder who could steal any game?
3. Will the Spartans collectively have what it takes all season long to challenge for the regular season title and perhaps — perhaps, perhaps — play themselves into the NCAA tournament without an autobid?
Crystal ball
Michigan State will find more goals this season but won't find the kind of scoring the Spartans need to top the standings in March. This is an incredibly disciplined, hard-working team with chemistry, brains and passion, and the only thing holding it back is offense.