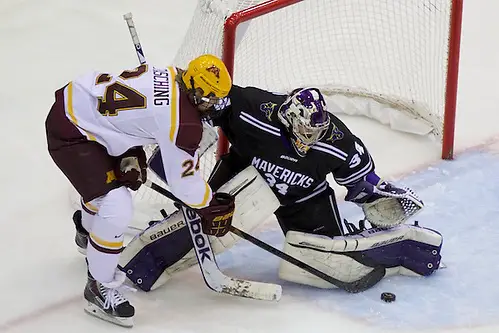 Like its rival one state to the east did last season, Minnesota will have to replace some big names that often found themselves on the score sheet last year.
Don Lucia's cupboard may not be quite as empty as Wisconsin's was last year, but the Minnesota coach lost a lot of experience due to graduation and early departures.
"We're going to have a completely new team this year," Lucia said. "All of sudden we have 10 new players … and will probably nave nine different guys in our lineup, but that's the fun of coaching at this level."
Going back to its days in the WCHA, Minnesota has won a least a share of its conference's regular season title for four straight years. The drive for five will be a little harder — the Gophers lost their starting goaltender, top two defensemen and numerous forwards from last year.
"For us to have a successful year we're going to need a few things to happen," Lucia said. "Obviously, we're going to need a goaltender to step forward with the departure of Adam Wilcox. The returning guys are going to be key, especially our junior class."
Lucia didn't tip his hand on what he would do with the goaltender position to start off the season. He faced a similar situation during the 2012-13 season when Wilcox was a freshman and split time with Michael Shibrowski before winning the starting job a month into the season.
Minnesota's success this season is contingent on forwards Hudson Fasching, Justin Kloos, Taylor Cammarata and Vinni Lettieri all elevating their play and driving the team's goal-scoring.
"We have big expectations," Lucia said. "So far in practice Vinni Lettieri looks like a player who's ready to take another step."
Lucia added that sophomore forward Leon Bristedt looks more comfortable during his second year at the university after coming from Sweden last year.
Last season
23-13-3, 12-5-3 (first) in the Big Ten. Lost to Minnesota-Duluth in the NCAA Northeast Regional.
Names to know
Key returners are Kloos, Fasching and Lettieri. Rookie Tommy Novak should help fill the scoring void left by Kyle Rau. Freshmen Eric Schierhorn and Brock Kautz and sophomore Nick Lehr will compete for the starting goaltender spot, and don't expect to see one play both games in a weekend early in the season.
Three questions
1. Who's the goaltender? The four netminders on the Gophers' roster have combined to start one collegiate game, Nick Lehr's start against Michigan State last season.
2. How will Minnesota fare during its nonconference schedule? The Gophers have nonconference series with preseason No. 2 Minnesota-Duluth, No. 6 Minnesota State and No. 17 St. Cloud State. Minnesota could also play No. 8 Harvard at the Mariucci Classic and will see either St. Cloud State or Minnesota State in its second game at the North Star College Cup.
3. Who will step up on the blue line? Mike Reilly and Brady Skjei are gone. This year's defensive corps will be made up of a combination of three juniors, three sophomores and two freshmen.
Crystal ball
If the Gophers get goaltending, they can certainly contend with Michigan. Finishing either second or third in the conference seems more likely.