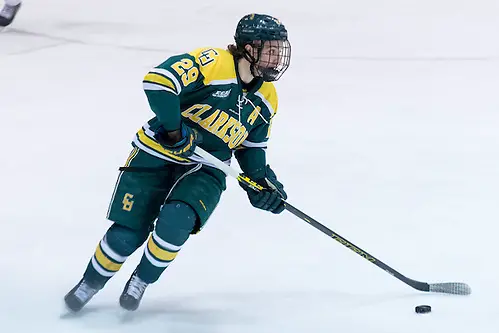 The major question entering this season for Clarkson is who plays in goal? Sophomore Steve Perry, junior Greg Lewis and sophomore Ville Runola all split time last season.
"Ultimately, right now I feel Steve Perry is our guy," said Clarkson coach Casey Jones. "I thought he was at the top of the league when he got injured in January last year. He's in a good place. I'd expect him to be the guy for us coming out of the gate. We have some depth [at goaltender]. Steve, I thought he showed that consistency and was playing at a high level for us."
With Joe Zarbo, the team's leading goal scorer, lost to graduation, Clarkson will search for offense from elsewhere. Jeff DiNallo returns for his senior season with the Golden Knights, but on a team that didn't score a lot of goals last season (only 81), Clarkson will have to make up the difference somehow.
"I actually feel that we generate a lot of offense; for us it's been putting the puck in the net," Jones said. "It's really been our Achilles' heel for us five-on-five last season. We were real good on special teams in the league."
It's an offense that relies on its speed and its goaltending leadership, something Clarkson lost when Perry went down.
"We might have been near the bottom of the league in goaltending statistics by the end of last year and you lose your swagger offensively," Jones said. "I thought we didn't take as many risks that we needed to in order to be a good offensive team. Confidence in goaltending would be a huge plus for us."
Last season
12-20-5, 9-9-4 (eighth) in ECAC Hockey. Lost to Rensselaer in the first round of the ECAC playoffs.
Names to know
Troy Josephs, James de Haas, DiNallo and Jordan Boucher figure to make up the core of a forward group that looks to boost the scoring totals this season.
Three questions
1. Who starts in goal? Perry (8-8-1, 2.10 GAA, .907 save percentage), Lewis (4-7-1, 2.19, .911) and Runola (0-5-3, 2.93, .883) split time last season. It'll be interesting to see who can step up to take the starting job, or whether they'll once again go goaltending by committee.
2. Can Clarkson's defense-first, physical mentality help it win more games?
3. Where will the goals come from? Clarkson scored 81 goals and allowed 87 last season.
Crystal ball
The Golden Knights stick to being defensive and physical and get involved in a ton of one-goal games. In the end, Clarkson gets closer to .500 and surprises some people in the playoffs.