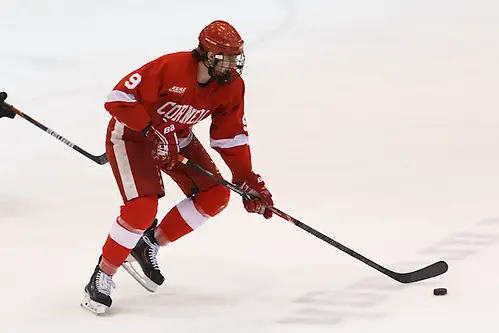 There seem to be way too many unknowns for the Cornell Big Red this season. But for coach Mike Schafer, it's a chance to reestablish a culture and an identity with his young, inexperienced club.
"Reestablishing culture within our team, I think that's something the last few years we've gotten away from," Schafer said.
Goaltenders Mitch Gillam (9-9-5 last season, 1.99 GAA, .927 save percentage) and Hayden Stewart (2-5-1, 2.13, .923) each saw time last season for the Big Red, and it'll be interesting to see who ends up taking the starting job by the end of the season.
"Injuries left those guys out to dry," Schafer said. "If you look back statistically over the last four games or the playoffs, I didn't think either one of them stepped up and claimed the No. 1 job down the stretch.
"I'm just as excited as everyone else to see what we have with our hockey team," he added. "Nine freshmen coming in and only graduate six guys. Who these key contributors are, it will be interesting to see what develops as the fall goes on."
Last season
11-14-6, 9-9-4 (seventh) in ECAC Hockey. Lost to Union in the first round of the ECAC playoffs.
Names to know
Senior forward Christian Hilbrich was the Big Red's only 10-goal scorer last season, while junior Matt Buckles had eight. Gillam and Stewart will vie for the No. 1 goalie spot.
Three questions
1. Where's the offense coming from? The Big Red lost Cole Bardreau to graduation last season, a crucial blow considering he led the team in points. Cornell will need to find offense from somewhere else.
2. Who takes the starting job in goal, Gillam or Stewart?
3. Can Cornell take that next step? The Big Red scored 57 goals last season and allowed 68, only good enough for just below .500. Can this program take that next step forward?
Crystal ball
No, the Big Red can't. Not yet, anyway. Cornell continues to struggle offensively as Bardreau's departure hurts more and more by the week. The Big Red fall to one of the bottom slots in the conference.