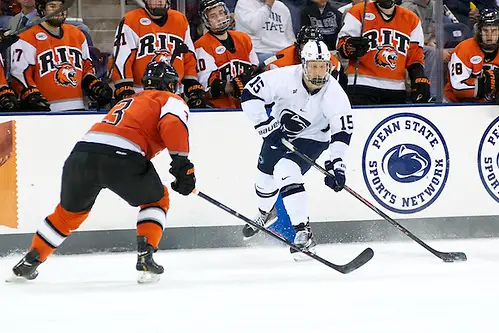 Penn State coach Guy Gadowsky doesn't really have any specific reasoning as to why the Nittany Lions are on fire out of the gate.
"Right now, things seem to be clicking," he said of the team's 4-1 start.
Clicking indeed, the Nittany Lions have the nation's No. 1 offense, averaging 5.60 goals per game, and the top power play, which has scored seven times in 16 opportunities. On the other side of things, Penn State's 5.60 penalty minutes per game are the fewest among teams in the country that have played a game.
So why are things going so well for Penn State in the early going?
"It seems to be different guys in different ways all the time," Gadowsky said. "I don't think it's one individual or even one line or one situation that's really been the key to it. I think that we have a group of guys that are really jelling together. They really enjoy working with each other and working hard together."
What about the power play?
"We actually hadn't put a ton of emphasis [on special teams]," Gadowsky said. "Certainly, everyone puts an emphasis on it when you talk about the game, but as far as what we've practiced we haven't put any more time into that than other aspects of the game.
"It just seems to be one of those things that right now it seems to be clicking," he added. "Sometime you do exactly the same things and the pucks don't fall, but right now the pucks seem to be falling."
The unranked (as of now) Nittany Lions will welcome No. 16 St. Lawrence to Pegula Ice Arena for a Thursday-Friday series this week. The games will be the first of the season for Penn State against a ranked opponent. The Saints are 4-2 this season and are coming off of a split with Miami.
Going into the season, Penn State's upperclassmen, some of whom have been around for as long as the program itself has been, were expected to lead the team. In a way, those expectations have played out through three weekends, and in a way they have not.
Senior Curtis Loik has 10 points, which puts him in a tie for second in the country behind New Hampshire's Tyler Kelleher (11), and fellow senior Kenny Brooks and junior David Goodwin both have seven points.
They aren't pulling all the weight, however. An impressive freshman forward trio made up of Chase Berger, Alec Marsh and Andrew Sturtz has combined for 11 goals and six assists through five games.
"As a whole, the freshman group is a hard-working group," Gadowsky said, specifically pointing out that his three freshman defensemen, Vince Pedrie, Kevin Kerr and Derian Hamilton, also have played well. "They enjoy working hard and they've enjoyed being in the culture that the guys we have right now have created.
Gadowsky said that everyone on the team is "fitting in very well right now," and that there is a mutual respect between the players that have been around the block and the newbies.
"I hear from the upperclassmen about what a great group of freshmen they are, and at the same time the freshmen have said what a great group of guys the upperclassmen are," he said. "It's a two-way street."
There's no denying that Penn State's offensive numbers are off the charts right now, but — unless it is going to continue scoring five goals a game all season — the defense will need to improve. The Nittany Lions are averaging 3.40 goals allowed per game and have given up four goals during penalty-kill situations.
"We've got a lot of work to do [on defense]," Gadowsky said. "We happen to be scoring goals, which has allowed us to win hockey games, but certainly we have a lot of work to do on the other side of the puck."
Gadowsky has been splitting time in net between Eamon McAdam and Matthew Skoff. The former is 3-0 with a 2.33 GAA and Skoff is 1-1 with a 5.78 GAA. Even so, Gadowsky said he probably will continue to divide up time.
"We talked earlier in the season that we were going to split time and reevaluate at a later date," he said. "We didn't define what later date that is. As of right now I think we're going to split time and see how things go."
McAdam, a junior, has progressed right along with the Penn State program over the past three seasons. An 0-9 showing two seasons ago and 5-4-1 campaign last year led into this year's undefeated start.
Gadowsky said he's seen the netminder change as a person and a teammate, and added that he showed up to camp this year in "tremendous shape."
As a program, Penn State doesn't have much of a history with any school. It's a different story for its coach, however, who has experience with St. Lawrence stemming from his days as the coach at Princeton.
"I really have a great deal of respect for the culture that St. Lawrence has," he said. "They've always been a team that works hard and plays to get up and down the ice. Our games have always been exciting.
"In talking to the ECAC coaches before [the season], St. Lawrence was a team that many of them identified as a team that was going to be a very tough team and have a very successful year," Gadowsky added. "Certainly, if you look at what's happened in their season, they've been right."
One thing Penn State has going for it is that the games will be played on its home ice. The Nittany Lions enjoy a home-ice advantage that Gadowsky raves about whenever it is brought up.
"The atmosphere that they have created at Pegula Ice Arena is so much fun," he said. "It's fun to play in and it's motivating as well. As we continue to get better as a hockey team, the student section continues to get better as well. They are so much fun and so motivating; I can't stress enough how important they are to us."
The Nittany Lions went 4-12-2 at Pegula Ice Arena during the program's first season in the Big Ten but had a 13-2-3 record at home last year and are 3-1 this season.
Badgers, Buckeyes still in search of win No. 1
After six games, two Big Ten teams are still searching for the elusive first win of their respective seasons.
Ohio State has extended its losing streak to six and owns an 0-6 record. Wisconsin was able to muster only a tie against Ferris State in Big Rapids, Mich., last weekend and is 0-3-3.
Wisconsin will welcome the NCAA's newest program, Arizona State, to the Kohl Center this weekend for a two-game series.
"What we know about their team is they will be an older team," coach Mike Eaves said of Arizona State during Wisconsin's weekly news conference. "They will be a gritty team, they will work their fannies off, from people that we have talked to, so I guess nothing new, more than any other team coming in here. You know, it's another opportunity for us to get our first win of the year."
This weekend is the Badgers' best opportunity to get off the winless train, with a trip to North Dakota on the horizon for next weekend followed by series against Denver and Michigan.
After playing four of their first six on the road, the Buckeyes will play their next four contests at home against Mercyhurst and Canisius.
Three stars of the week
First star — Minnesota freshman goaltender Eric Schierhorn: The Anchorage, Alaska, native won the first two games of his collegiate career last weekend during Minnesota's sweep of Northeastern. Friday's victory, in which he made 23 saves, also was his first career shutout. He stopped 25 shots during Saturday's game.
Second star — Minnesota junior defenseman Michael Brodzinski: He netted one goal and added three helpers during the Gophers' sweep of the Huskies.
Third star — Penn State freshman forward Chase Berger: Berger led the Big Ten in scoring last weekend with three goals and a pair of assists. He matched a school record with four points on Friday. Berger now has five goals this season, which leads the conference.
B1G in the poll
No. 10 Michigan and No. 20 Minnesota represent the Big Ten in this week's USCHO.com Division I Men's Poll, with Penn State still in the "receiving votes" category.
My ballot
1. North Dakota
2. Omaha
3. Providence
4. Boston College
5. Massachusetts-Lowell
6. Denver
7. Minnesota-Duluth
8. Boston University
9. Harvard
10. Michigan
11. Bowling Green
12. Yale
13. Quinnipiac
14. St. Cloud State
15. Miami
16. Michigan Tech
17. St. Lawrence
18. Merrimack
19. Minnesota State
20. Minnesota
This week's matchups
St. Lawrence at Penn State (Thursday and Friday, Pegula Ice Arena)
Mercyhurst at Ohio State (Friday and Saturday, Value City Arena)
Robert Morris at Michigan (Friday and Saturday, Yost Ice Arena)
Arizona State at Wisconsin (Friday and Saturday, Kohl Center)